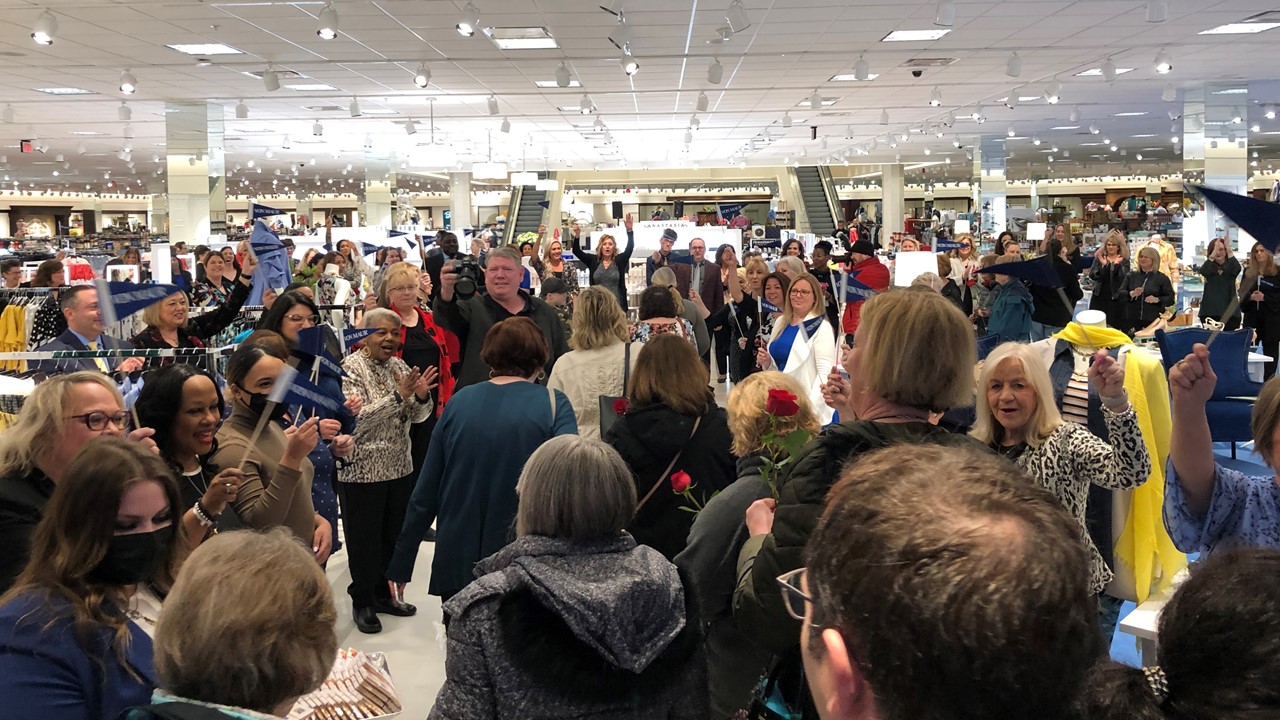 Thousands Enjoy Von Maur Grand Opening at The Village of Rochester Hills on Saturday, March 19, 2022
Gray skies were overwhelmed by the glow of joy emanating from the Von Maur Grand Opening at the Village of Rochester Hills on Saturday morning, March 19, 2022.

Thousands of smiling patrons streamed through the doors of the official Grand Opening. Wide-eyed wonder filled their faces as impeccably displayed merchandise called out.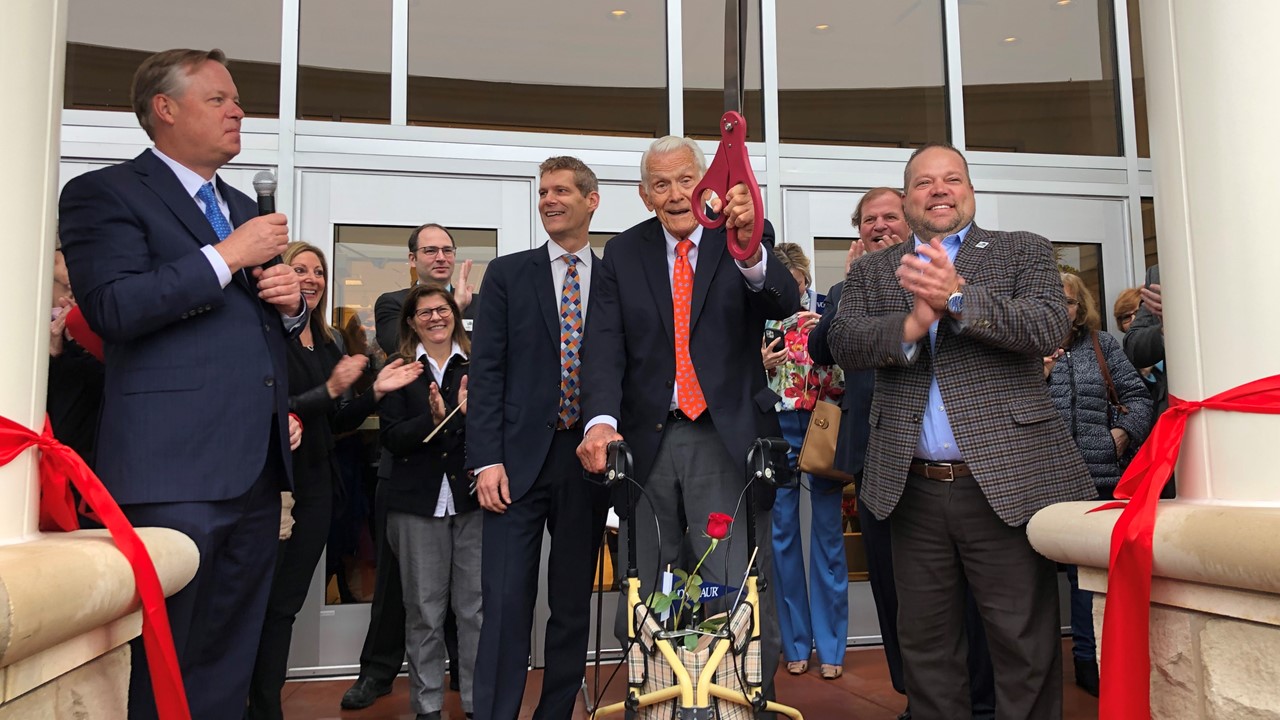 Left holding the mic - Von Maur CEO & President Jim von Maur; Center holding scissors - Von Maur Chairman Chuck von Maur; Right clapping - Rochester Hills Mayor Bryan Barnett
Elizabeth Sullivan and her 8-year-old daughter Mary were on hand for the Grand Opening. They made the trip from Lenawee County because Elizabeth wanted her daughter to experience a Grand Opening event. "We came to the soft opening on Wednesday, and we bought a dress for her Daddy-Daughter dance. She's a Fashionista! She wants to be a fashion designer when she grows up and she wants to win the Von Maur golden gumball today", said Elizabeth.

Shopper Tracy Yankee, shared, "I'm excited about something new, this will bring a different vibe to the community."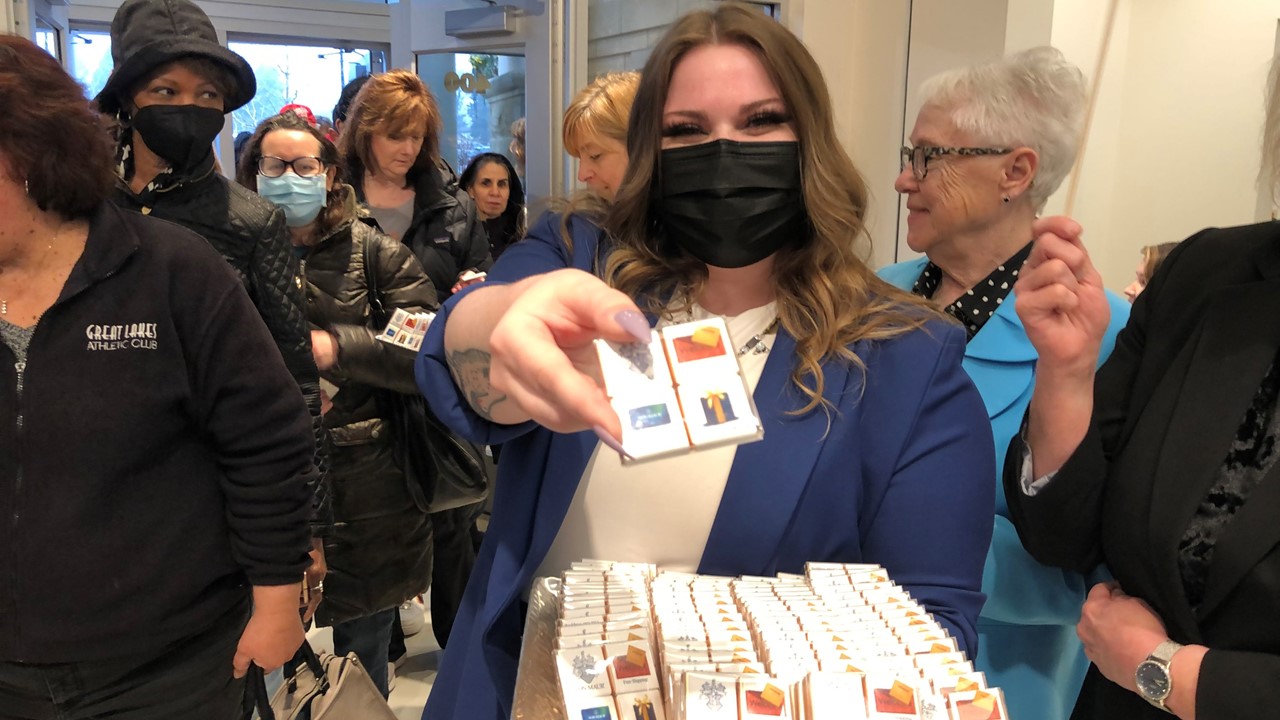 Customers Received Von Maur Chocolate Treats Upon Arrival
The story of Von Maur begins 150 years ago in Davenport, Iowa. It's strengths are deeply rooted in family tradition with core values of an enjoyable and unique shopping experience, a wide selection of brand-name merchandise, open and attractive store design, amenities that enhance the customer experience and a commitment to excellent customer service.

Four generations of Von Maurs have led the family-owned chain. The family was well represented at the Grand Opening. Chuck von Maur (91), Chairman of Von Maur and grandson of founder Jacob von Maur, along with his bride of 65 years, Nancy, shared insights into their success.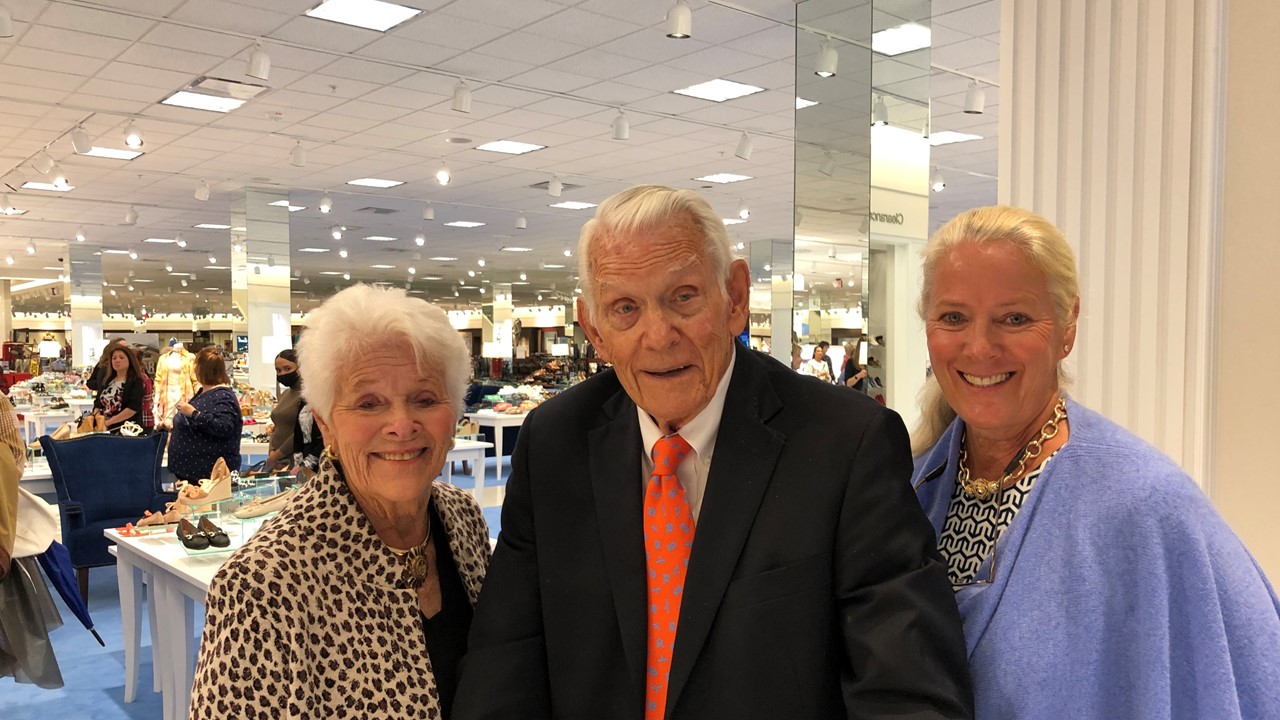 (l-r) Nancy von Maur, Chuck von Maur, Heather Tinsman
"My father and uncles ran Von Maur for over 50 years, they were focused on one store in downtown Davenport. They survived World I, the Great Depression, and World War II. Later, my brother Dick and I, investigated expansion. We were a small fish in a big retail pond, it would take hard work, but we took our successful store formula out of Iowa to our first expansion in Moline, Illinois. That store exists to this day."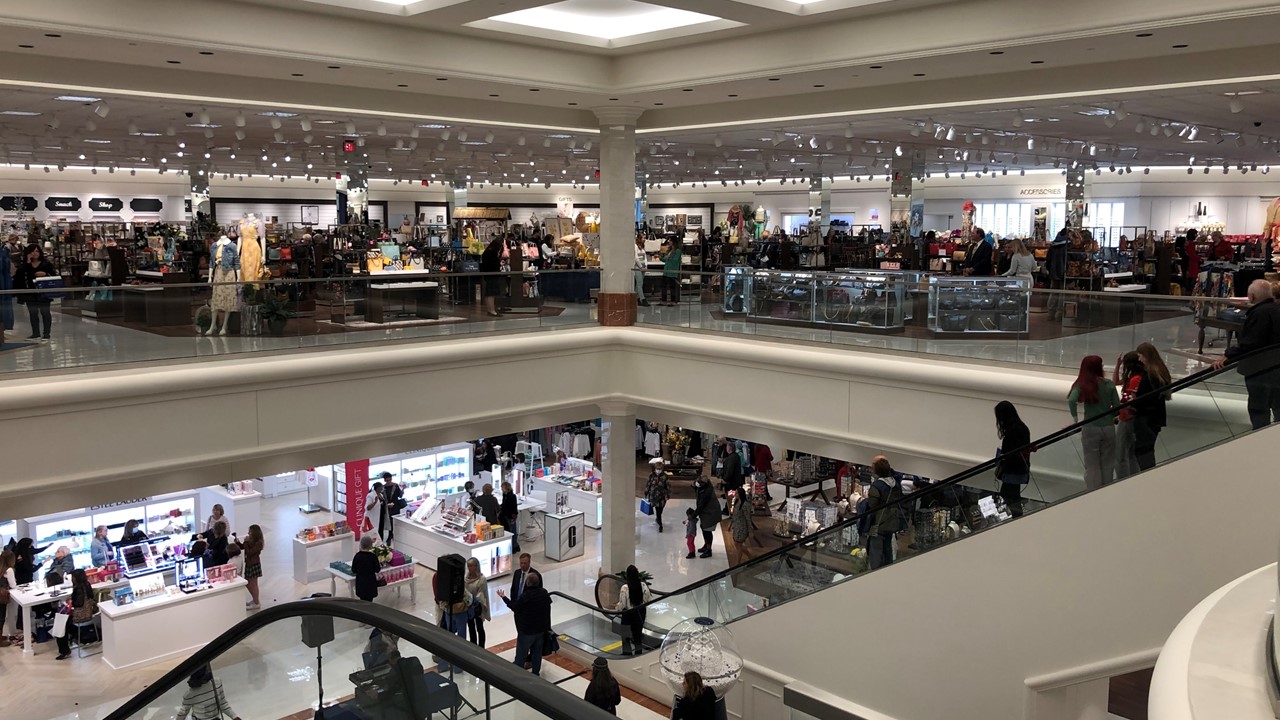 Two Stories of Bright Lights and Quality Merchandise Await Patrons
Rochester.Life asked Chuck and Nancy how they survived a competitive retail environment?

Chuck stated, "Across the US, there are over 400 brand-name community department stores that have disappeared in the last 40 years. We are really the last family-owned department store in the US. Our formula works."

Nancy shared, "Though our online business is doing very well, we still believe in the brick-and-mortar store. Customers want to come in, get up close, touch the merchandise and feel the fabrics. They want to try things on and be catered to in a personal way. The Von Maur team focuses on delivering a wonderful customer shopping experience."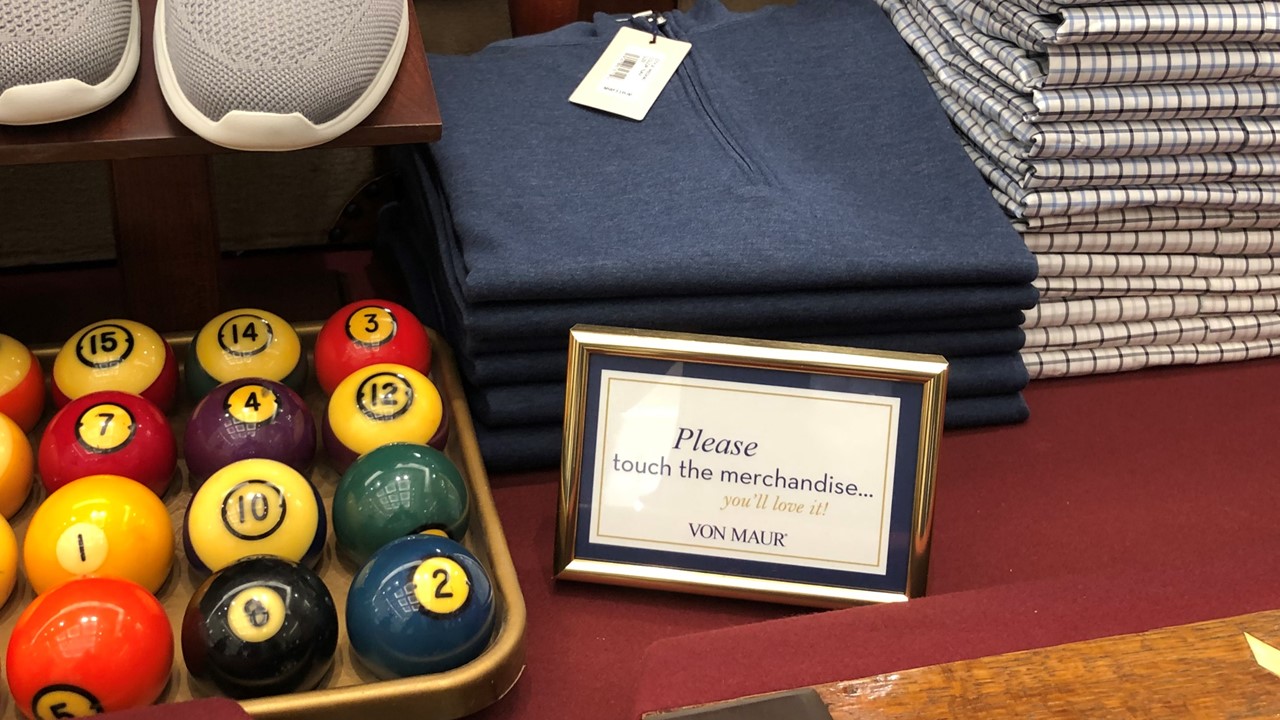 Please Touch the Merchandise...You'll Love it!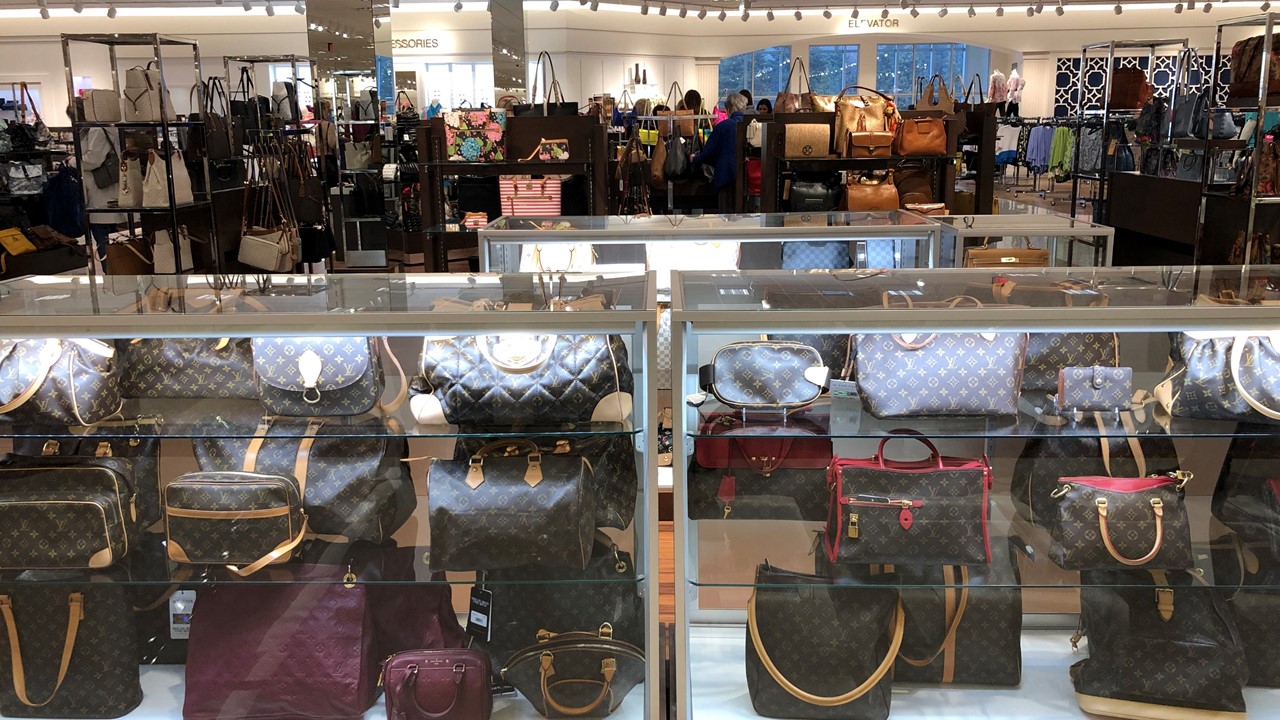 Von Maur CEO and President Jim von Maur and his wife Melissa were also at the Grand Opening. Jim shared, "Metro Detroit is a vibrant community. Our Von Maur brand is doing very well at our current three Michigan locations (Livonia, Ann Arbor, Grand Rapids). Our Livonia store is one of our best performing in the country.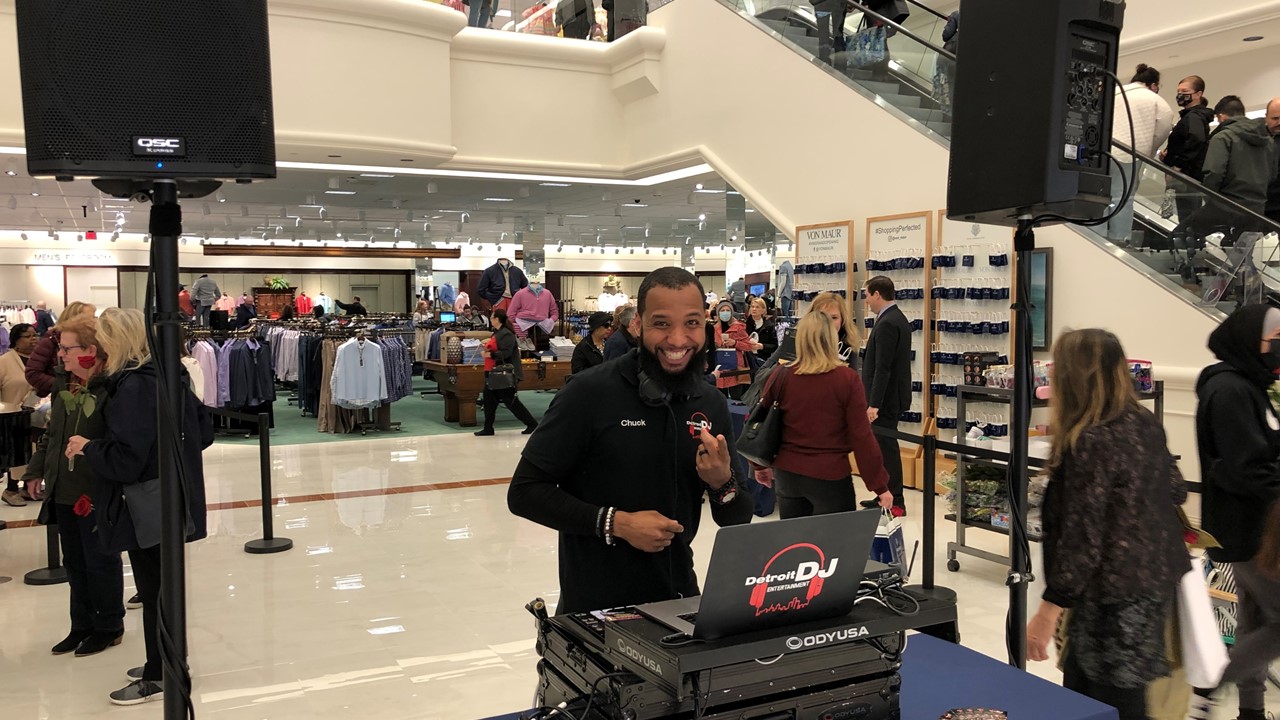 DJ Chuck Entertained Guests at the Grand Opening
Think of Von Maur as a 'fashion department store', you will always find exciting new merchandise arriving two to three times per week. You will receive that old-fashion one-on-one customer service that many experienced growing up."

Melissa offered insights on the Von Maur team, "Our team members make you feel at home, in fact, like you're coming into your own home. We schedule 'Heroic Saturdays' and make sure we reward and highlight the personal shopping experiences our employees deliver. People get pumped and excited to see everyone succeed."

Jim wrapped it up best with, "Michigan loves Von Maur and Von Maur loves Michigan!"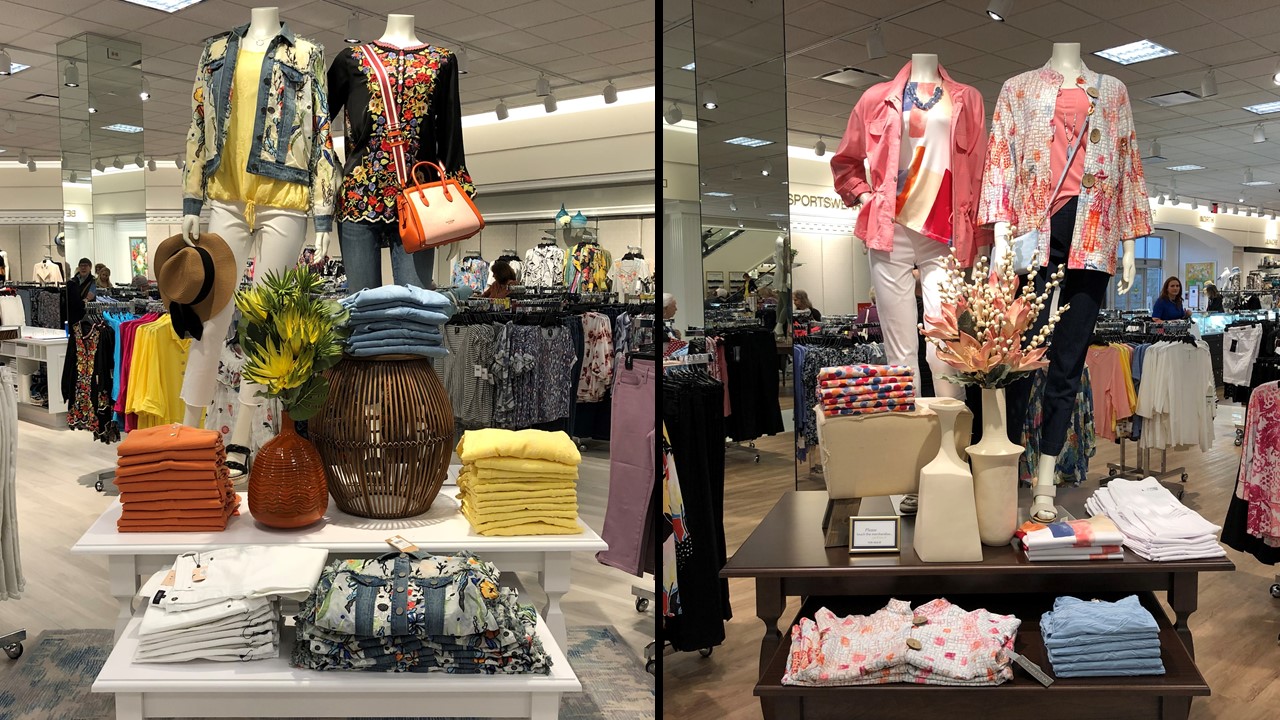 Von Maur is a "Fashion Department Store"
Rochester.Life spoke with Bruce Aikens, Vice Chairman of Robert B. Aikens & Associates, the owners of the Village of Rochester Hills. Bruce offered insights into the new Von Maur store, "I remember my mother taking me to the Jacobsen's store at Great Oaks Mall to buy my first suit when I was ten years old. That was a great memory for me. We want to see families build memories with the historical family-based traditions of Von Maur."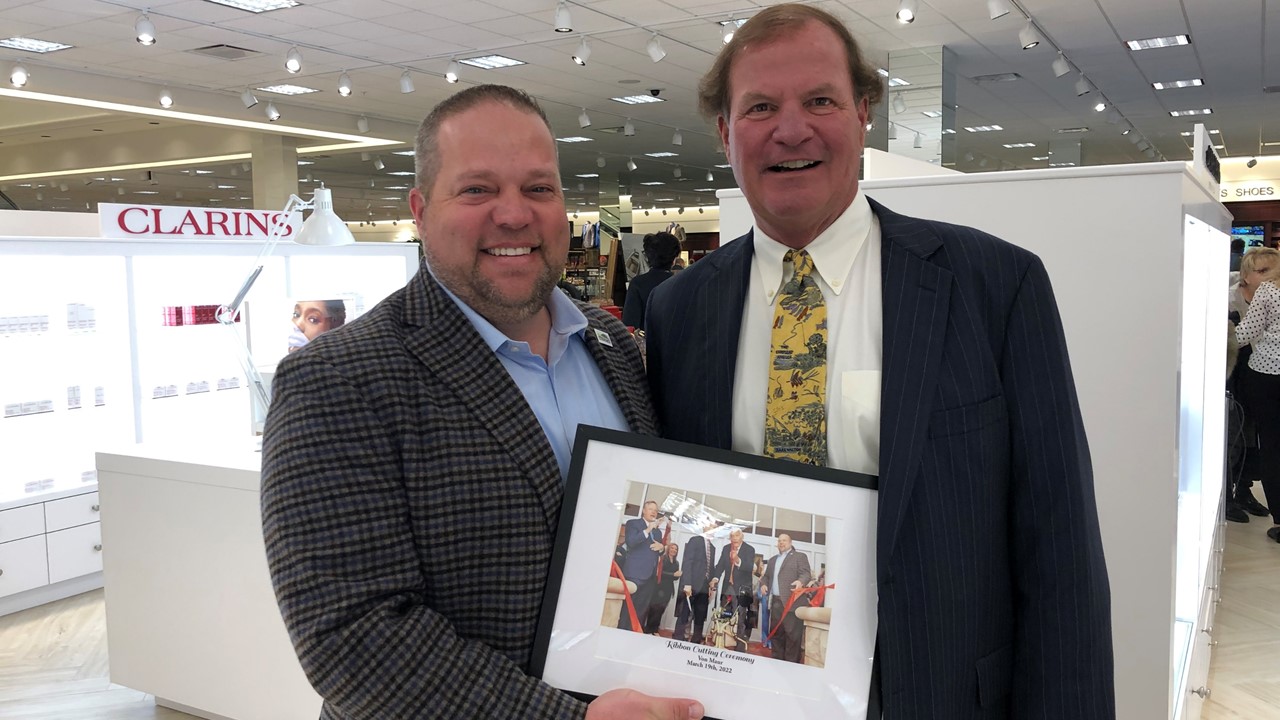 Rochester Hills Mayor Bryan Barnett and Bruce Aikens, Vice Chairman of Robert B. Aikens & Associates
When Carson's closed in 2018, the greater Rochester community speculated on what would fill the void. Turns out, Bruce Aikens confirmed some of that speculation.

"When Carson's closed, we considered 30 different ideas; apartments, an athletic club, additional restaurants, food court, a bowling alley entertainment hub…, but always, the leading choice to occupy the space was Von Maur. Von Maur was expanding and was successful in Michigan. Retailers are always looking at proximity to other locations to leverage advertising and merchandise delivery. Both parties agreed, the Village of Rochester Hills would be a perfect fit for Von Maur."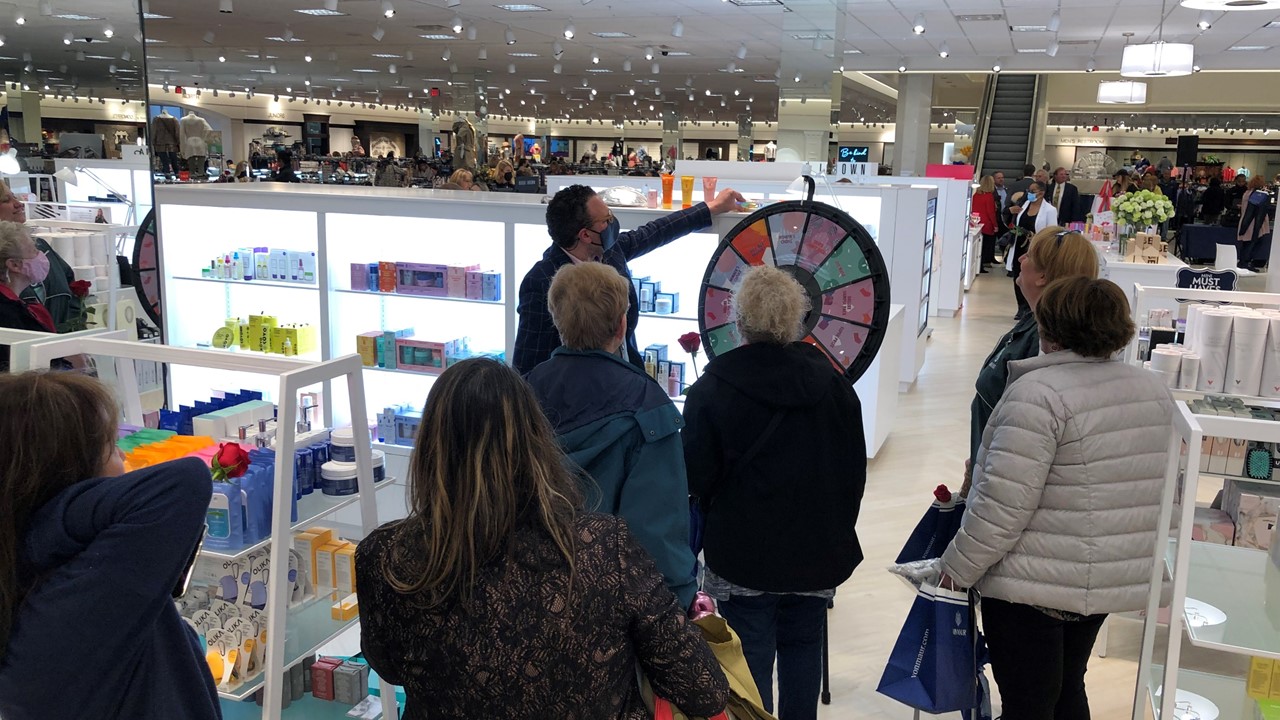 Customers Line-up to Spin the Wheel for Prizes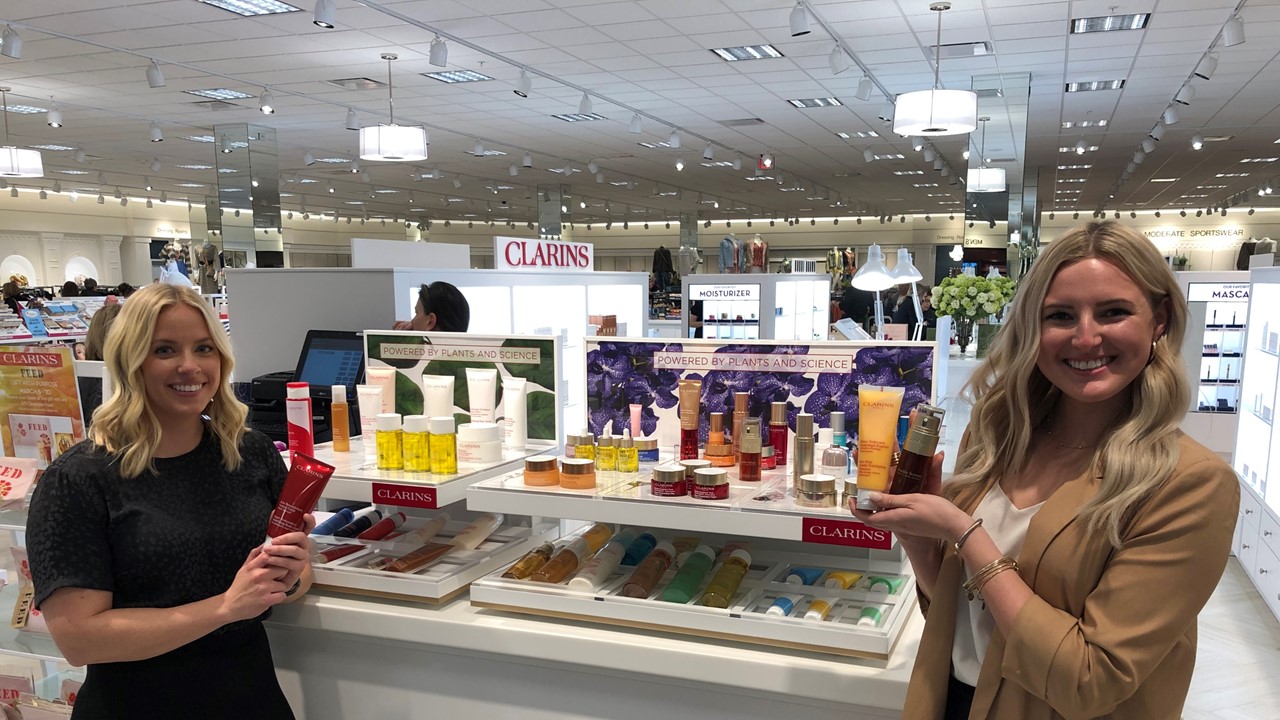 Von Maur's Extensive Selection of Beauty Care Products Greet Customers at the Main Entrance
Sara Roediger, Director of Planning and Economic Development for the City of Rochester Hills could not agree more with Mr. Aikens. "We love how they've been able to use the space and keep the Village of Rochester Hills a thriving space for the residents. A lot of shopping centers are struggling but the Village is not one of them, they're continuing to bring in amazing stores!"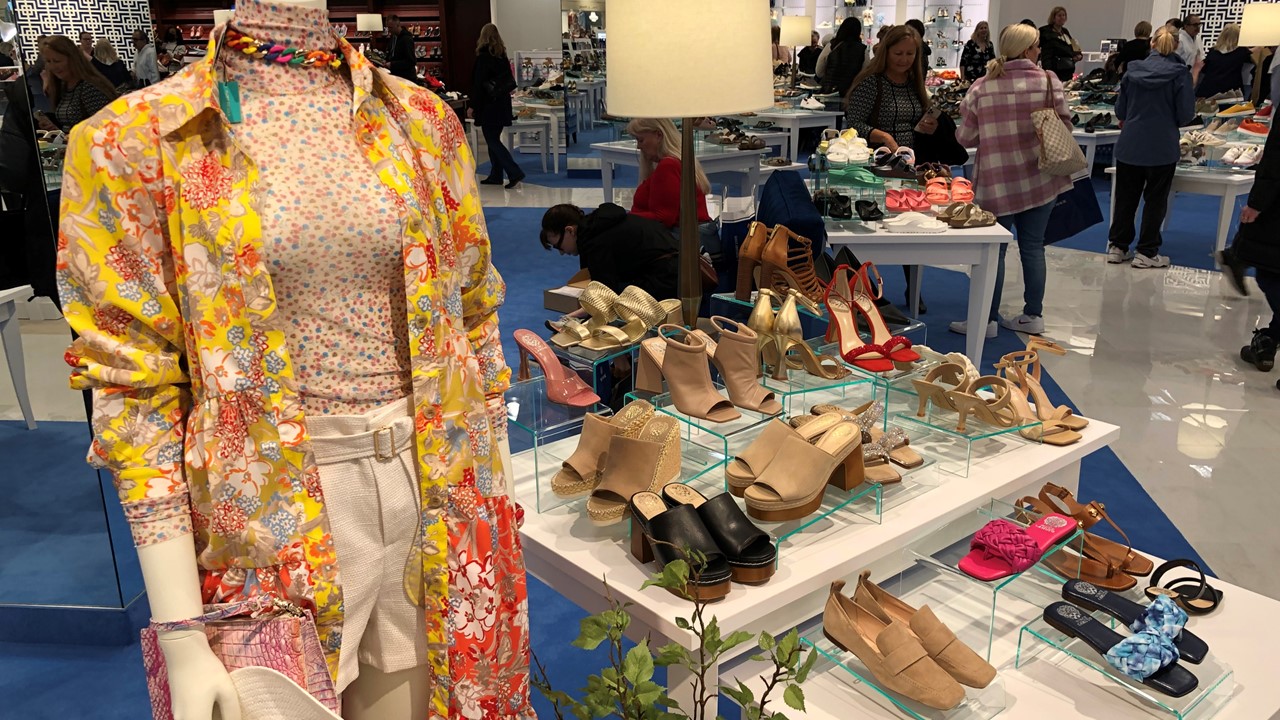 Von Maur Helps Coordinate Fashion Selections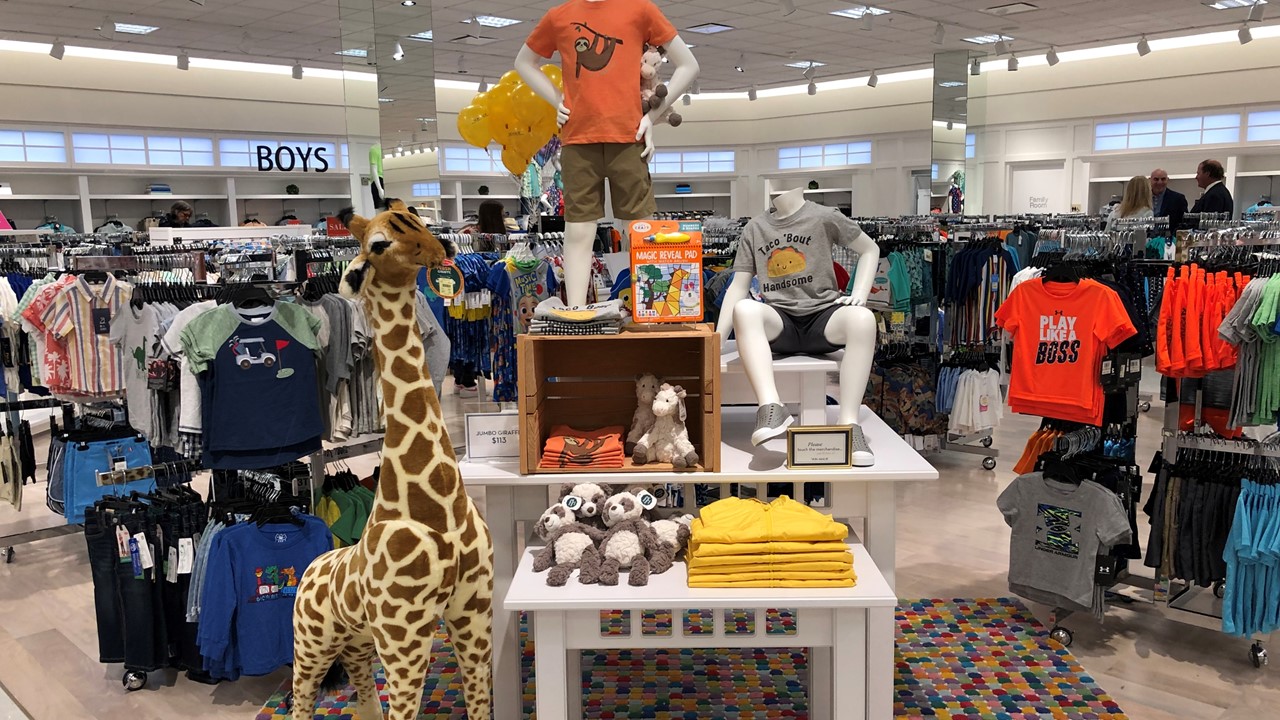 Kid's Apparel is Plentiful on the 2nd Floor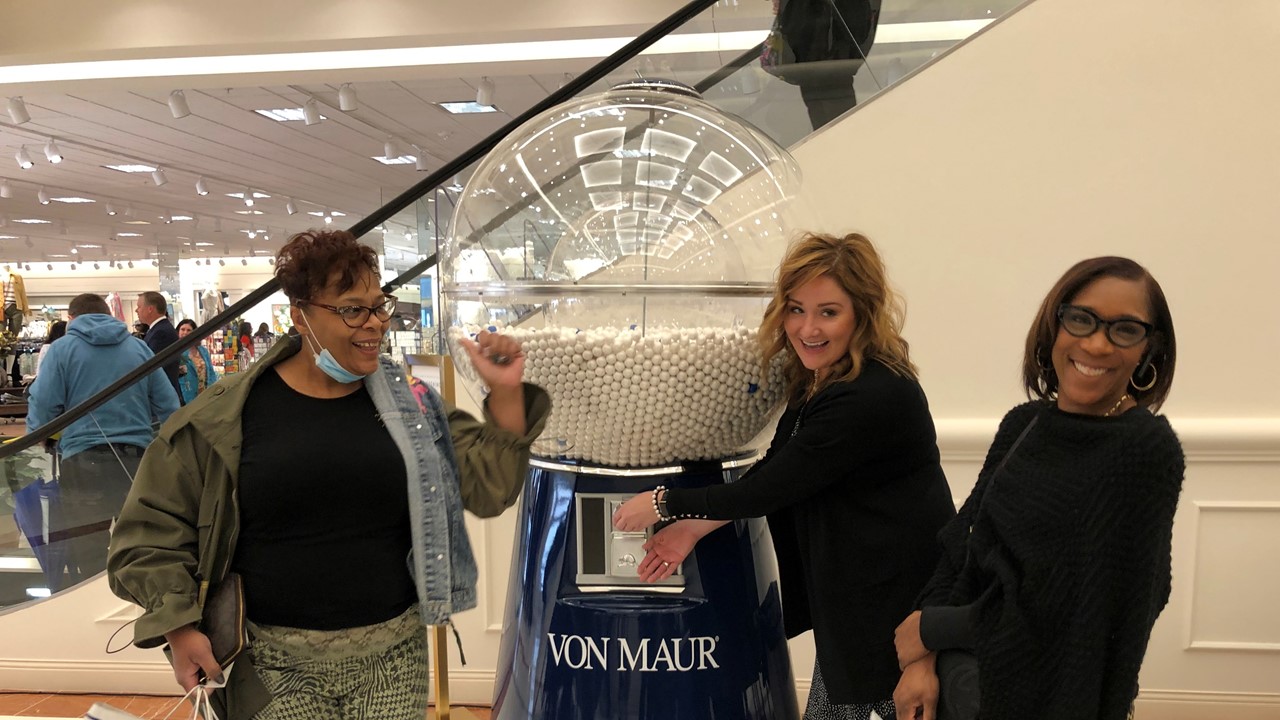 Customers Hoping to Find the Special Gold and Blue Gumballs!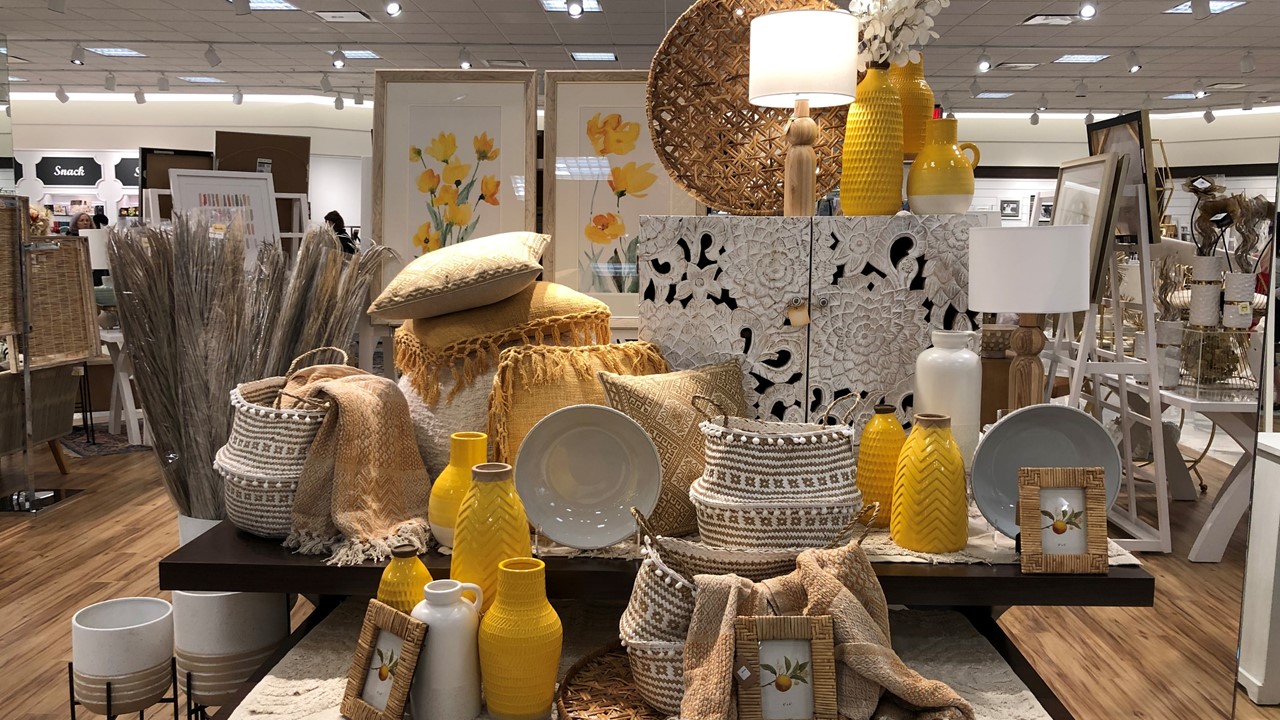 Accessories to Complement Every Home!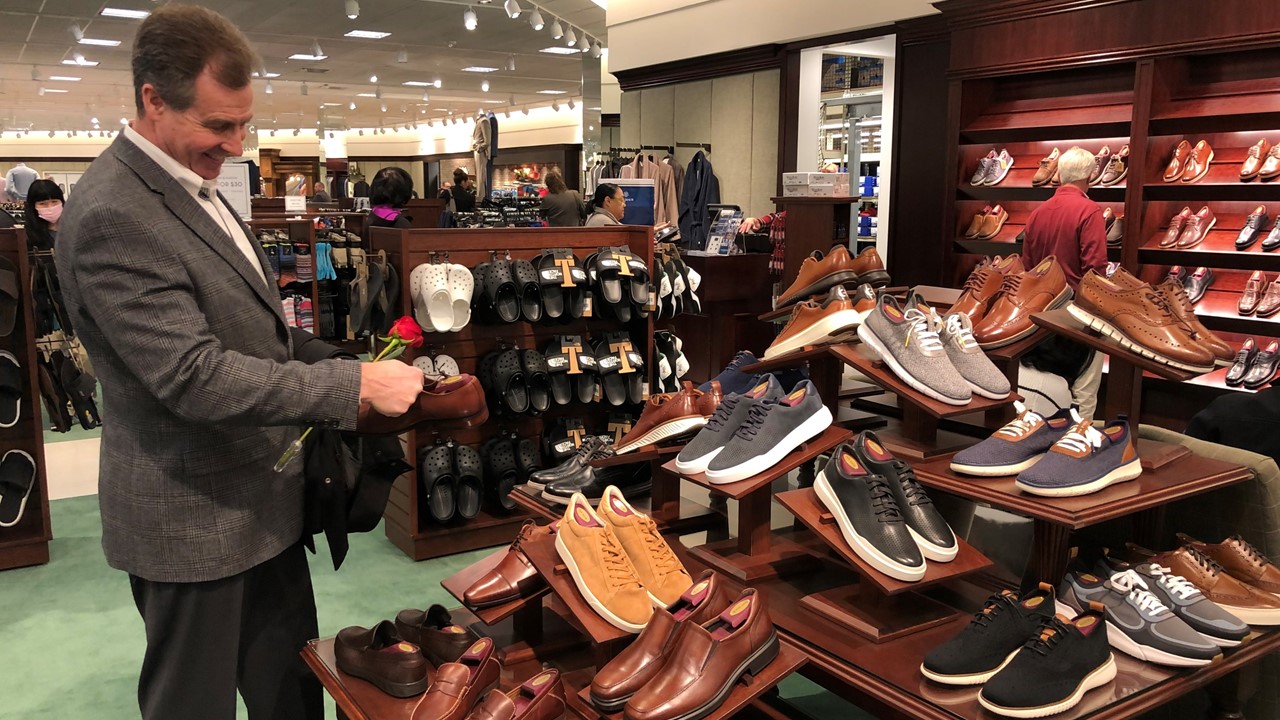 Rochester Hills City Councilman David Walker Admires the Men's Shoe Selection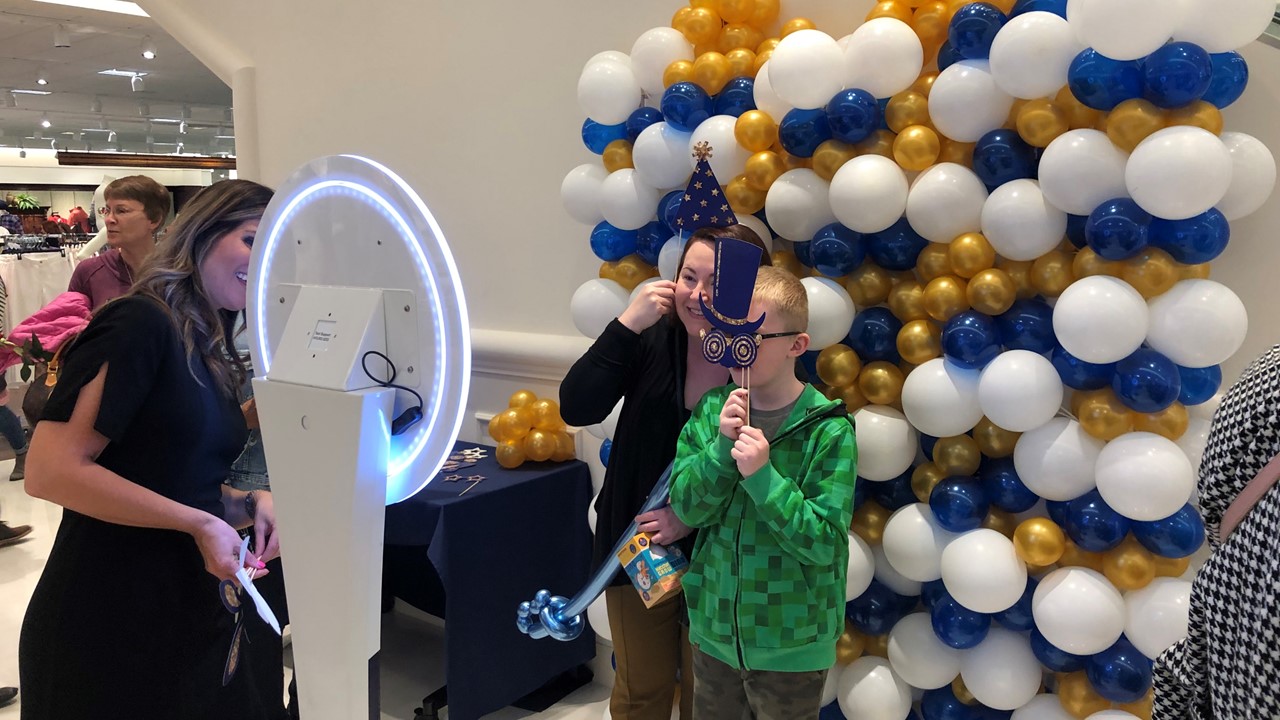 A Photo Station Helped Save Grand Opening Memories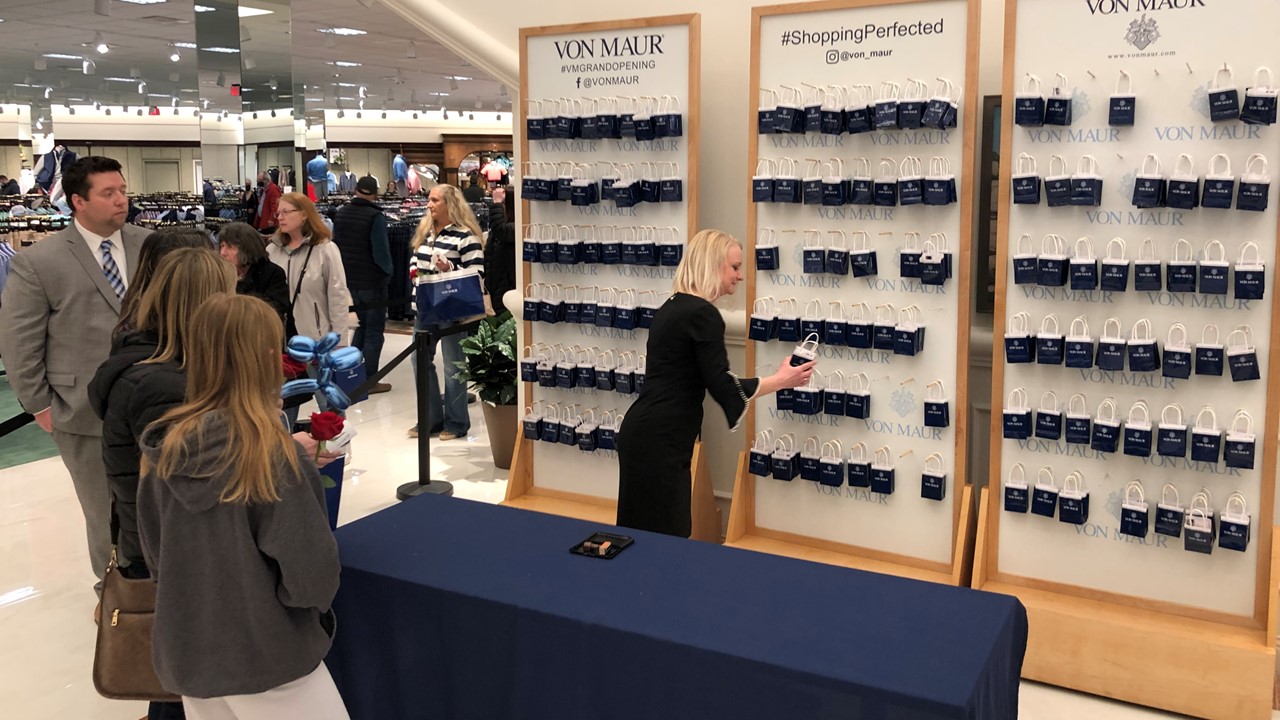 Customers Bring their Receipts for Additional Gift Card Prizes!
STORE EVENTS:

Grand Opening

The Grand Opening Celebration will take place on Saturday, March 19 from 10am to 9pm with a Ribbon Cutting Ceremony at 9:45am. During the grand opening event, which will feature a DJ, balloon artists, a selfie station, and a coloring station in the children's department, guests will have the chance to win prizes and special gifts with every purchase.

Brighton Gift with Purchase

March 19th - 27th. With a single day, full-priced purchase of $150 or more, customers will receive the Brighton "You Warm My Heart" Tote for free. Limit one per customer, while supplies last.

Estee Lauder Spring Gift with Purchase

March 22 - April 10. Receive your choice of gift free with any $39.50 Estee Lauder purchase. Receive an extra step up gift when you spend $80 or more. While supplies last.

Clinique Gift with Purchase

March 19 - While supplies last. Receive a 7-piece gift with your $40 Clinique purchase. One gift per customer, while supplies last.

Hammit Trunk Show

Saturday, March 19, 12pm-5pm. Join us in the Handbag Department for a Hammit trunk show. Receive a gift with any Hammit purchase, while supplies last.





JOB OPENINGS

Alterations Associate

Alterations Department Manager

Cosmetic Counter Manager

Department Manager

Full Time Customer Service Desk Associate

Full Time Sales Associate – Shoes

Loss Prevention Associate

Part Time Customer Service Desk Associate

Part Time Sales Associate

Pat Time Sales Associate – Shoes

Part Time Stock & Housekeeping Associate

Pianist

Stock & Housekeeping Associate

You can find a list of Von Maur Rochester Hills Job openings at
Von Maur Careers


###
PAST ROCHESTER.LIFE ARTICLES ON VON MAUR
Mar 14, 2022: Von Maur Grand Opening at The Village of Rochester Hills on Saturday, March 19th, 2022



Feb 21, 2022: Von Maur History and scheduled Grand Opening at The Village of Rochester Hills
Mar 19, 2022, Rochester.Life Staff