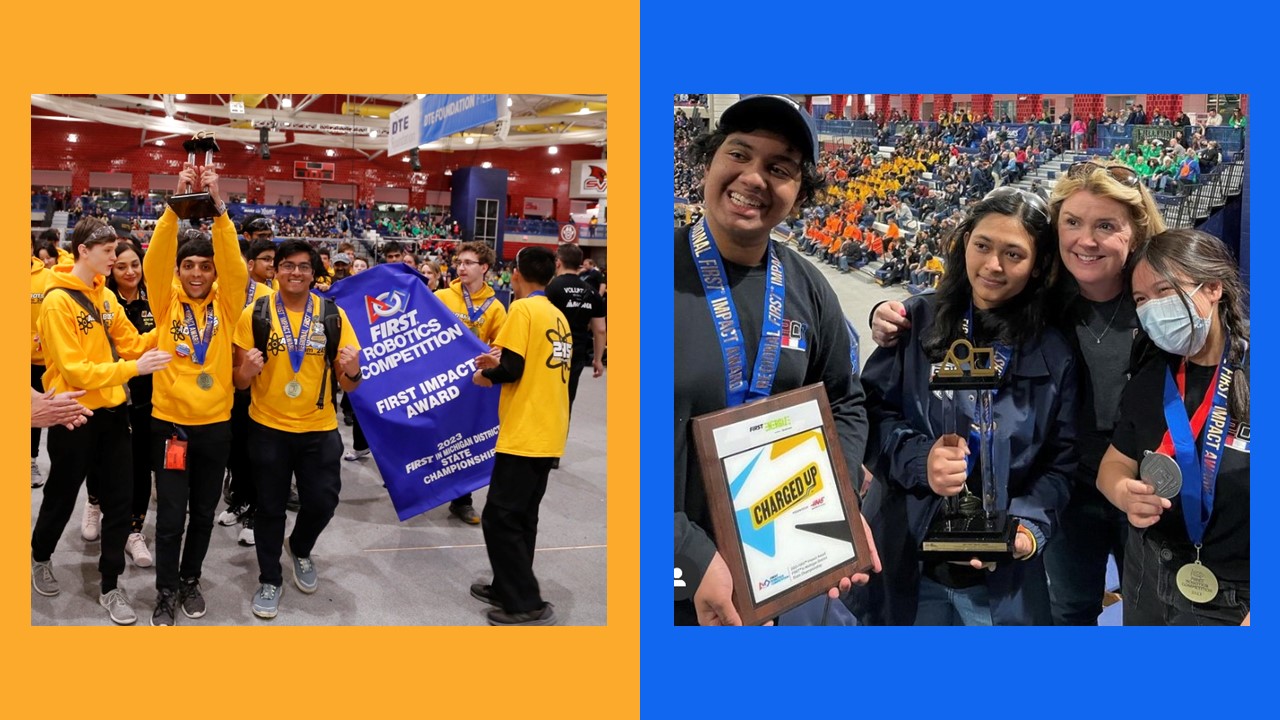 Rochester Community School District robotics teams advance to the FIRST® Championship 2023 after qualifying at the state level!
ROCHESTER, MI, Apr 12, 2023 – Congratulations to the Rochester High School Falcon Engineering and Design Solutions (FEDS) team 201, and the Rochester Adams High School AdamBots team 245, on earning the Impact Award – the most prestigious level of recognition at the FIRST® robotics competition in Michigan.

"Competing against approximately 500 contenders, this award celebrates the teams that have done the most to inspire excitement for science, technology, engineering, and mathematics (STEM) education, advocate for STEM resources, and expand access to STEM opportunities," said RCS Board of Education Secretary Jessica Gupta.

To win the Impact Award, students are evaluated on the content of 14 short essays and an executive summary; a 7-minute presentation with field questions in front of a panel of judges; and a short video production outlining how their team promotes the mission of FIRST: to inspire young people to be science and technology leaders and innovators.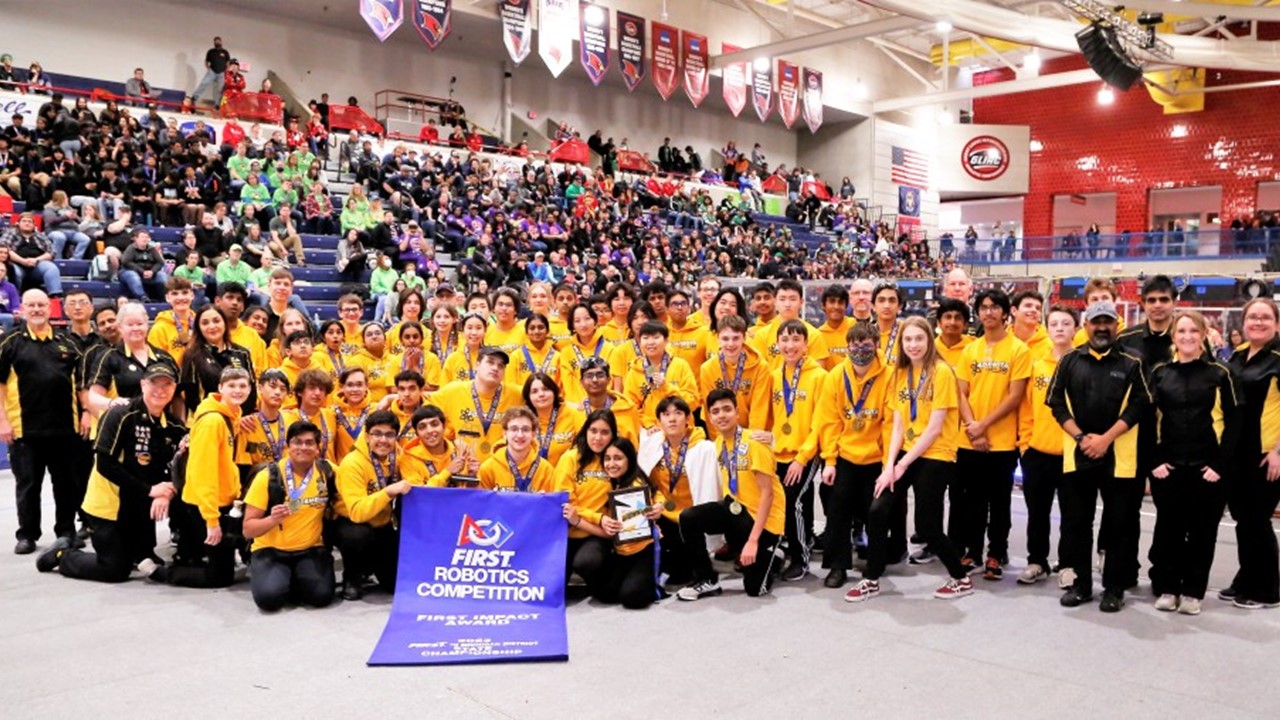 Adams HS AdamBots Team 245 Earns Prestigous Impact Award at State Championship!
"Only five of the 500 teams competing win the Impact Award at the state championship, and two of those five are from Rochester Community Schools. This is incredible and unprecedented," said Gupta.

Winning the Impact Award automatically secures the advancement of the FEDS (201) and the AdamBots (245) to the FIRST Championship in Houston, Texas, on April 19-22, 2023, where the teams will compete on a global level. The organization's website describes the FIRST Championship as "a culminating, international event for our youth robotics competition season" and a celebration of STEM education.

The Stoney Creek High School Cyber Cats, Team 5436, also qualified to compete among a select group of teams from across Michigan for the FIRST Engineering Inspiration Award; however, they will not be advancing to the championship.

Rochester Community Schools has 127 robotics teams that support K-12 education districtwide, which also include FIRST Lego Leagues and the FIRST Tech Challenge for younger students.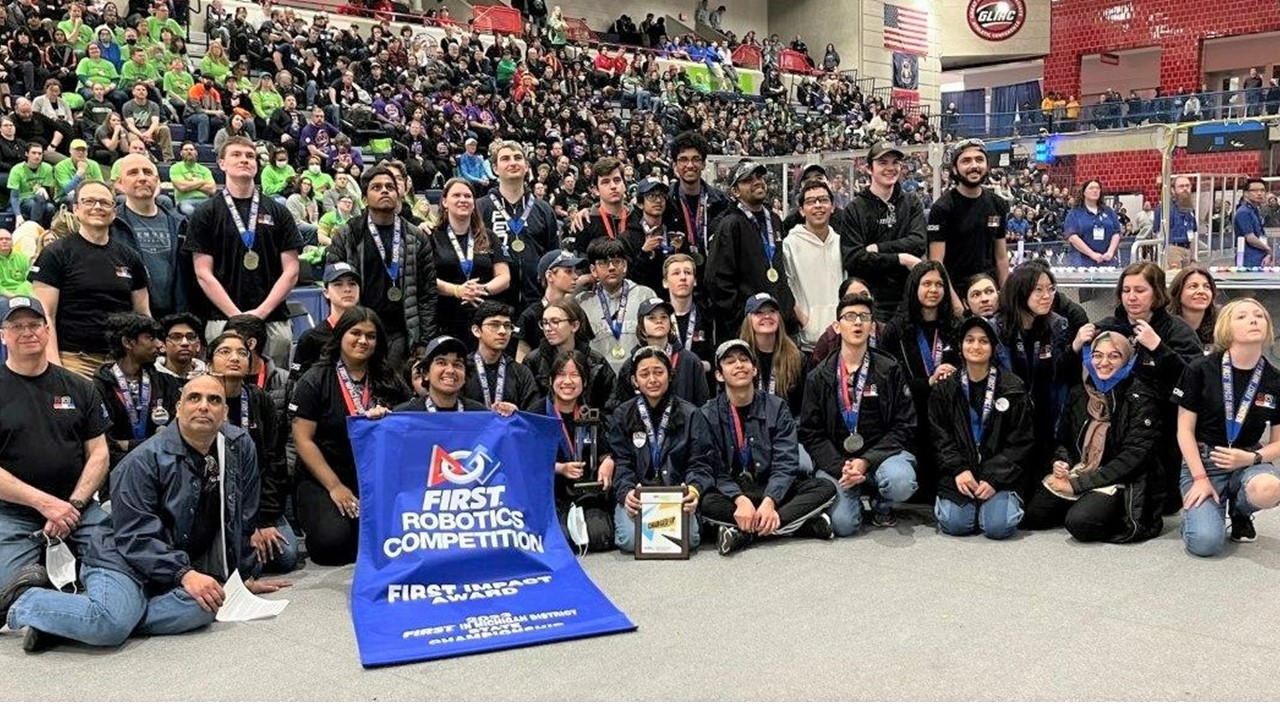 Rochester Falcon Engineering and Design Solutions (FEDS) Team 201 Earns Prestigous Impact Award at State Championship!
"RCS has an outstanding, volunteer-led robotics program that supports creativity, innovation, collaboration and teamwork," said Debi Fragomeni, deputy superintendent of teaching and learning.

"We are extremely proud of our world-class robotics teams. We are also grateful for the volunteers who partner with our teachers, administrators and staff to ensure student success in and out of the classroom," Fragomeni said.

Gupta and her spouse, Shishir, have been involved in the FEDS (201) robotics program for seven years, with Shishir serving as the lead mentor. Dr. Julie Alspach, an RCS graduate, is the lead mentor of the Cyber Cats (5436) and has been volunteering for 10 years. Rick and Grace Drummer have been donating their time and talents running the AdamBots (245) program for the past 24 years.

"As educators, we strive to make a positive impact on the lives of students, while giving them the tools to pursue their passion," said Fragomeni. "The robotics program has proven to be so successful that many of the graduating student participants return as mentors. This partnership is truly a point of pride within our district."


Rochester Community Schools Mission

To provide a quality education in a caring atmosphere for students to attain the necessary skills and knowledge to become lifelong learners and contribute to a diverse, interdependent and changing world.


###
April 17, 2023, Rochester Community Schools and Rochester.Life