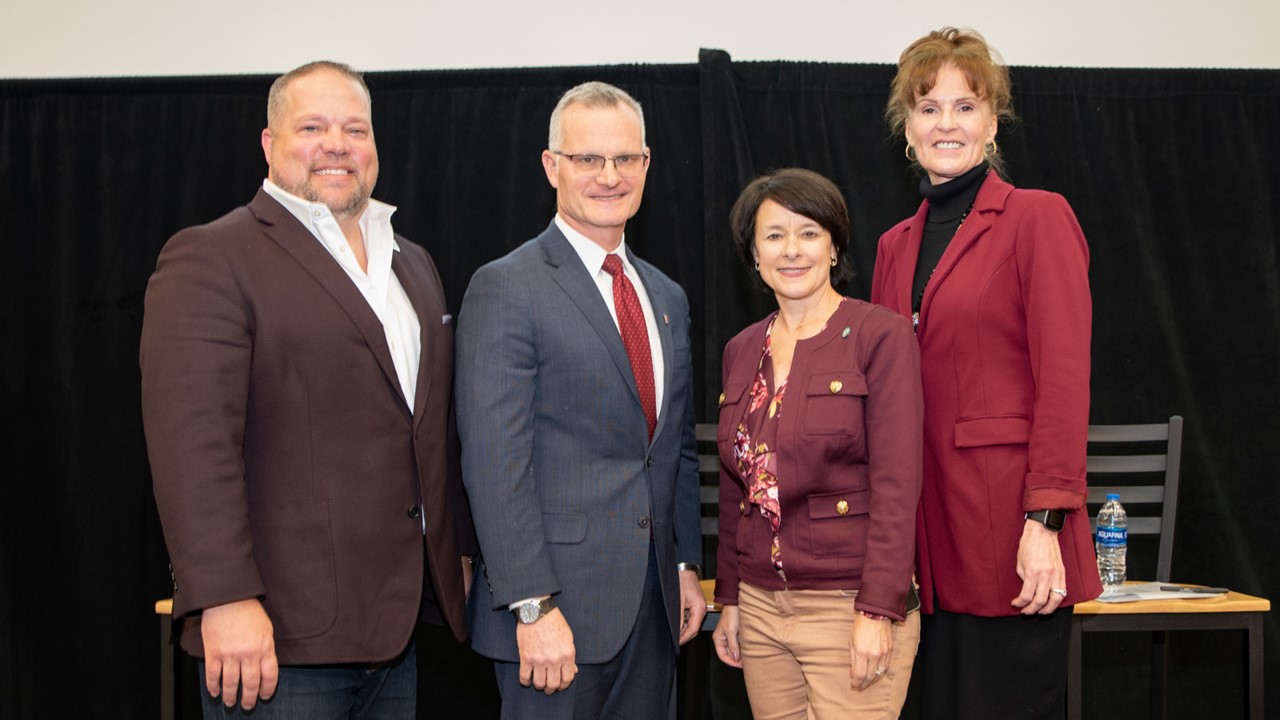 (l-r) Rochester Hills Mayor Bryan Barnett, Rochester Community Schools Superintendent Dr. Robert Shaner, City of Rochester Mayor Pro-Tem Nancy Salvia, Oakland Township Supervisor Robin Buxar.
Photo Courtesy: Jason Dale (RH TV).
Rochester Regional Chamber of Commerce Hosts Successful Community Outlook Breakfast 2023!
Sold Out Crowd at Oakland University hears updates from Community Leaders Across Greater Rochester.
Feb 27, 2023, Rochester Hills, MI - Usually Monday morning rain and sleet are enough to keep most people indoors, unless an event's draw is greater than sleeps inertia. Today, a sell-out crowd filled Oakland University's Oakland Center to attend the Rochester Regional Chamber of Commerce's Community Outlook Breakfast.

The Rochester Regional Chamber of Commerce (RRC) Staff

Congratulations to RRC President Maggie Bobitz, RRC Director of Marketing Michelle Eberle, RRC Events Administrator Nicole Condon, and the entire RRC team for executing a major community event with a comprehensive list of Greater Rochester Area Leaders and Topics!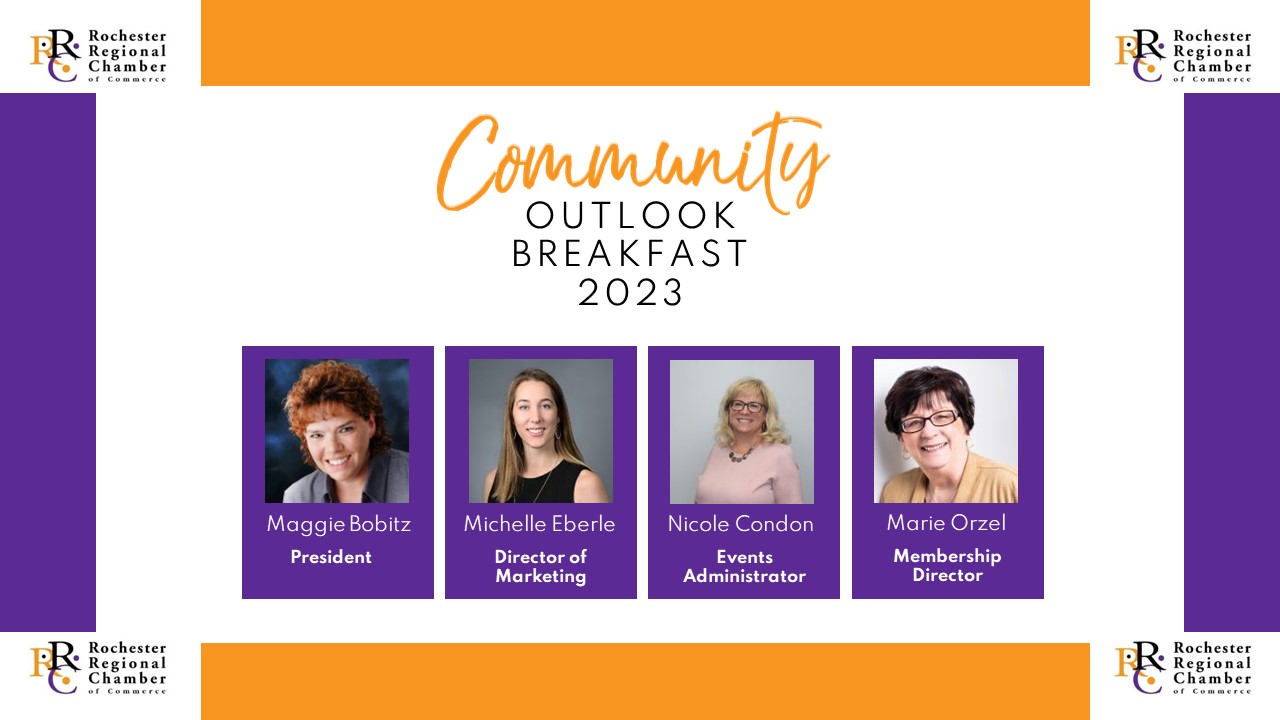 Community Outlook Breakfast 2023 Highlights!


Corewell Health

Corewell General Manager, Nathan Adams, shared the vision for Corewell Health, the name of the new health system formed in February 2022 by Beaumont Health and Spectrum Health. Corewell Health provides healthcare and coverage with an exceptional team of 60,000+ dedicated people—including more than 11,500 physicians and advanced practice providers and more than 15,000 nurses offering services in 22 hospitals, 300+ outpatient locations and several post-acute facilities. GM Adams shared the Corewell committment to the Greater Rochester Area with several facilities, including the Corewell Health and Wellness Center at 1555 E. South Blvd in Rochester Hills.


OUCARES

Kristin Rohrbeck, Director of OUCARES, discussed a $385,000 grant for the OU Center for Autism. "The past few years have been very hard for so many families across Oakland County and beyond," said Rohrbeck. "We are confident this grant will allow the OU Center for Autism to grow critical out-of-school programming for our community, provide increased social opportunities, and offer an enriching environment for continued learning for youth with autism." The grant funds will allow the Center for Autism to expand therapy services to provide cognitive, life-skills, and social-emotional skill development to youth with autism spectrum disorder (ASD) after school; as well as provide expanded recreational programs that teach critical social, communication, and emotion regulation skills (areas typically in deficit in the autism population).


Ascension Providence Rochester Hospital

Michael Badali, Chief Operating Officer for Ascension Michigan West Region, highlighted several Ascension programs available in Rochester.

One is a new technology to measure blood flow through tiny arteries. This can help prevent some heart surgeries and replace those with medicaton treatments. Ascension Providence in Rochester is one of only seven hospitals in the country with this new technology.


MOCERI

Mario Moceri, VP of Property Management for MOCERI, summarized the portfolio of MOCERI offerings. Whether its building a custom home on your lot or theirs, finding a vibrant senior living property, or buying your dream townhome, MOCERI has something for everybody in the Greater Rochester Community. Mario shared that he moved to Rochester in 1988, he is personally vested in this community. Future innovations call for development at the old Rochester Elevator (Red Barn) across from the library downtown.


Nancy Salvia, City of Rochester - Mayor Pro Tem

Nancy Salvia, Mayor Pro Tem of the City of Rochester, shared several updates around a theme of "Rochester is Ready!". There will be a new "All-Abilities" Park (The Grove) that will break ground this summer. The new park will be specifically designed to bring together children, families, and loved ones of all ages and ability levels to enjoy the many benefits of outdoor play and recreation. Incorporating accessible design elements affords the City of Rochester the opportunity to give all community members the ability to recreate equally.

Recent City of Rochester visioning sessions discovered the desire for an entertainment venue. Salvia announced "The Roxy". The Roxy is designed to meet the entertainment venue needs in Downtown Rochester. Located at 401 Walnut Street, The Roxy can accommodate 275 visitors for each event.

Par Pharmaceutical, the City of Rochester's largest employer is expanding their facilities with two projects. They are renovating 25,300 square feet of manufacturing space and adding a second story. Par will also add a new 91,000 square foot warehouse to be occupied in the spring of 2023.

Salvia also announced the "Brownstones on Main". This 10 unit duplex complex is the perfect mix of historic and hip. The first units will be available for occupancy in the summer of 2023. The addresses run from 1205 to 1223 N. Main Street.

Mayor Pro-Tem, Salvia offered additional discussion points on the City of Rochester...

• "The City's finances are strong and it's neighborhoods are flourishing."

• "We execute well on core topics like water, roads, and sewers, items often over-looked, but critical to a healthy city."

• "Let's make it cool to work again, and grow the pride people have from working hard and producing goods and services."

• "The State of Michigan should bring some of it's surplus dollars back to our cities and people."

• "Pat McKay, Rochester Hills Museum Manager, says there use to be a train from Rochester to Detroit and it took 20 minutes. So in some ways, we've gone bckwards. Let's dream big and find a way to develop safe, high-speed lines between Rochester and Detroit."

• "Many of our businesses benefit from people working at home, restaurants stay open longer during lunch."

• "Get involved with three local spring events; 1) Arbor Day: Plant a tree, 2) May 4th Rochester Area Prayer Breakfast, 3) Memorial Day Parade"


• "I tell people that coming to Rochester is like living in a Hallmark movie!"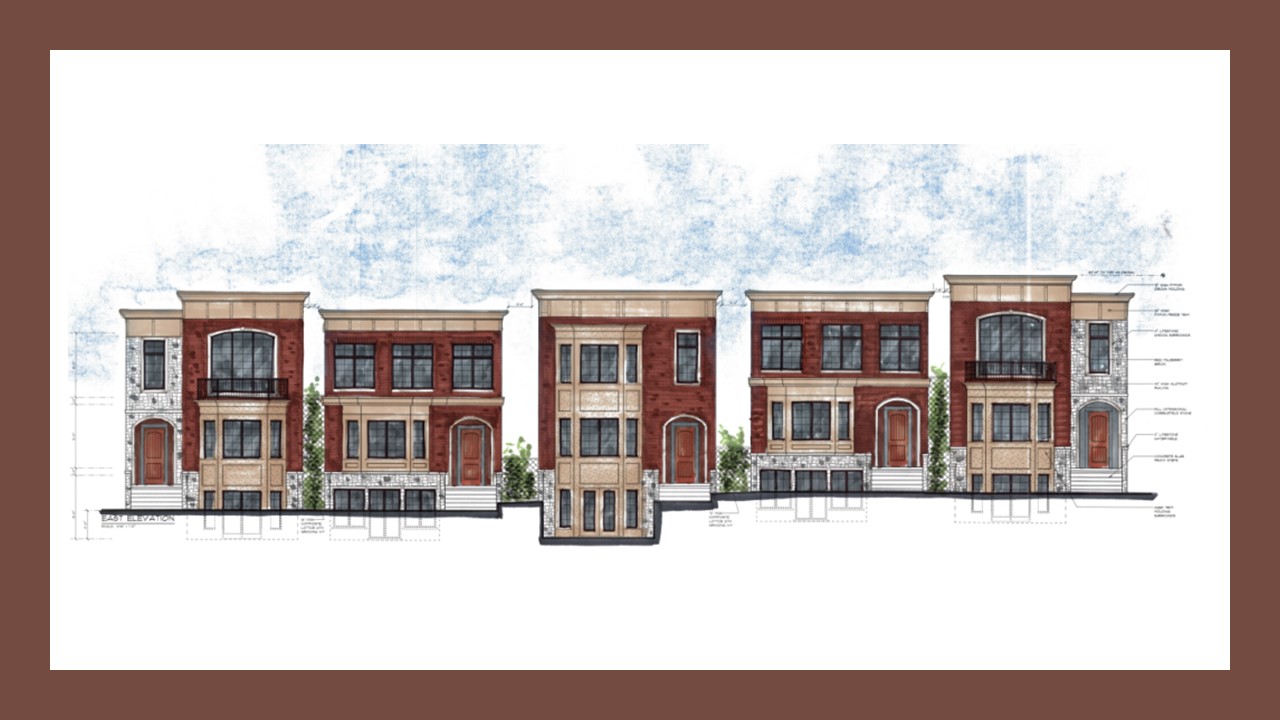 Brownstones on Main! 1205 to 1223 N Main Street.
Bryan Barnett, City of Rochester Hills - Mayor

Mayor Barnett shared positive economic news, stressing that the City have never been in such good shape. Unemploymet is just under 2%. Commercial vacancies are at 3.6%. 70% of businesses plan on adding people and Rochester Hills has a highly educated population with 60% holding bachelor degrees.

"While the State of Michigan lost 43,000 people last year. Rochester Hills grows and will continually look at ways to attract talent. One new program we're launching is a partnership with Leader Dogs of the Blind. We will offer new Rochester Hills residents a free puppy. Who doesn't love puppies! Pam Valentik, our Economic Development Manager, incubated the idea. The first day of the program we placed seven puppies.

Rochester Hills will continue to invest in it's parks and trails, adding a new "Indiana Jones" type bridge to a green-space area of Innovation Hills.

Mayor Barnett offered additional discussion points on the City of Rochester Hills...

• Two new businesses are started in Rochester Hills every week.

• "When people come to Rochester Hills, they don't want to leave. If I take them to Kruse and Muer and they don't like the bread, then we don't want them here anyway!"

• "Both our Greater Rochester Area State Senator, Mike Webber, and our Rochester Area State Rep, Mark Tisdel, were formerly Rochester Hills City Council members. Now that they are in Lansing, we can come together to work across the aisle to help Michigan grow. One unique attraction Michigan has is our abundant fresh water supply. We need to find ways to highlight that."

• "Our community provides $4 million for Oakland County Transit. The OPC is already doing a great job meeting seniors' transportation needs, but I'm not sure we need a dedicated SMART bus line along Walton Road and Rochester Road. I get very few calls from residents about transportation needs. I would rather see a type of "Uber-credit" system, where residents can use Uber credits for door-to-door transit."

• "We are blessed to have a great working relationship between, Rochester Hills, The City of Rochester, and Oakland Township. We don't want to take that for granted."


Robin Buxar, Oakland Township - Supervisor

This was Supervisor Buxar's first Community Outlook meeting. She replaced retiring Supervisor Dominic Abbate on Jan 11, 2023. Buxar shared top priorities for Oakland Township. They will maintain a safe community with additional investment in personnel from the Sheriff's Office and increased EMS staff. The Township will monitor growth carefully to make sure property values and community ambiance are maintained. The Township will build on a history of fiscal responsibility and conservative finances to preserve the highest credit ratings.

Supervisor Buxar offered additional discussion points on Oakland Township...

• In a fun jab at Rochester Hills Mayor Barnett, Buxar said, "We don't need to offer free puppies. We have no problem attracting people to the Township!"

• "Oakland Township works hard to keep taxes low. This encourages growth and keeps residents."

• "Our three communities provide $6.1 million to Oakland County transit. Are we getting our monies worth? We don't like the fixed-line bus route. We would prefer a system of "Uber-like" credits for our residents."


Dr. Robert Shaner, Rochester Community Schools (RCS) - Superintendent

In the Press Conference portion of the Community Outlook Breakfast, Dr. Shaner shared the stage with Oakland County Sheriff Michael Bouchard, Rochester Police Chief Steven Schettenhelm, and Jason Russell, CEO of Secure Education Consultants. Dr. Shaner brought attention to the subject of school safety.

Sheriff Bouchard opened discussing the 2008 Mumbai terrorist attacks. After those attacks, he called all the police chiefs in Oakland County and offered to schedule a consolidated training for all the departments. The Oakland County Sheriff's office offers resources, tools, and equipment that smaller departments may not have. The chiefs agreed and an ongoing combined training has been happening ever since. They train together, and they have agreement when there is an active shooter situation, they go in! They are all on the same page. Sheriff Bouchard deployed 80 people to the MSU shooter incident. Today, they have resources that closely monitor school threats. They are tracking down one to five tips everyday across the county.

City of Rochester Police Chief Steven Schettenhelm discussed security personnel covering RCS. There are four deputies and two Rochester Police officers deployed in RCS everyday. In addition to security, officers provide a friendly face in the hallway while keeping K-12 students informed on safety issues.

Next up, Jason Russell, CEO of Secure Education Consultants (SEC), shared the work they are doing with RCS. Following the tragic events in Oxford, a team from SEC toured every building across the district to determine additional opportunities to enhance security. This team is comprised of staff with prior U.S. Secret Service, Department of Homeland Security, military, police, fire, and education experience. Implemented recommendations include updating maps for all district buildings; adding numbers to all exterior building doors; and reviewing and modifying entrance and exit procedures. Further recommendations are currently under review. CEO Russell praised RCS as a model district to work with.

Dr. Shaner continued the safety discussion, highlighting in 2015, RCS had a total of six security cameras, today it's over 1,500. The network to support all this has been completely updated.

To support the Rochester Community Schools continued commitment to safety, the state of Michigan has awarded the district $1.9 million in safety grants. "Nothing is more important than the health and well-being of our school community. We remain truly grateful for the state's efforts to ensure school districts have the resources to continue to keep our students, staff and guests as safe as possible," said Superintendent Shaner.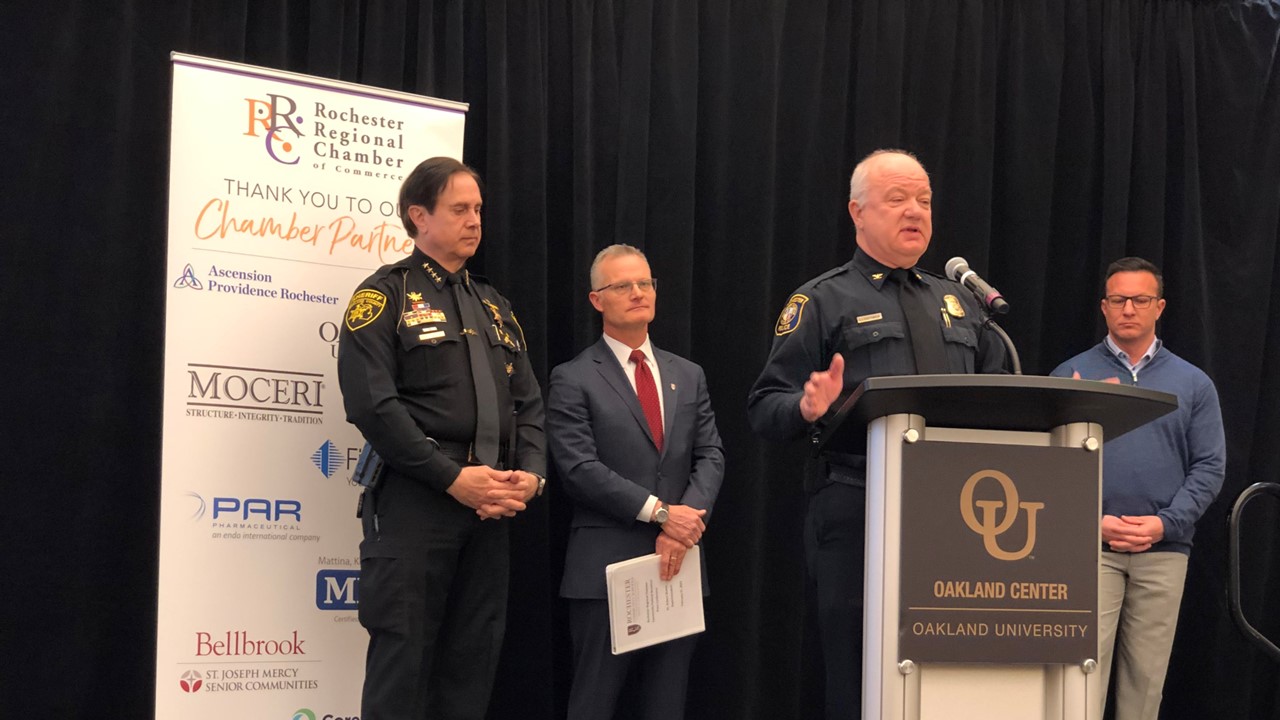 (l-r) Sheriff Bouchard, Dr. Shaner, Chief Schettenhelm, Jason Russell.
Superintendent Dr. Shaner offered additional discussion points on Rochester Community Schools...

• 47% of RCS students have a 3.75 GPA or higher.

• RCS is able to sell their bonds on the open market, which is rare for a school district.

• "A way to attract residents is to maintain school district quality and invest in our teachers."

• "I know many believe the younger generation is lazy. I don't see that. I see a smart, hard-working generation of students. I urge everyone to listen, really listen, to our students, they have much to say."

• This spring, Dr. Shaner looks forward to "March as Reading Month" and working with special education students on the horse park in Oakland Township.


The Community Outlook Breakfast 2023 ended with additional networking opportunities as attendees mingled discussing a broad range of topics. Participants left knowing that the Greater Rochester Region has a bright future as a diverse group of thought leaders shared their visions for 2023 and beyond!


###
February 27, 2023, Rochester.Life