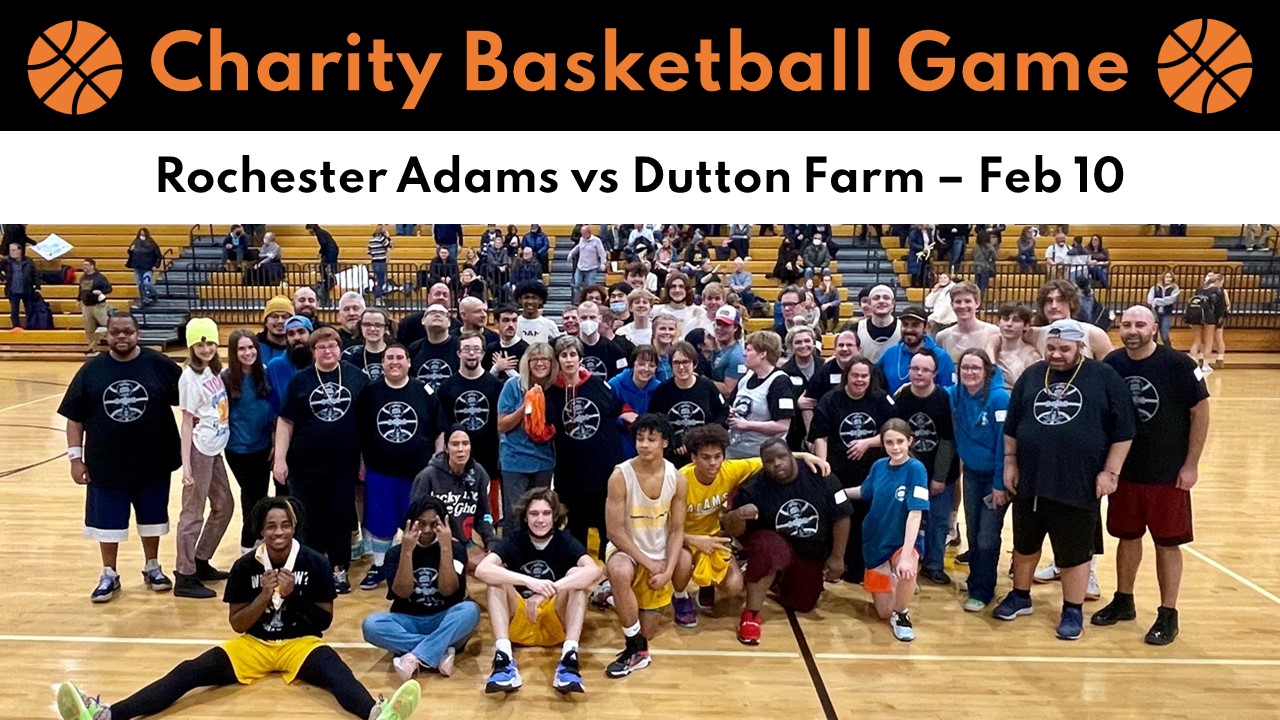 Rochester Adams Boys Varsity takes on Dutton Farm in Local Charity Basketball Game!
The Rochester Adams Boys Varsity Basketball team takes on the Dutton Farm Farmers in a classic annual local charity basketball game.

Last year, the Farmers were able to pull out a 43 to 32 victory over Adams. Can they do it again this year?

Your attendence goes a long way to supporting the programs Dutton Farm creates to support adults in our community with developmental disabilities. All donations benefit Dutton Farm.

The evening is filled with joy as the Adams JV and Varsity cheerleaders lead the crowd in chants and cheers supporting the athletes. A half-time contest raises additional money and earns prizes for the winners. A 50/50 raffle will be held and tasty concessions will be available.


DATE/TIME

Friday, February 10, 2023.

Doors open at 6:30pm. Game starts at 7pm.


LOCATION

This years contest takes place at Rochester Adams High School at 3200 W. Tienken Road, Rochester Hills, MI 48309.


COST

FREE entry for students.

Suggested donation of $5 for adults. $15 donation gets you a T-shirt!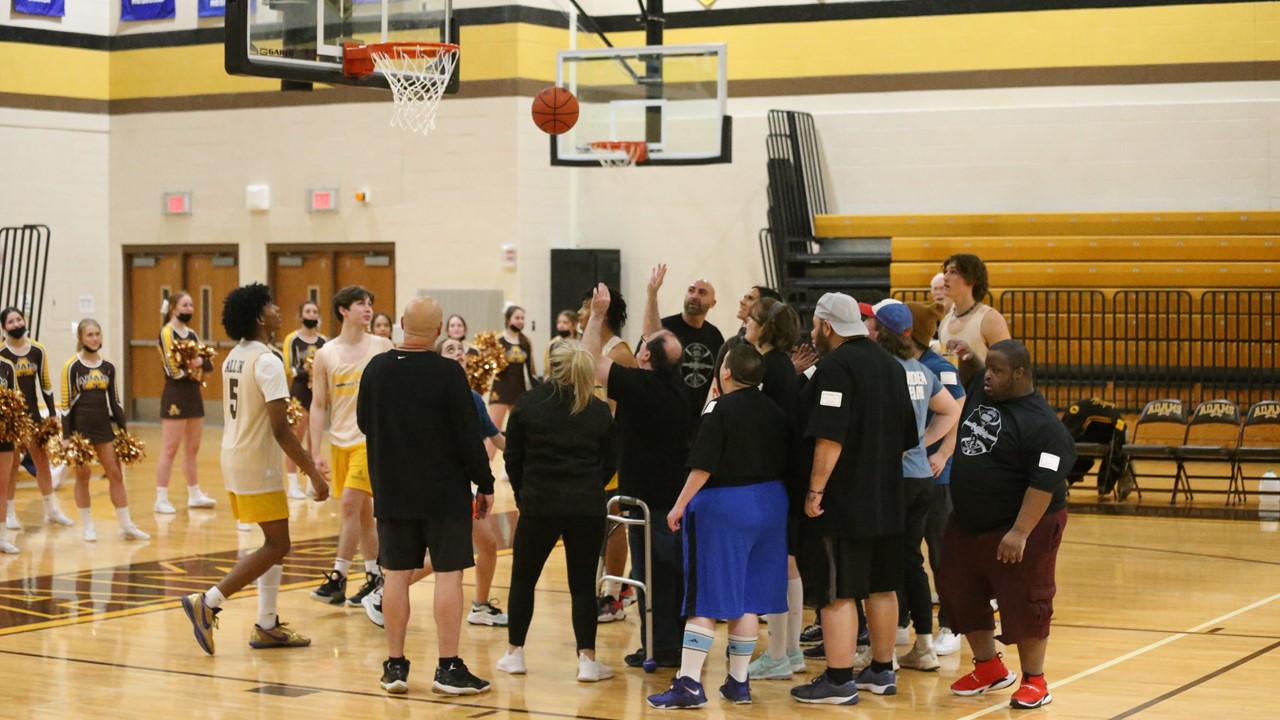 Players from Dutton Farm and Adams compete under the basket in the 2022 game!
Photos Courtesy Khris Lee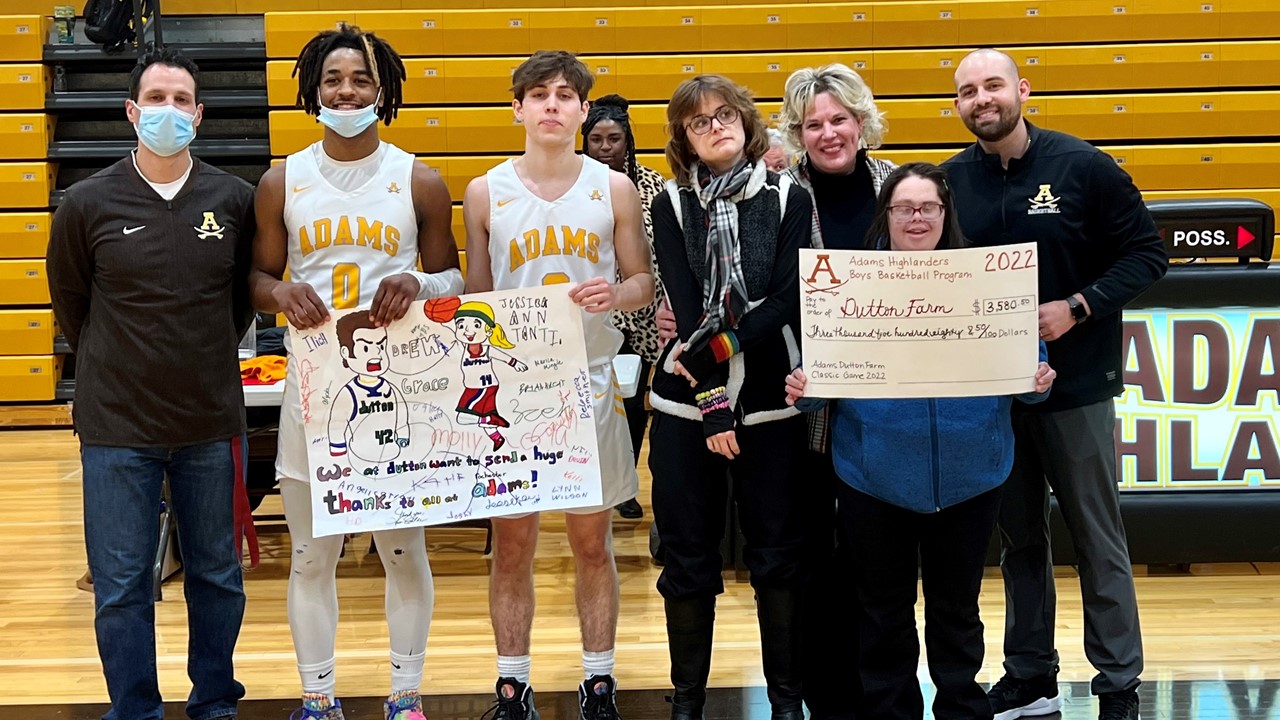 The 2022 contest raised over $3,500! (l - r) Pasquale Cusumano-Principal Adams High School, Justice Mimms - Senior, Gunner Walters - Senior, Jessica Tonti- Dutton Farm Participant, Kim Staudacher - Community Relations @Dutton Farm, Rebecca Smither - Dutton Farm Participant, Jaret Thomas - Head Varsity Coach Adams Boys Basketball
Photos Courtesy Khris Lee
About Dutton Farm

Dutton Farm, a 501(c)(3) non-profit organization, that embodies an adult education program, workforce development program and community involvement opportunities. These programs are designed around the support of the organization to provide guidance for adults with developmental disabilities as they choose meaningful life engagement, training, and pre-vocational opportunities. Community engagement and involvement are key to Dutton Farm's mission. Dutton Farm believes in life-long relationships with the people or organizations that support us.

The core mission of Dutton Farm is about, empowering and supporting adults with disabilities to live a life of purpose, inclusion and dignity. Our vision is to create a just-world where you will find dignified inclusion in our schools, workplaces, government, communities, churches and beyond. Dutton Farm has become an integral part in the local community. As a result, our program has created a safe environment that allows disabled adults to explore their gifts and prepare for a life of employment, empowerment and dignity. To learn more, visit www.DuttonFarm.org



###
January 30, 2023, Dutton Farm and Rochester.Life Staff