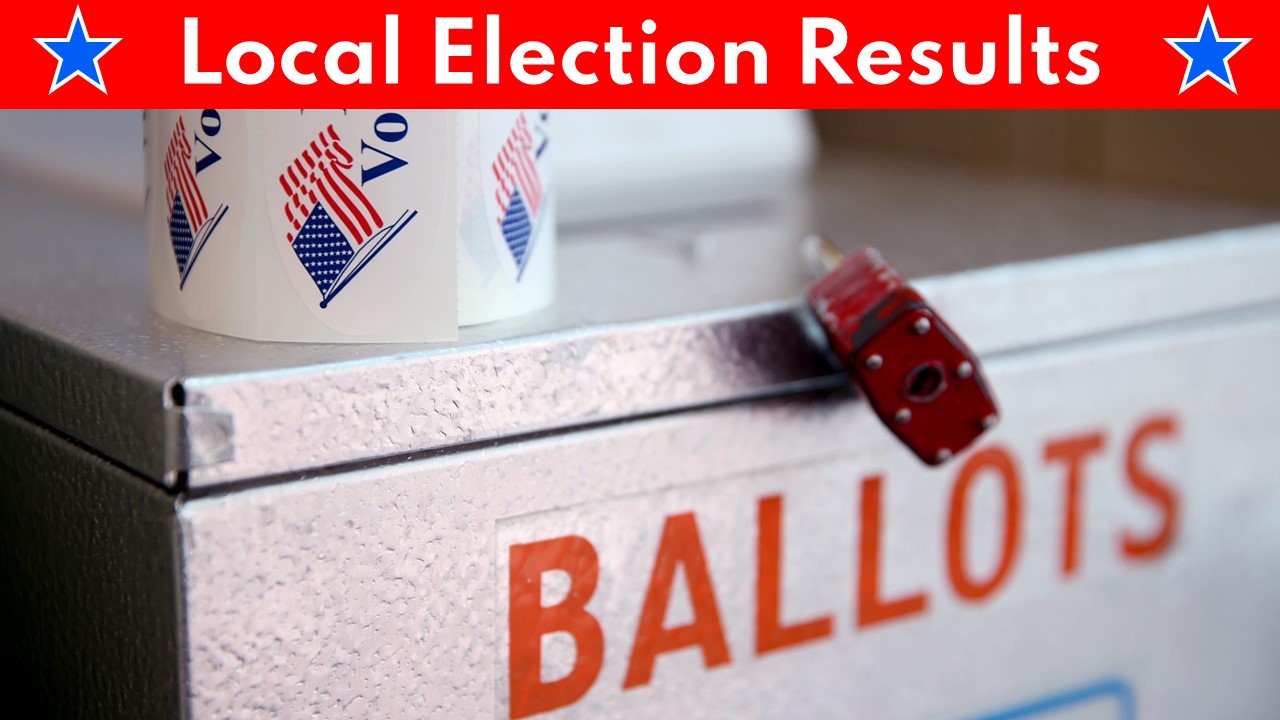 Election Results for City of Rochester, Rochester Hills, and Oakland Township for Tuesday, November 8, 2022 Election
Nov 11, 2022, Rochester Hills, MI - This article covers election results unique to Rochester, Rochester Hills, and Oakland Township for the Tuesday, November 8, 2022 election. The following positions are covered...

US Congressional District #10 (All of Rochester and Rochester Hills reside within this district)

US Congressional District #9 (All of Oakland Township resides within this district)

Michigan State Senate District #9 (All of Rochester and Rochester Hills and the southern portion of Oakland Township reside within this district)

Michigan State Senate District #24 (The northern portion and majority of Oakland Township resides within this district)

Michigan House of Representatives District #55 (All of Rochester and Rochester Hills and the southeast corner of Oakland Township reside within this district)

Michigan House of Representatives District #66 (The majority of Oakland Township resides within this district)

Michigan House of Representatives District #54 (The southwest corner of Oakland Township resides within this district)

Rochester Community Schools - Two School Board Terms Ending 2028 (The Rochester Community Schools voting constituency includes all of the City of Rochester, the majority of Rochester Hills excluding the southwest corner, the majority of Oakland Township, and small portions of Orion Township, Washington Township (Macomb County) and Shelby Township (Macomb County).

Rochester Community Schools - One School Board Partial Term Ending 2024


VOTER TURNOUT
Oakland Township beat out Rochester and Rochester Hills for the highest voter turnout amongst the three communities in the November 2022 election.

Oakland Township delivered 68% of registered voters submitting ballots, Rochester Hills was at 65% and the City of Rochester came in at 62%.

While 56,402 voters cast votes across those three communities, that still leaves 30,473 registered voters that DID NOT cast votes in the November 2022 election!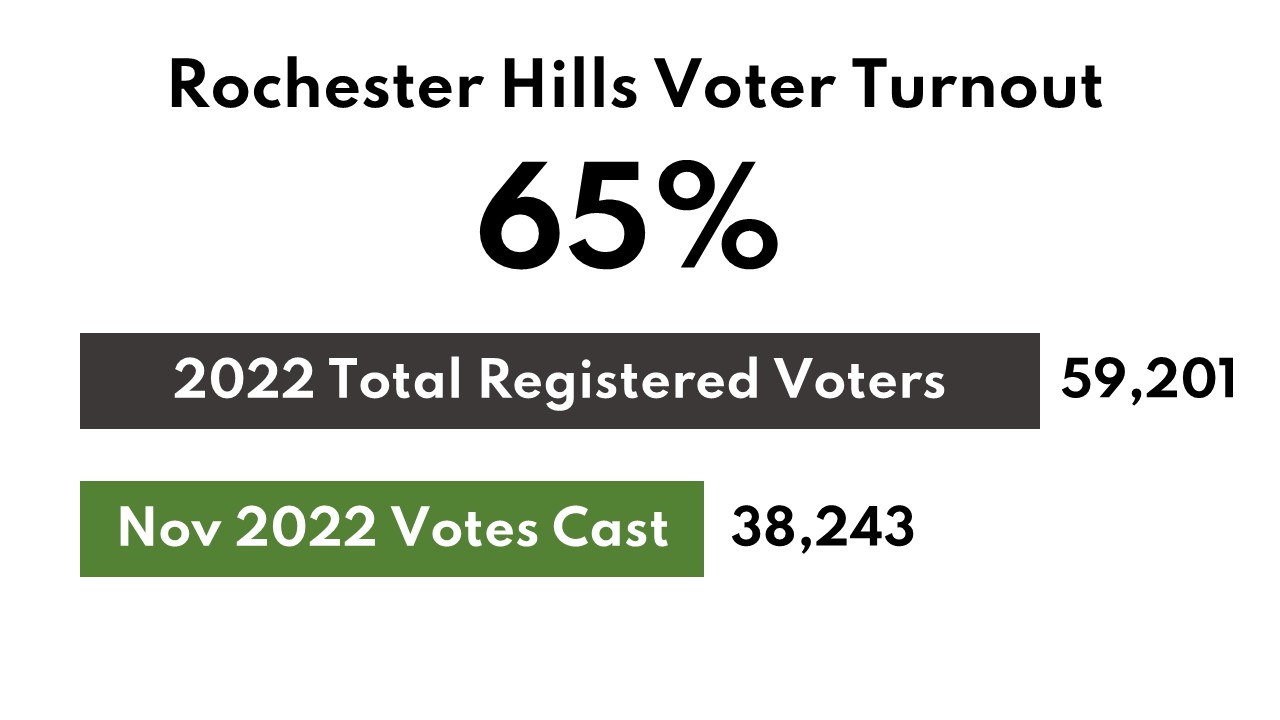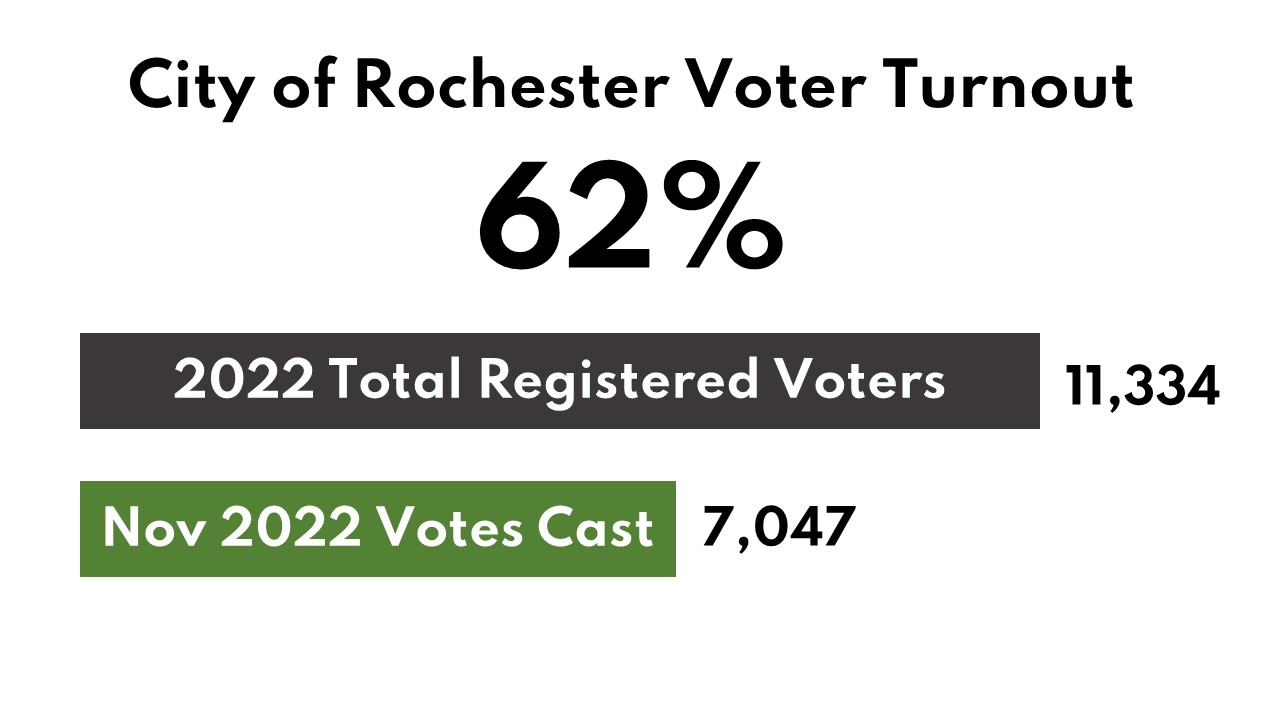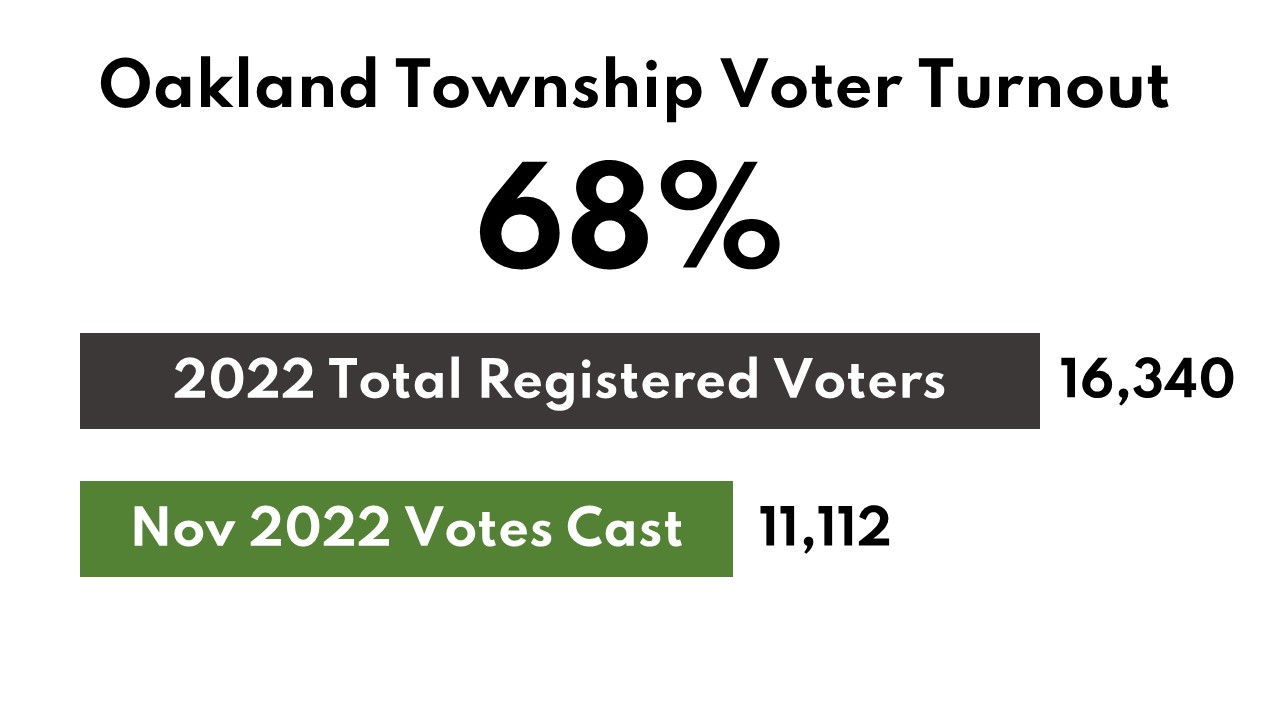 US CONGRESSIONAL DISTRICT #10
The 2020 US Census revealed population shifts that took away a US Congressional seat from Michigan. Michigan drops from 14 to 13 US House members in Congress.

The 13 Michigan US Congressional District maps were redrawn, putting Rochester and Rochester Hills in US Congressional District #10. This is a huge geographic shift from the past when much of Rochester and Rochester Hills made up the eastern most border of a district that extended as far west as Lansing. Today, Rochester and Rochester Hills make up the western most edge of a district that extends as far east as Lake St. Clair and as far south as 8 mile road. This district resides almost entirely within Macomb County, with only the entirety of the City of Rochester and Rochester Hills making up the Oakland County portion of US Congressional District #10.

The winner of the US Congressional District #10 is Republican John James. Two years ago, Mr. James lost to Democratic Senator Gary Peters (49% to 48%) for a Michigan US Senate seat. This time he earned his spot in Washington D.C. with a close victory over veteran Macomb County politician Carl Marlinga (48.8% to 48.3%).

The Selfridge Air National Guard Base also resides within this district which seems fitting for Congressman-elect James who is a West Point graduate who served multiple tours of duty in Operation Iraqi Freedom flying Apache helicopters.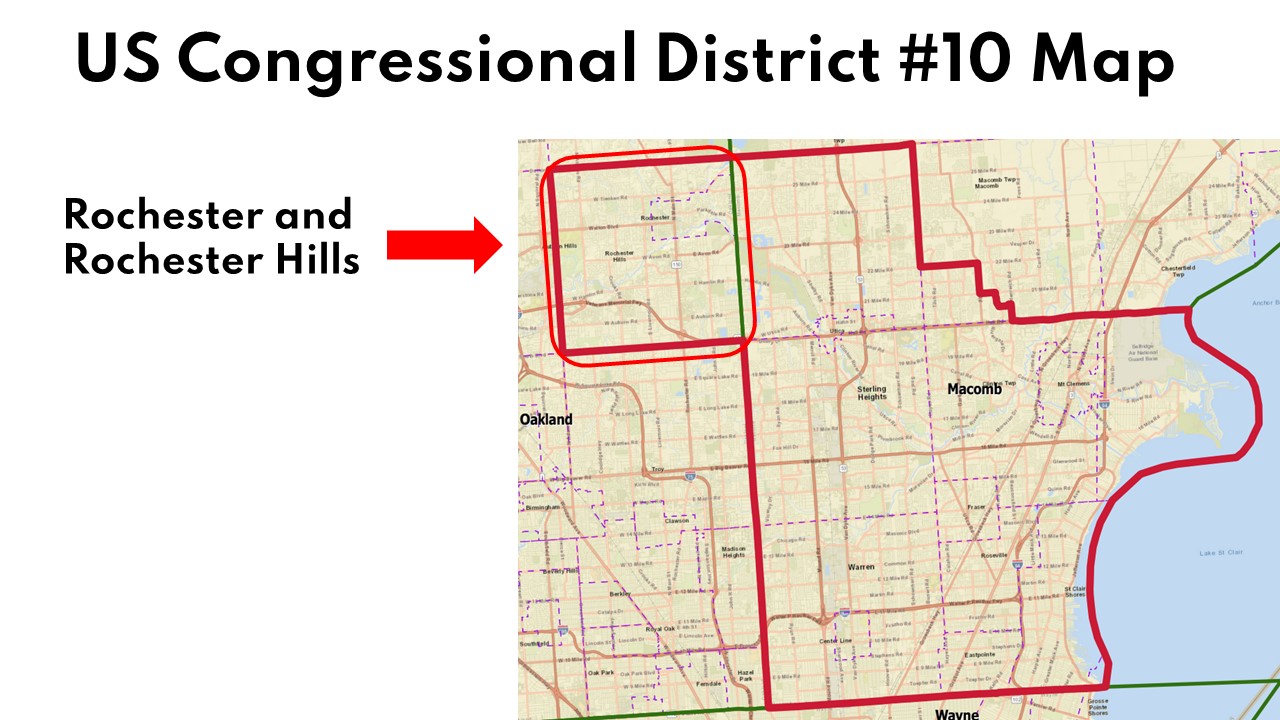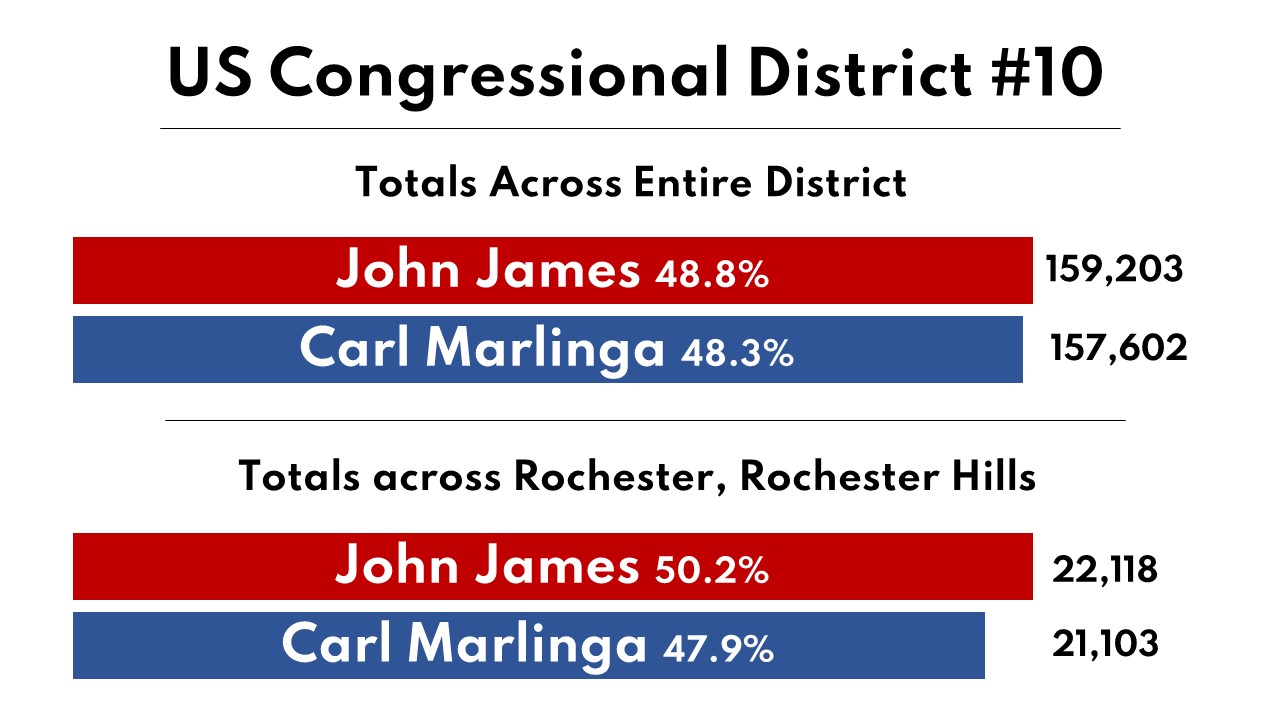 US CONGRESSIONAL DISTRICT #9
All of the 36 square miles of Oakland Township sits within the vast US Congressional District #9. The district stretches from Oakland Township's southern Dutton Road border and expands north consuming all of Michigan's thumb and the beginning borders of Lake Huron.

Republican Lisa McClain easily won the district over Democrat Brian Jaye (63.9% to 33.1%). Of the 361,981 votes cast for the top two candidates, 6,550 were from Oakland Township.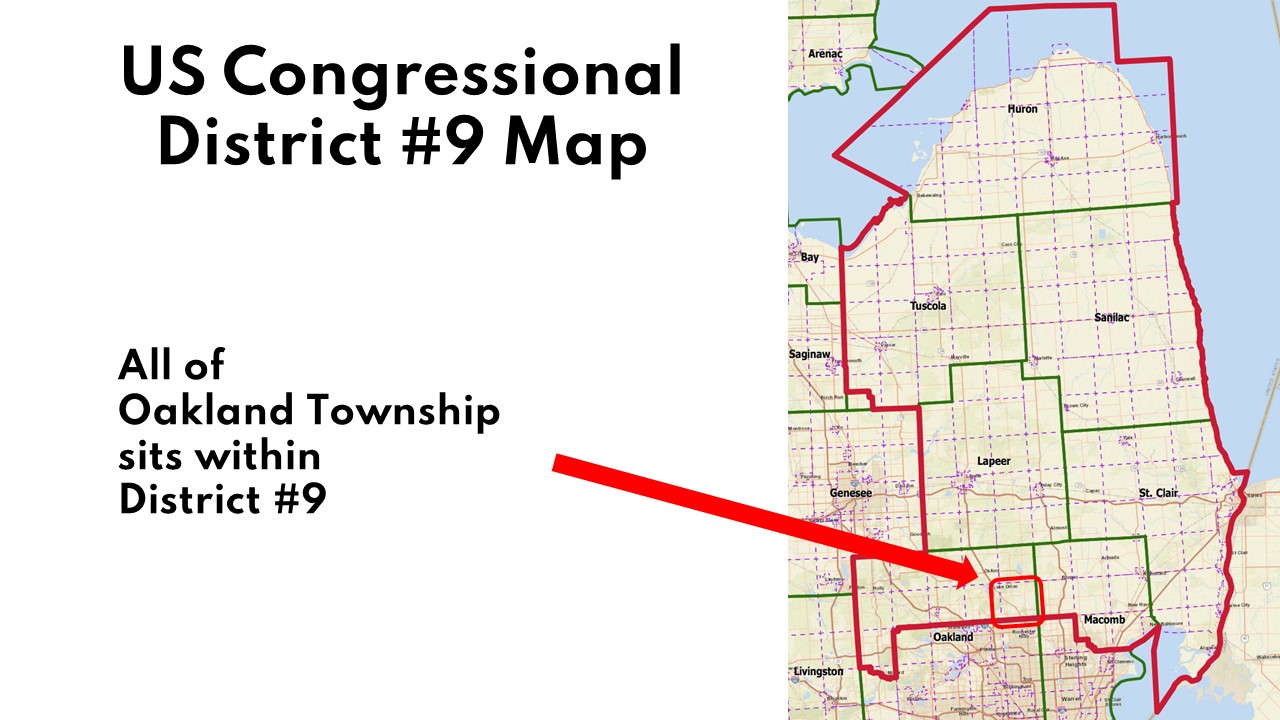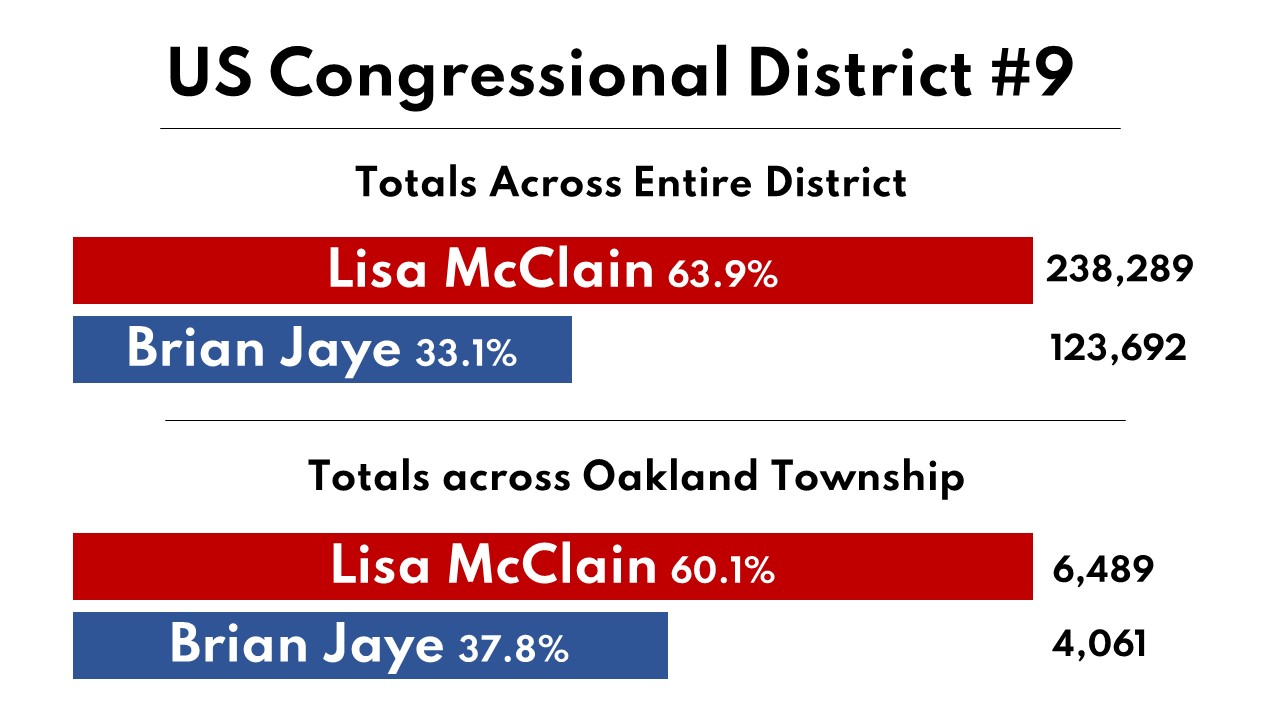 MICHIGAN STATE SENATE DISTRICT #9
Incumbant State Senator, Mike Webber, squeeked out a narrow victory over Padma Kuppa (50.35% to 49.65%). The majority of Senate District #9 sits in Oakland County, however, the roughly 28% of the district that lies within Macomb County boosted Senator Webber to victory.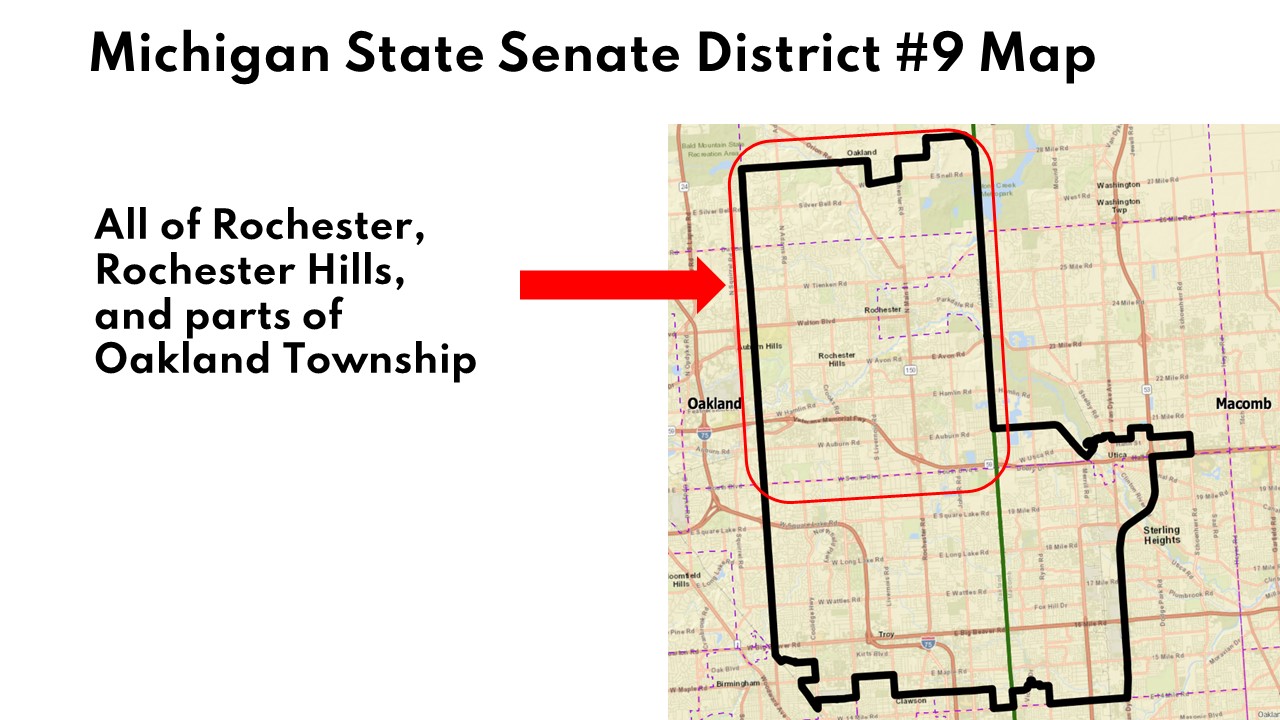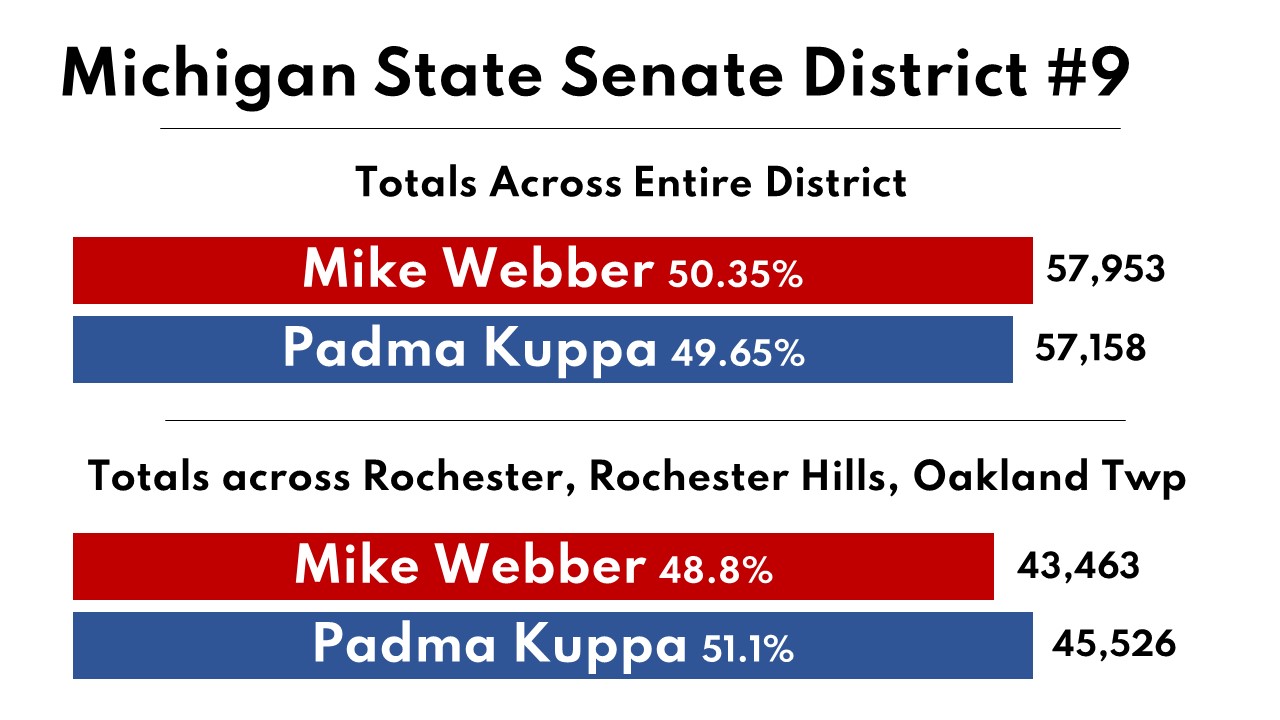 MICHIGAN STATE SENATE DISTRICT #24
Former Michigan Secretary of State, Republican Ruth Johnson, was re-elected to the Michigan State Senate by a wide margin (65.8% vs 34.2%) over Democrat Theresa Fougnie. The majority of Oakland Township sits in District #24 with the southern boarder reaching down to Snell Road.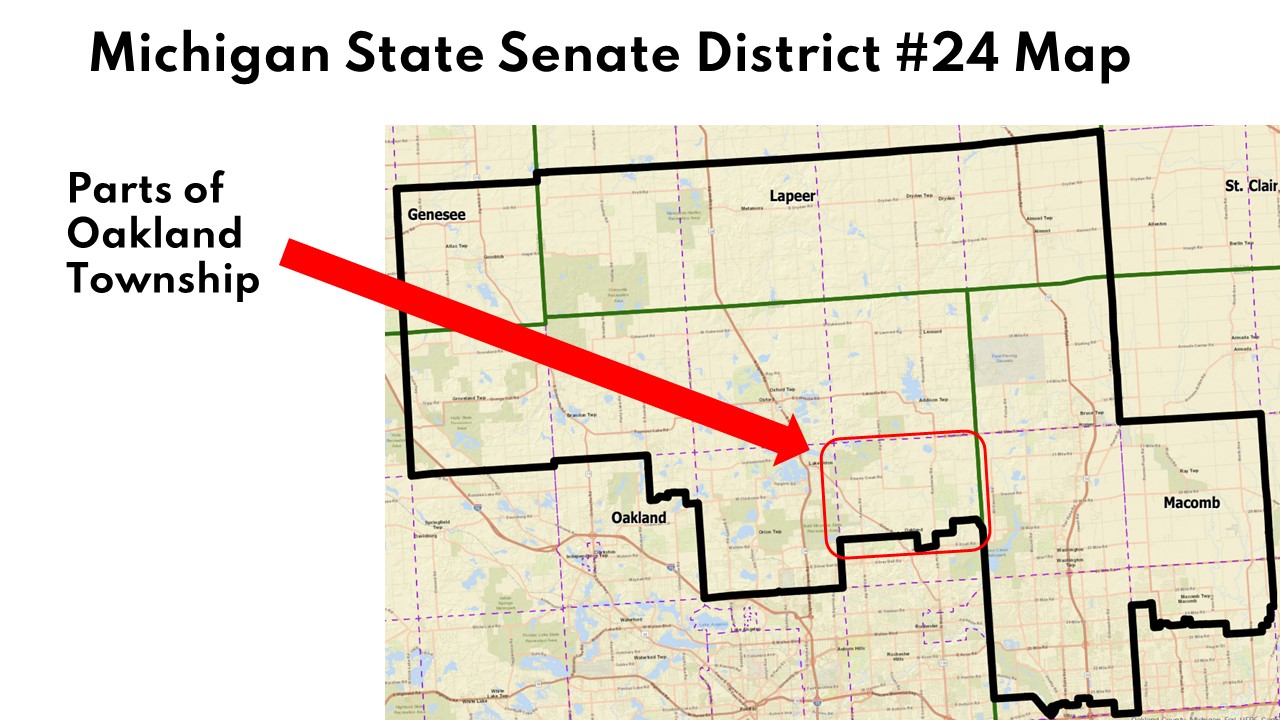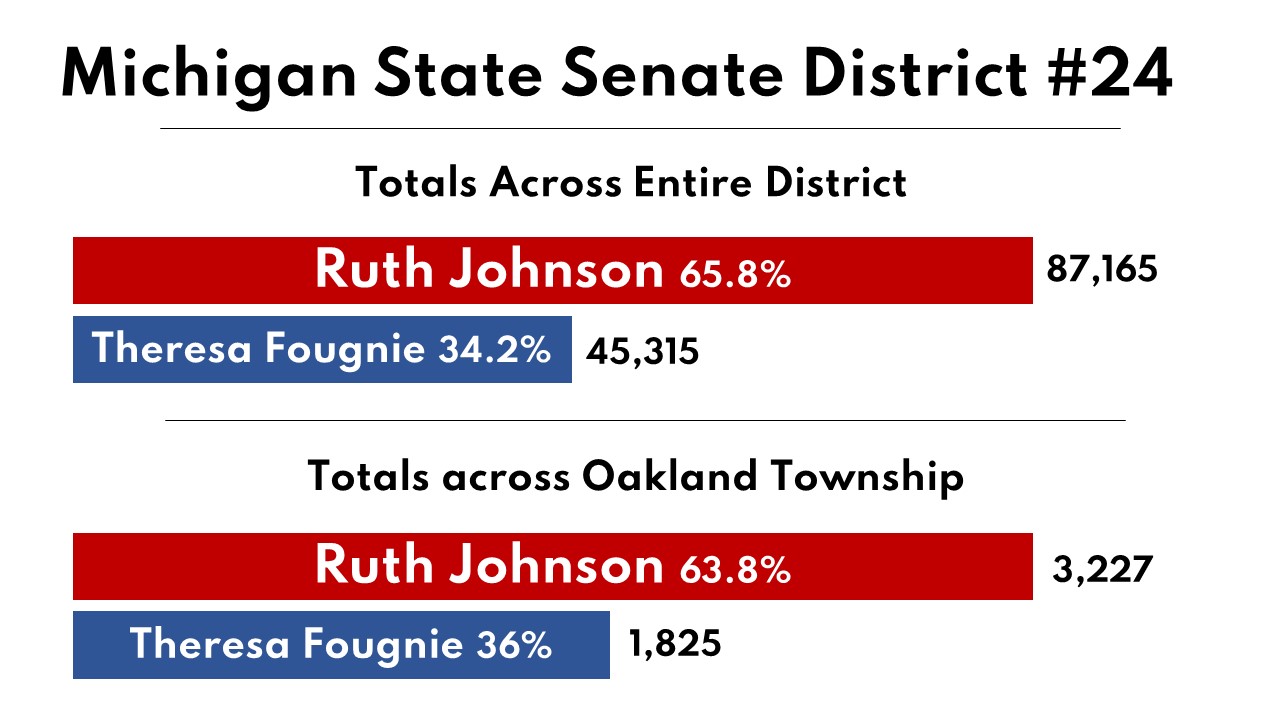 MICHIGAN HOUSE DISTRICT #55
There are 110 Districts in the Michigan House, with approximately 90,000 people in each house district. The City of Rochester and Rochester Hills sit entirely within House District #55. The very southeast corner of Oakland Township also sits in the district. Incumbant Republican Mark Tisdel defeated Democrat Patricia Bernard (51.8% to 48.2%) to represent the 55th district in Lansing.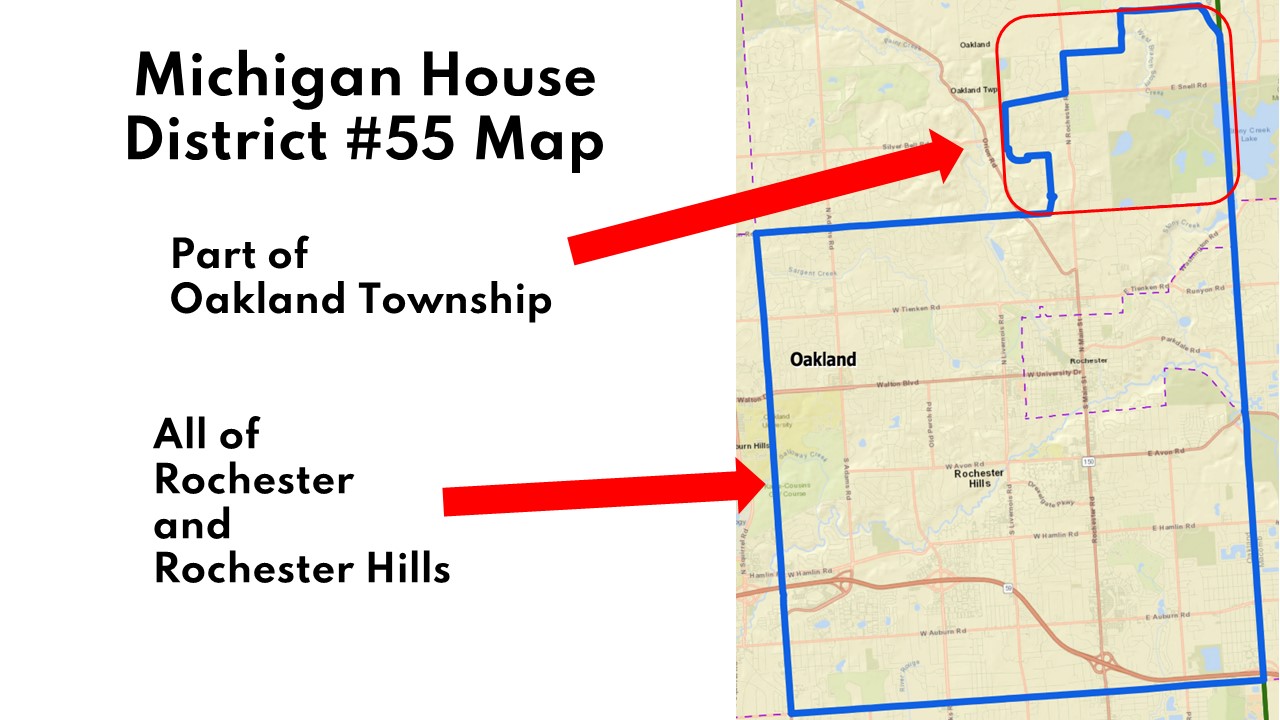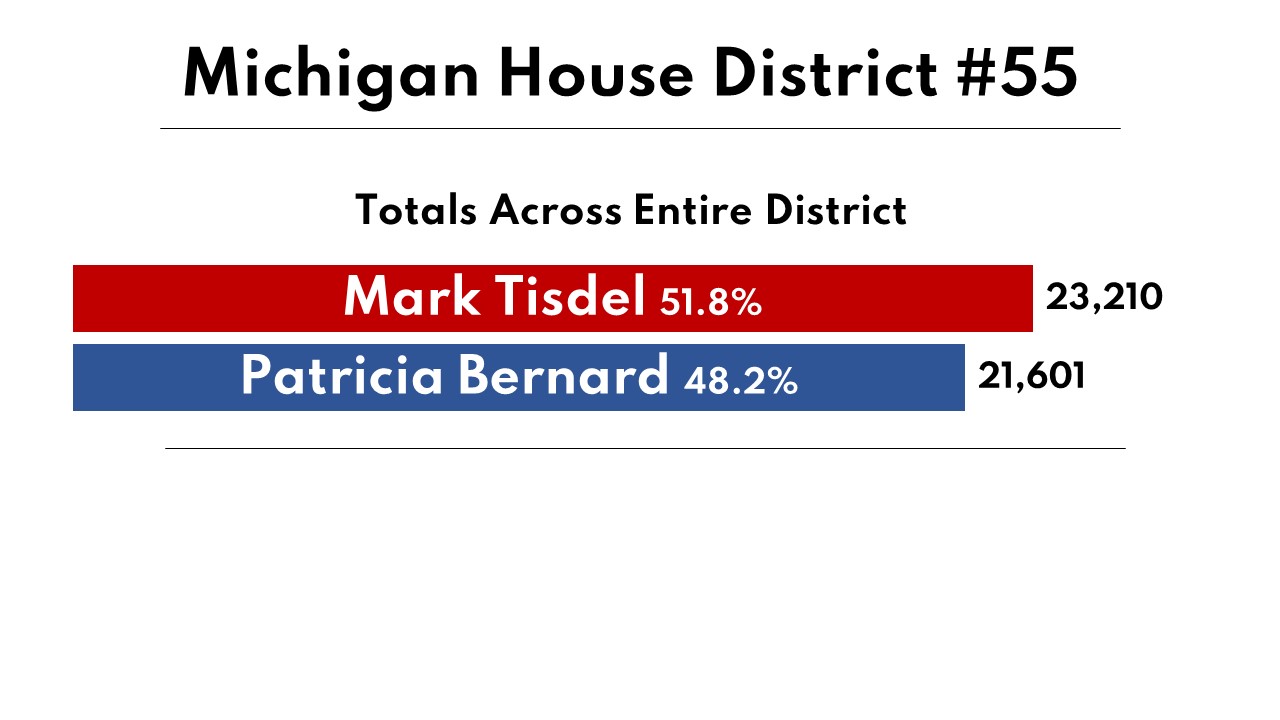 MICHIGAN HOUSE DISTRICT #66
The majority of Oakland Township sits within House District #66. The district was decisively won by Republican Josh Schriver (64.7% to 35.3%) over Democrat Emily Busch.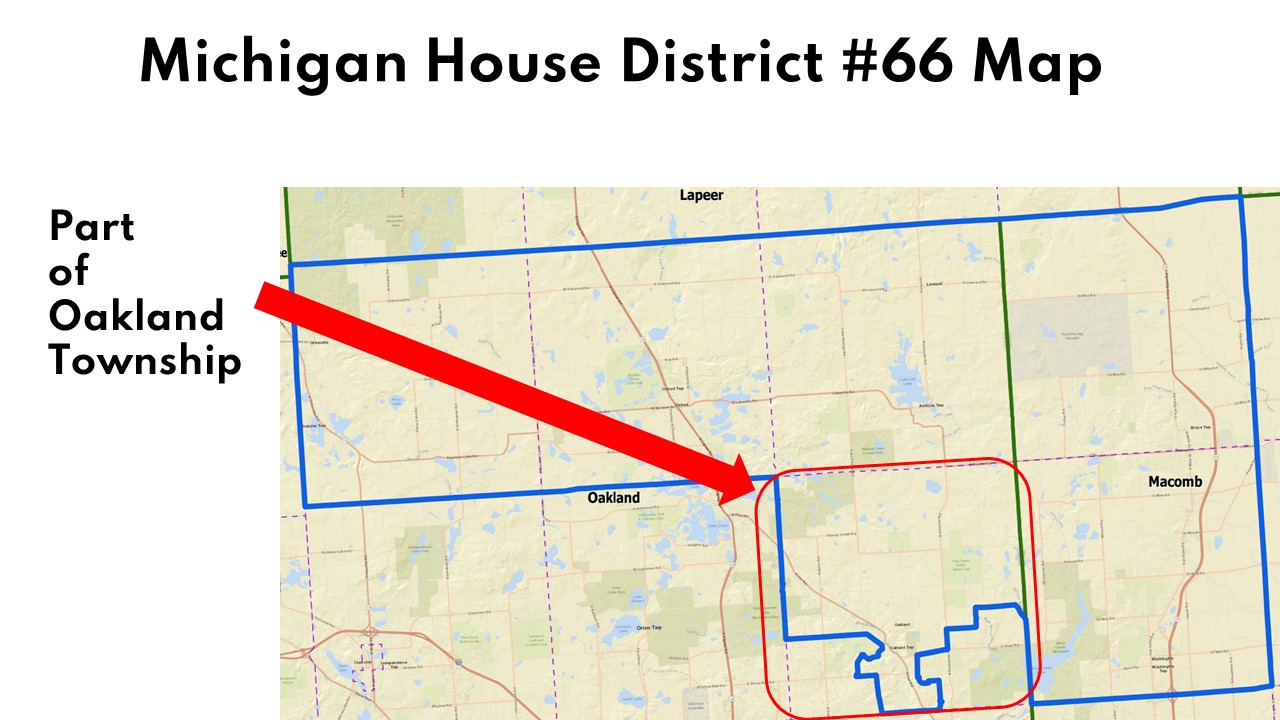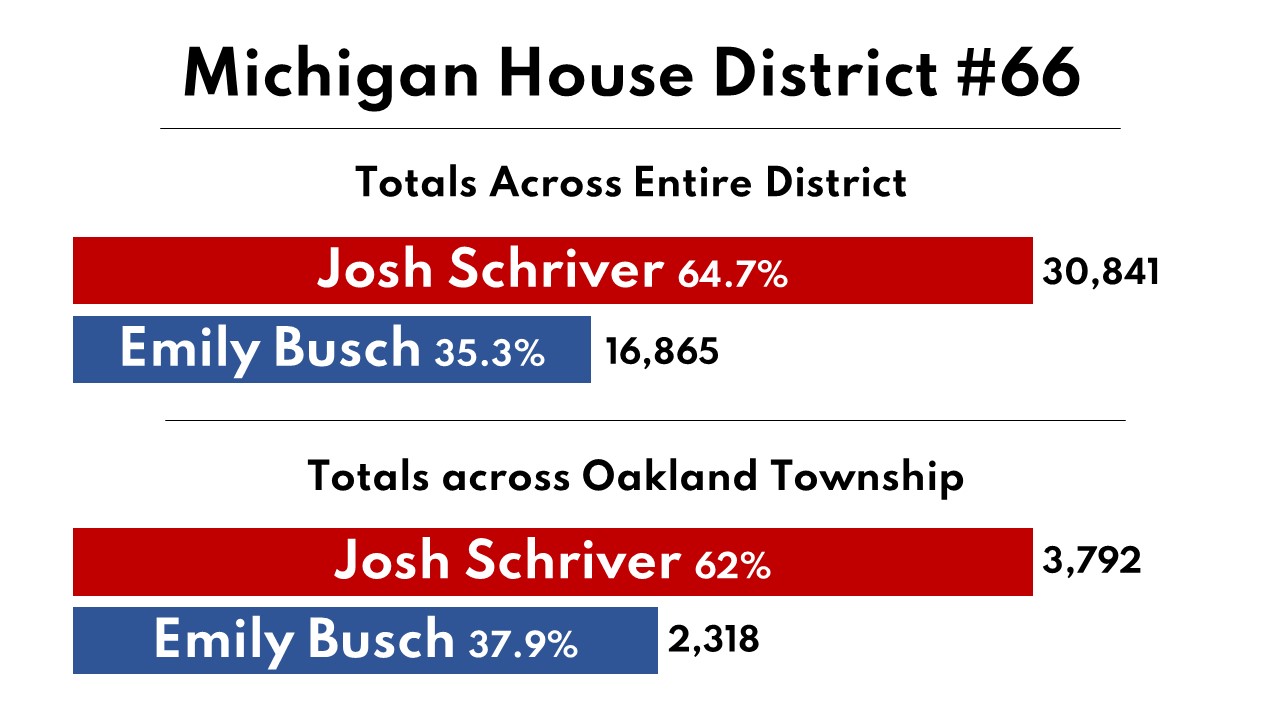 MICHIGAN HOUSE DISTRICT #54
The small eastern portion of Oakland Township lies within Michigan House District #66. Republican Donni Steele defeated Democrat Shadia Martini 51.2% to 48.8%. Though Steele's victory was much larger in Oakland Township (58.8% to 41.2%).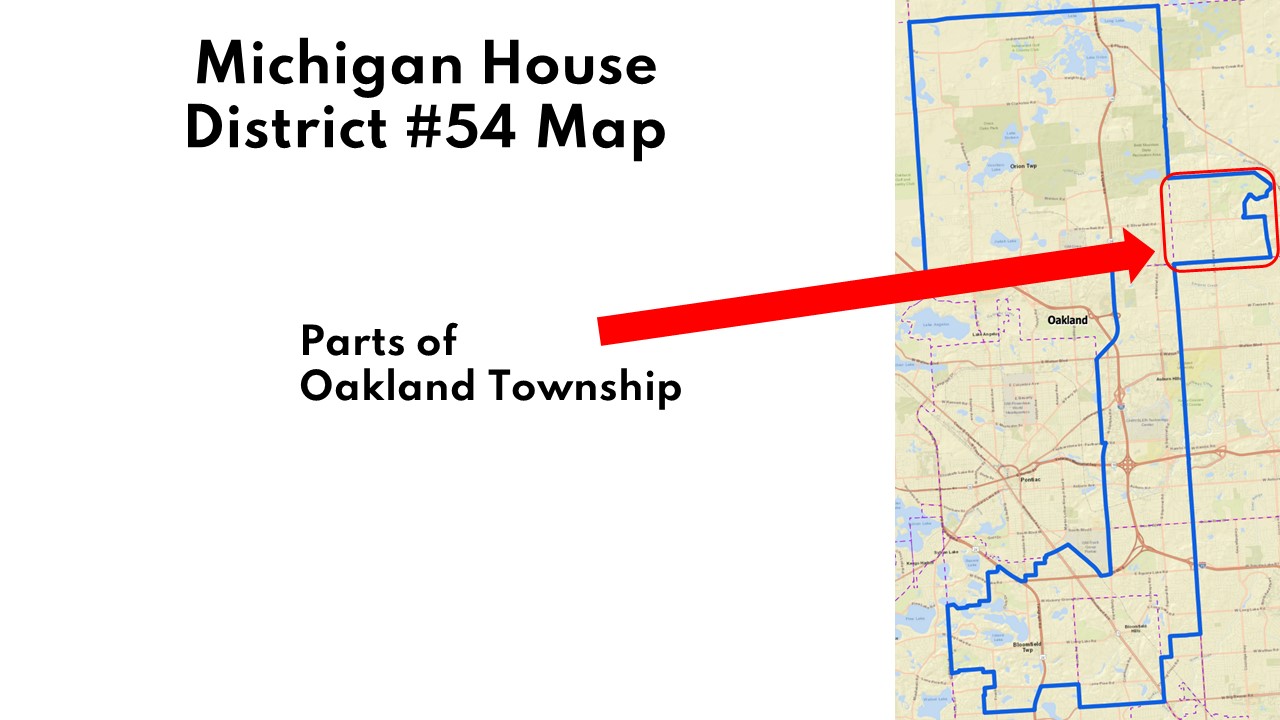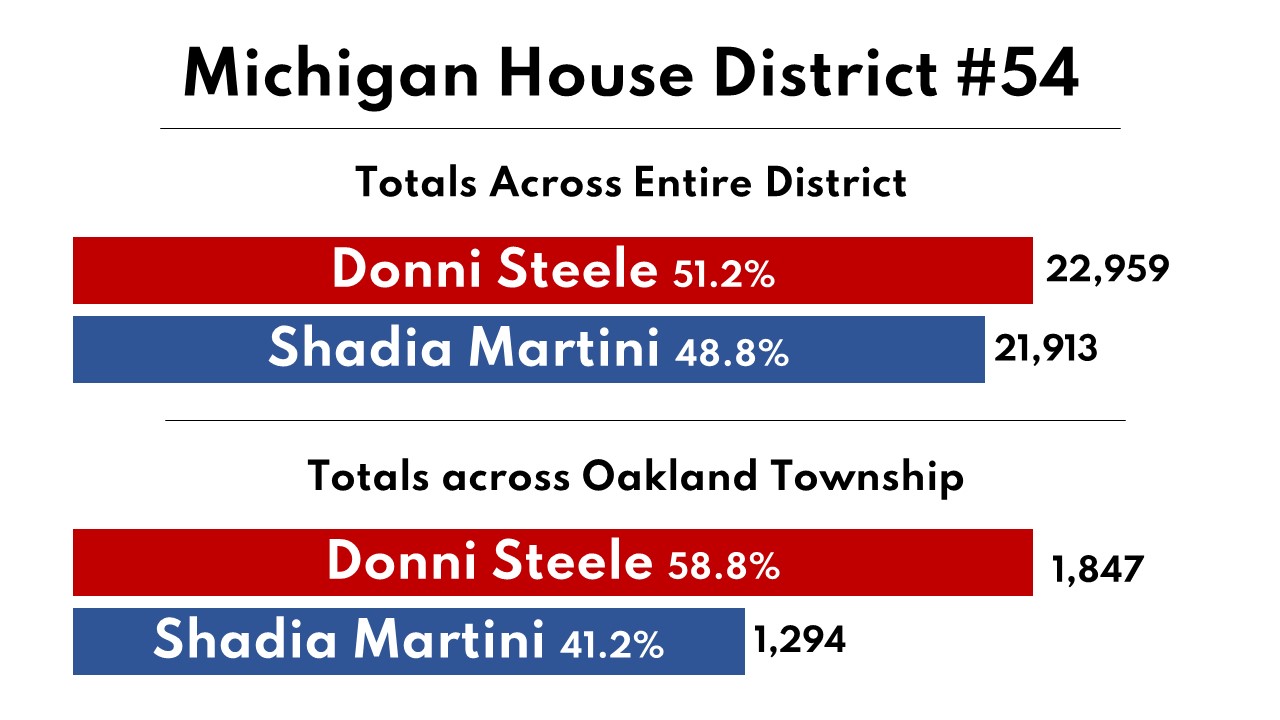 Rochester Community Schools - Two School Board Full Terms Ending 2028
The Rochester Community Schools (RCS) Board of Education (BoE) consists of seven members. The length of each members term is six years.

The election for the seven Board Member seats are staggered over even year November elections, thus terms for the board members end on different years.

For this November 2022 election, there are four candidates running for two board seats that are both six-year terms, that would run from January 1, 2023 through December 31, 2028.

The four candidates running for the board positions with terms ending 2028 are Carol Beth Litkouhi, Dennis Talluto, Jessica Gupta, and Eddie Hillery.

Voters could vote for no more than two of the candidates and the winners were Jessica Gupta with 20,101 votes and Carol Beth Litkouhi with 17,267 votes.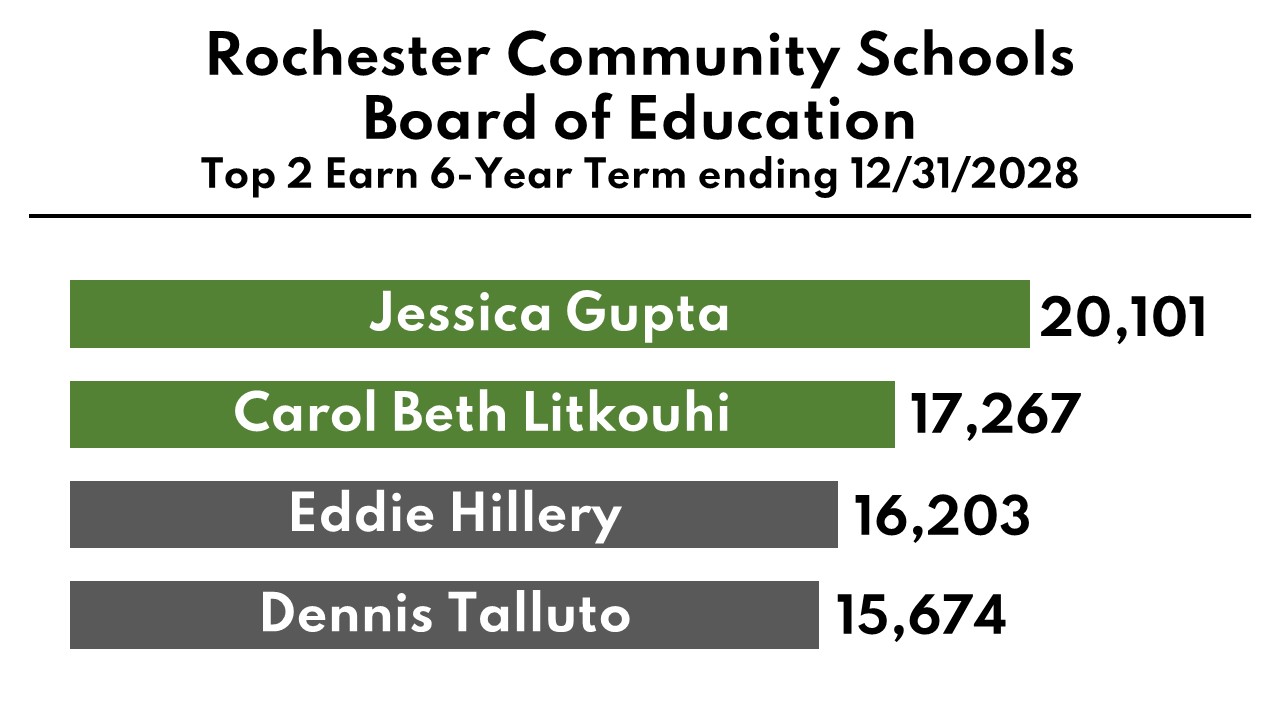 Rochester Community Schools - One School Board Partial Term Ending 2024

There were three candidates running for a School Board position whose partial term ends December 31, 2024.

Those three candidates were Julie Alspach, Joe Pittel, and Andrew Weaver.

Voters could cast their vote for only one of the three candidates and Andrew Weaver emerged victorious with 14,956 votes.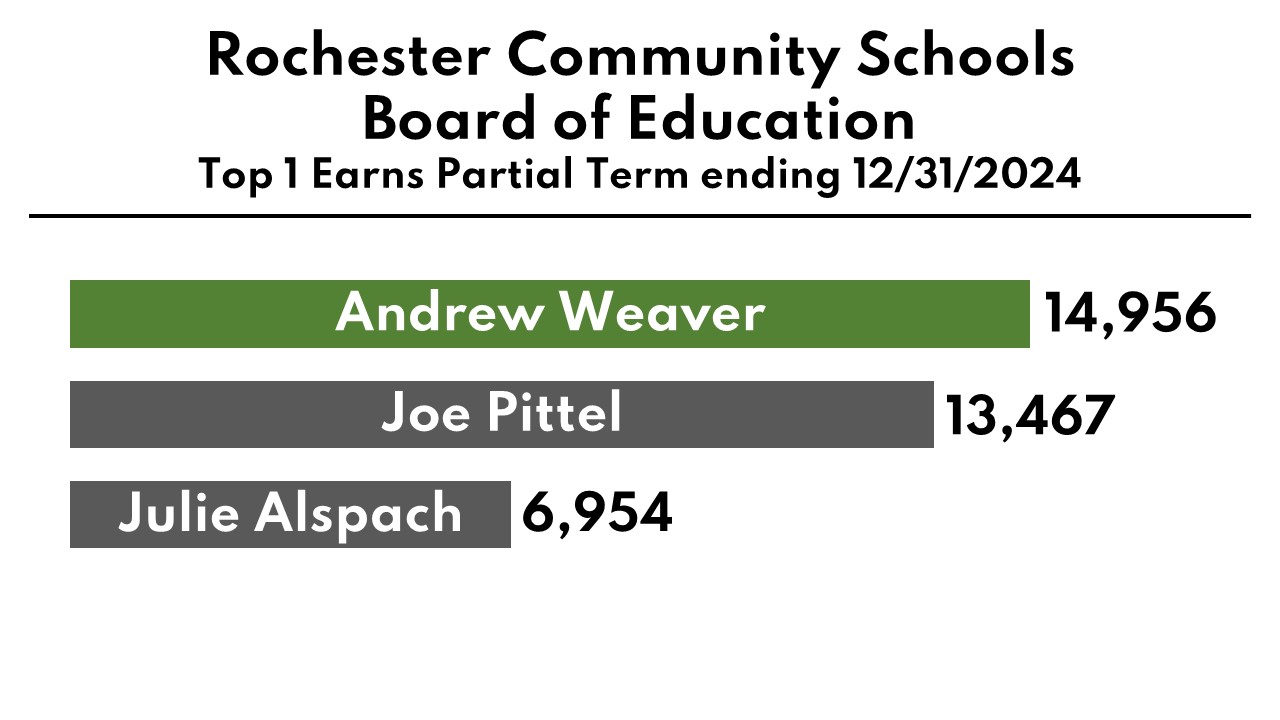 November 12, 2022, Rochester.Life