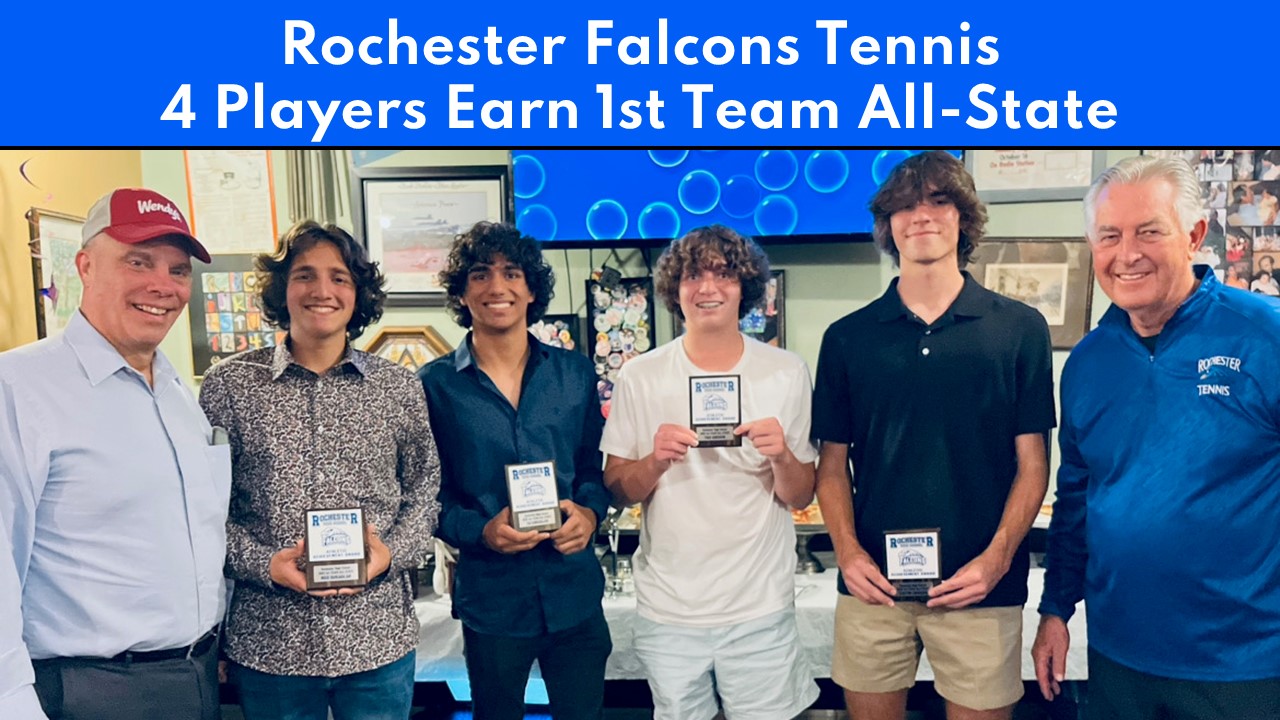 (l-r) Bob Wogan, Nikki Rangarajan, Sid Rangarajan, Chad Anderson, Clayton Anderson, Coach Jerry Murphy
Rochester Boys Tennis finishes 6th at State Finals.
Four Players Earn 1st Team All-State!
Nov 9, 2022, Rochester Hills, MI - Rochester.Life asked Rochester High School (RHS) Tennis Coaching Legend, Jerry Murphy, about this year's RHS Boys Tennis Team.

RL:

First off Coach Murphy, Big Congratulations, not only on an outstanding RHS Boys Tennis season, but also on the completion of your historic 51st year coaching tennis at RHS!

Tell us about your background? Where did you grow-up and go to school, both for K-12 and College?

Coach Murphy:

I was born and raised in Pontiac, MI. I attended Pontiac schools and graduated from Pontiac Central where I played 3 varsity sports. I then moved on to Michigan State University where I played football and graduated with a history major and coaching minor. I also completed a Master's degree in exercise physiology from MSU.

RL:

What is your Tennis background?

Coach Murphy:

I grew up in a tennis family. My father reached the state semi-finals in high school and my mother was a state mixed doubles champion. My older brother was the #1 player in high school and played for Central Michigan University. I won several junior tournaments as I was growing up.

RL:

When did you first get into coaching and how long have you been coaching?

Coach Murphy:

When I finally decided on a career path in college it was based on my love of history and the sports I wanted to coach. Rochester High School hired me in the Fall of 1972. That year I coached football and volunteered to coach a JV tennis team. I wound up teaching history for 38 years, coaching football for 34 years, and this year I'm finishing my 51st year coaching boys tennis at RHS. When I completed my football coaching career, I signed on to coach the girls tennis team at RHS. Each of my 51 years at RHS I've coached two sports each year, either football and boys tennis, or boys tennis and girls tennis as is my current status.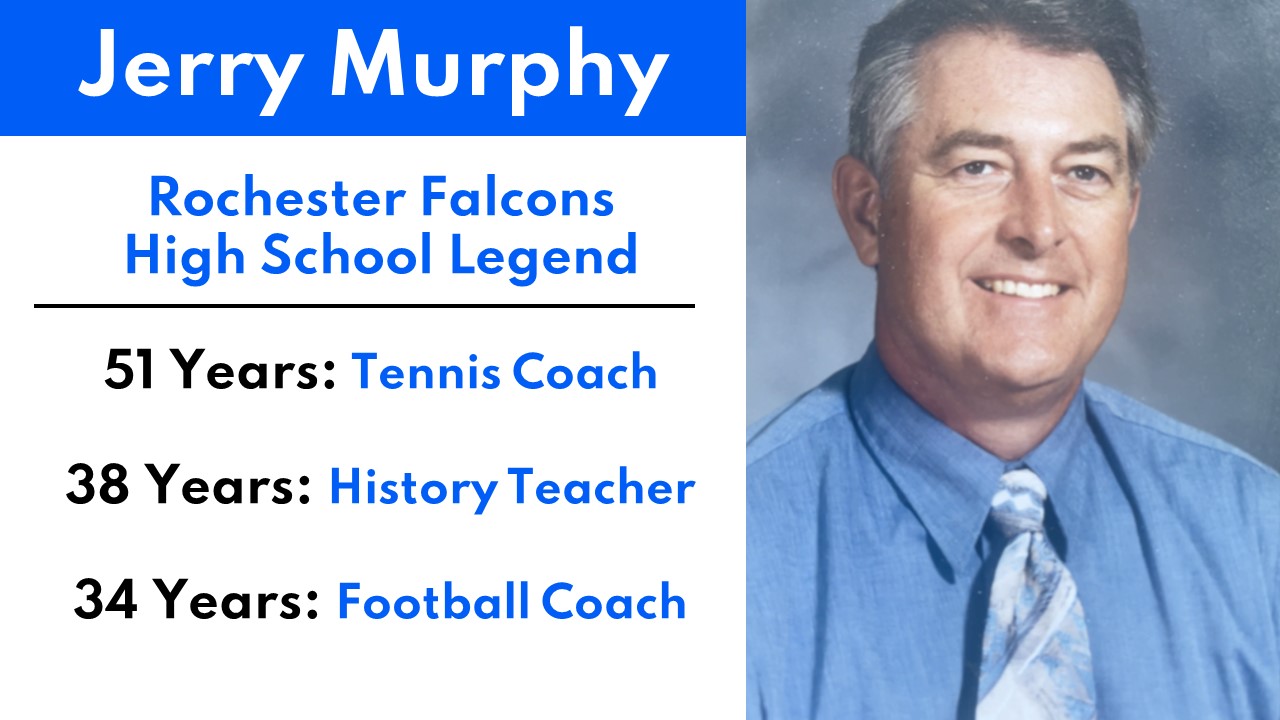 Rochester High School Legend: Coach Jerry Murphy
RL:

What were your thoughts/expectations about the Falcon's Boys Tennis Team coming into this season?

Coach Murphy:

Our team had finished in 9th place at the State Finals last year. We had a good nucleus returning for the 2022 season. As a result, at a team meeting prior to the season we laid out some ideas that we felt would help us improve on the 2021 season.

RL:

How did you see the team grow/learn during the season?

Coach Murphy:

We knew our league matches were going to be more of a challenge this year as we were moving up to the Red division in the OAA from the White division. We also added to our non-league schedule most of the teams that had finished in front of us at the 2021 State Finals. This, combined with an emphasis on improving our doubles line-up, were keys to how the season ended for us. We finished in 6th place at the State Finals and the boys all agreed that the "family atmosphere" surrounding the team added to the memories they would take away from this season.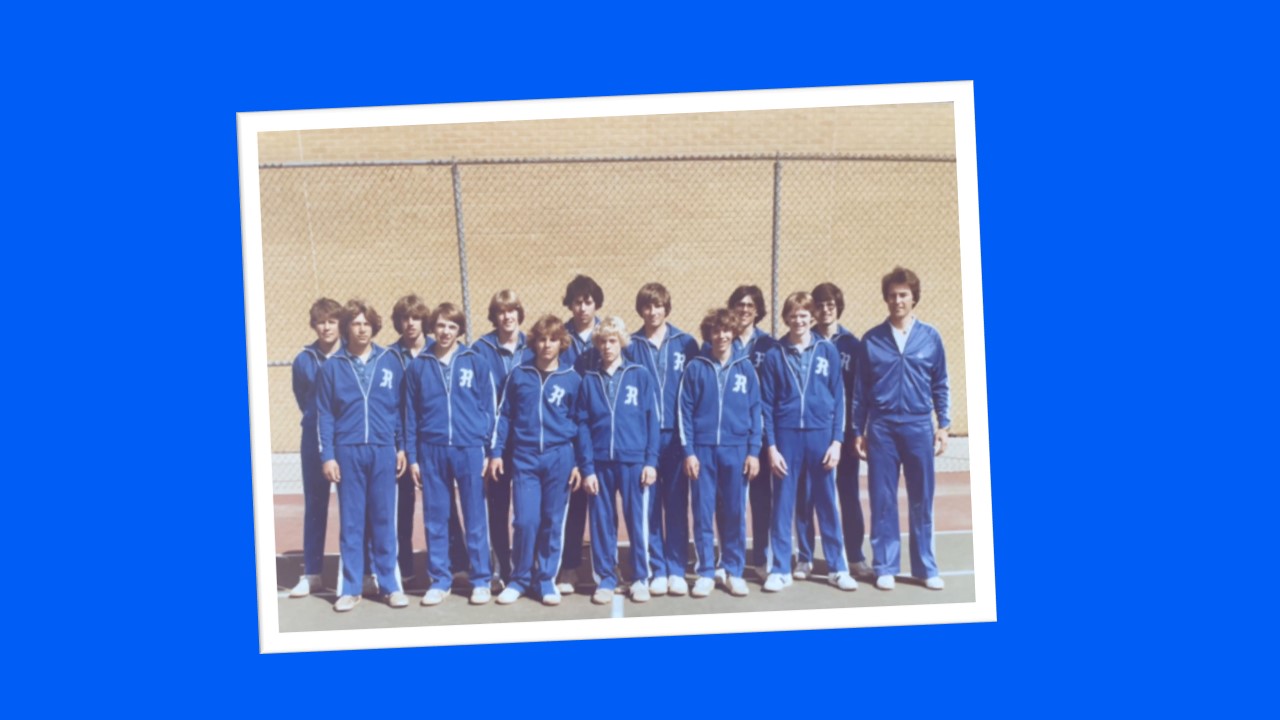 1978 Rochester Falcons Tennis Team with Coach Jerry Murphy at the far right
RL:

What players would you like to highlight from this past season?

Coach Murphy:

Individually, the team had players seeded in 4 flights at the State Finals, the most ever for an RHS team: Clayton Anderson 1 singles, Chad Anderson 2 singles, Ryan Loren 4 singles, and Sid and Nikki Rangarajan at 1 doubles. Clayton was undefeated in the regular season and lost in the final match at #1 singles. The others each lost in the quarter-finals of their flight. 16 players were selected as 1st Team All-State Singles. Clayton and Chad were 2 of the 16. In doubles, 8 teams were selected 1st Team All-State Doubles. Nikki and Sid were one of those 8 teams. They were the first RHS doubles team to ever make the All-State Team. To put the All-State recognition in perspective, there are 80 teams in Division 1. Each team has 4 singles players and 4 doubles team. That's 320 singles players and 320 doubles teams. It's quite an accomplishment to be named on an All-State tennis team!

RL:

Any particular teams or matches that standout from this season?

Coach Murphy:

Beating Adams and Stoney Creek are always on our goal sheets that we filled out at the beginning of the year. We accomplished that goal this year. Playing tougher competition this year led to a lot of close matches. In addition to the 5-4 match with Adams, we also defeated Brother Rice, Birmingham Seaholm, and Birmingham Groves 5-4.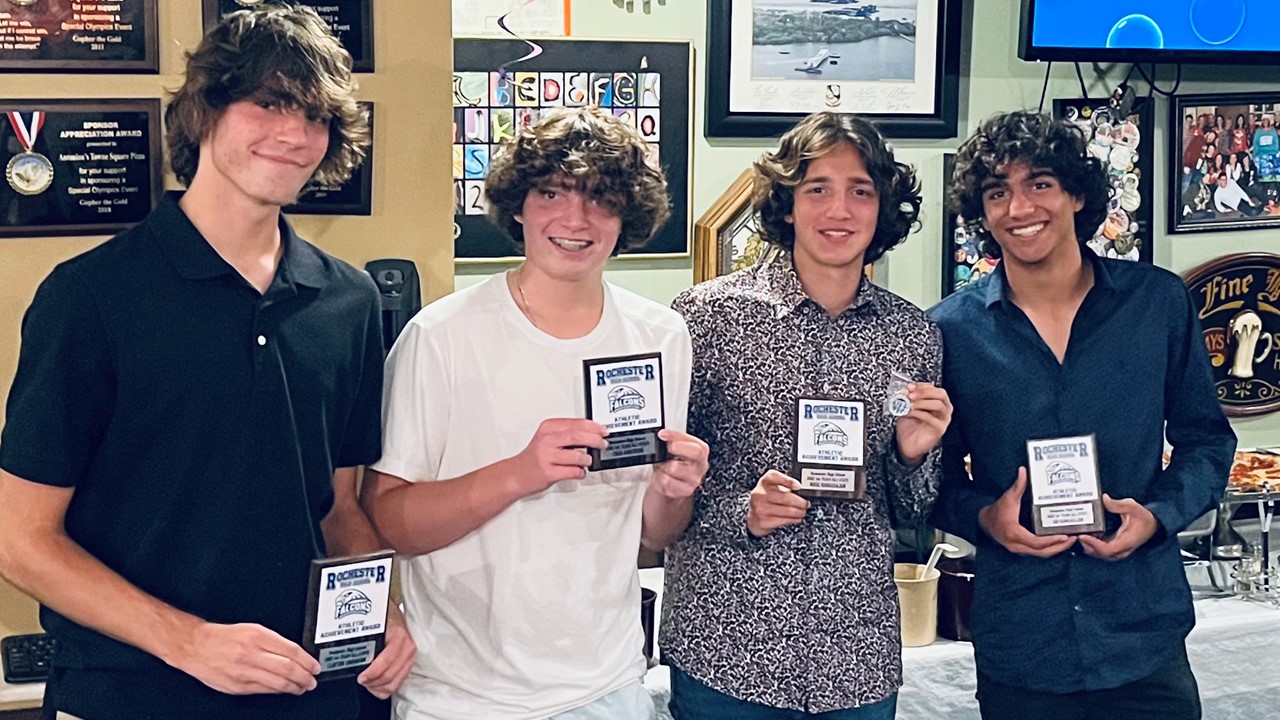 Four 1st Team All-State Falcons: (l-r) Clayton Anderson, Chad Anderson, Nikki Rangarajan, Sid Rangarajan
RL:

What was your biggest surprise from this season?

Coach Murphy:

You're never quite sure how freshmen, who make the varsity team, are going to handle the experience. We had 3 freshmen on our team, Chad Anderson, Matt Morrow, and Eli Chang. They all made positive contributions to the success of the 2022 team!

RL:

Were there any special traditions/routines that the team kept during the year?

Coach Murphy:

As far as traditions, etc. are concerned, I think qualifying for the State Finals is one that our team would like to continue. We've been pretty good at that over the last 4-5 years. Team uniforms, regular workouts, pasta parties, etc. are always part of the high school athletic experience.

RL:

If you could make any changes to MHSAA Boys Tennis Programs, what would that be?

Coach Murphy:

As far as recommendations to the MHSAA, I've always enjoyed the emphasis on team in high school tennis. I hope we can continue to promote the idea that high school tennis, as well as life, is about more than just oneself. I've also always been a believer that our State Finals should be as big an event as we can possibly make it. Play the national anthem, have a team scoreboard, etc. and all the little things that can make the experience more special.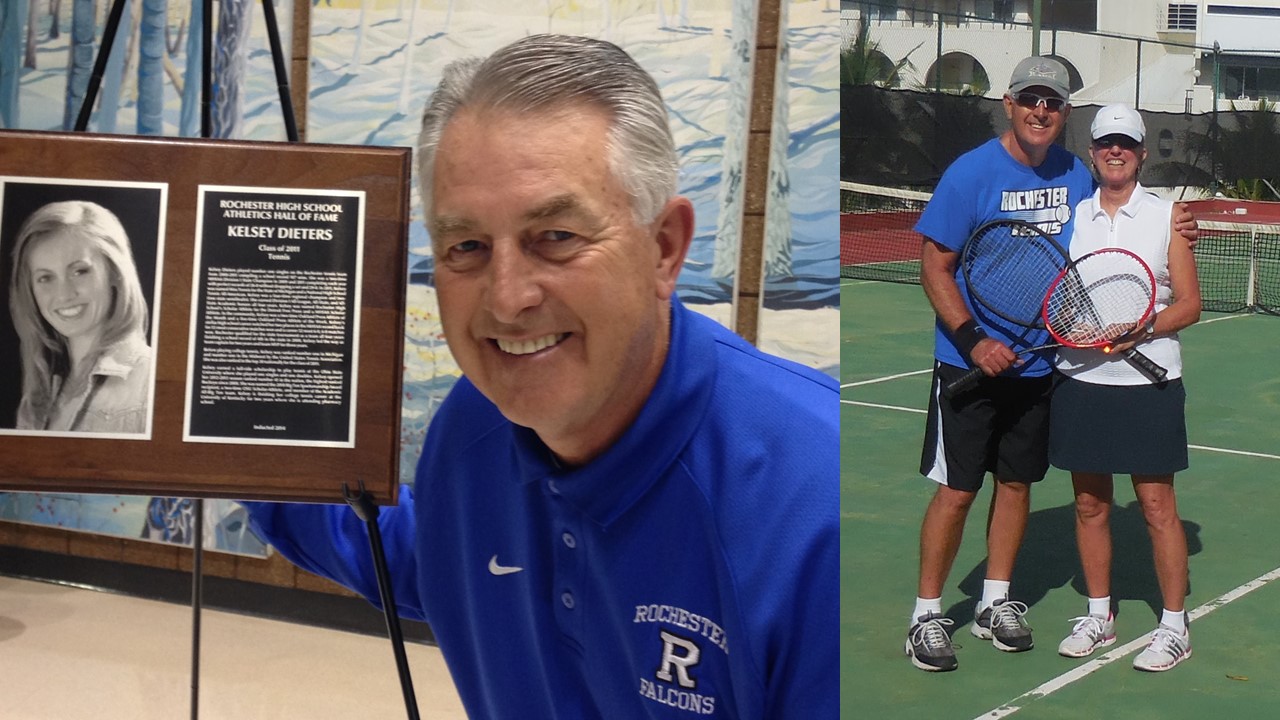 (l) Coach Murphy at Kelsey Dieters RHS Hall of Fame Induction. (r) Coach Murphy and his wife, who also coached Falcon's Girls Varsity Tennis
2022 Rochester Falcons Boys Varisty Tennis Roster

(Last, First, Grade)

Anderson, Chadwick, 9

Anderson, Clayton, 11

Blake, Hayden, 11

Chang, Elijah, 9

Crowe, Evan, 11

Hamway, Brett, 12

Loren, Ryan, 11

Morikawa, Gakuto, 10

Morrow, Matthew, 9

Nannapaneni, Hithesh, 12

Parikh, Ronak, 12

Rangarajan, Nikki, 12

Rangarajan, Sid, 12

Zielonka, Parker, 12


###
November 9, 2022, Rochester.Life