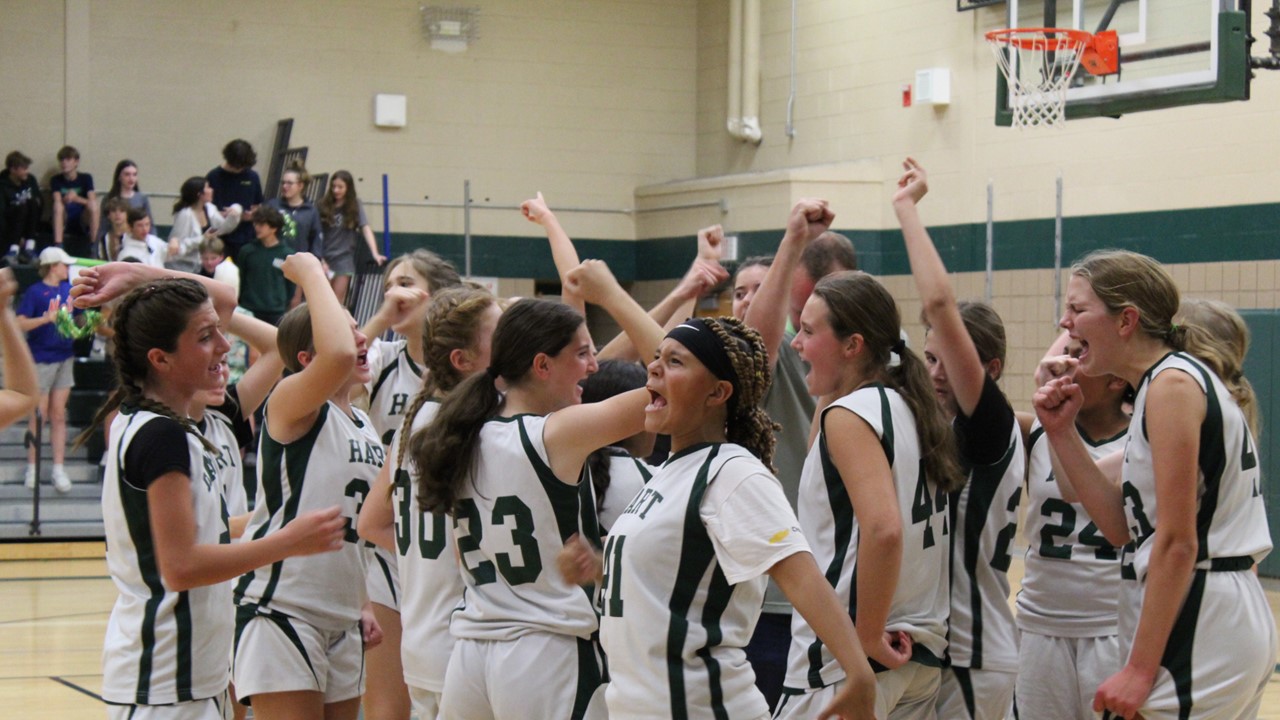 Remarkable 24-0 Two Season Run for Hart Middle School 8th Grade Girls Basketball!
Oct 28, 2022, Rochester Hills, MI - History is being made as the remarkable Hart Middle School 8th Grade Girls' Basketball Team completes an undefeated season and accumulates a PERFECT 24-0 record from last year's 7th Grade Season through this current year's 8th Grade Season!

Rochester.Life asked Coach Steven Book about this historic season and amazing winning streak.

RL: First of all...Congratulations on another amazing season! Let's start with your background, where did you go to school, both K-12 and College?

Coach Book: I am a product of Rochester Community Schools! I went to North Hill, Brooklands, Reuther and Rochester High School. I graduated from RHS in 2006 and then went to Michigan State University where I majored in Comparative Cultures and Politics, minored in history and got my Teaching Certificate to become a Social Studies teacher.

RL: How long have you been teaching and where?

Coach Book: This is my 12th year of teaching. I have spent 11 years at Stoney Creek High School and 1 year in helping to create the new Rochester Virtual Campus.

RL: Why did you decide to get into coaching and how long have you been doing it?

Coach Book: When I first started teaching there was a blockade of coaches who had been in the profession for a long time and weren't going anywhere. This allowed me to explore other avenues of leading extracurricular activities. During this time, I started the Model United Nations team at SCHS, I announced boys and girls basketball games, and I began directing the musical theatre productions. After a few years some coaching jobs that I had been interested in started to open up, including the 8th Grade Girls Basketball coaching job at Hart Middle School. This is my 8th season at the helm of the Eagles.

RL: What is this year's record for the Hart Middle School Girls 8th Grade Basketball team? Last year's record?

Coach Book: The Hart MS 8th Grade Girls Basketball team has finished a fully undefeated season. The girls are incredibly talented, but more importantly they are amazing humans and some of the best leaders that I've had over my last 8 years. Last year, many of them were on the 7th Grade Girls Basketball team, and that team also went undefeated. This is the second team in my 8 years that have gone completely undefeated during their time in our MS basketball program.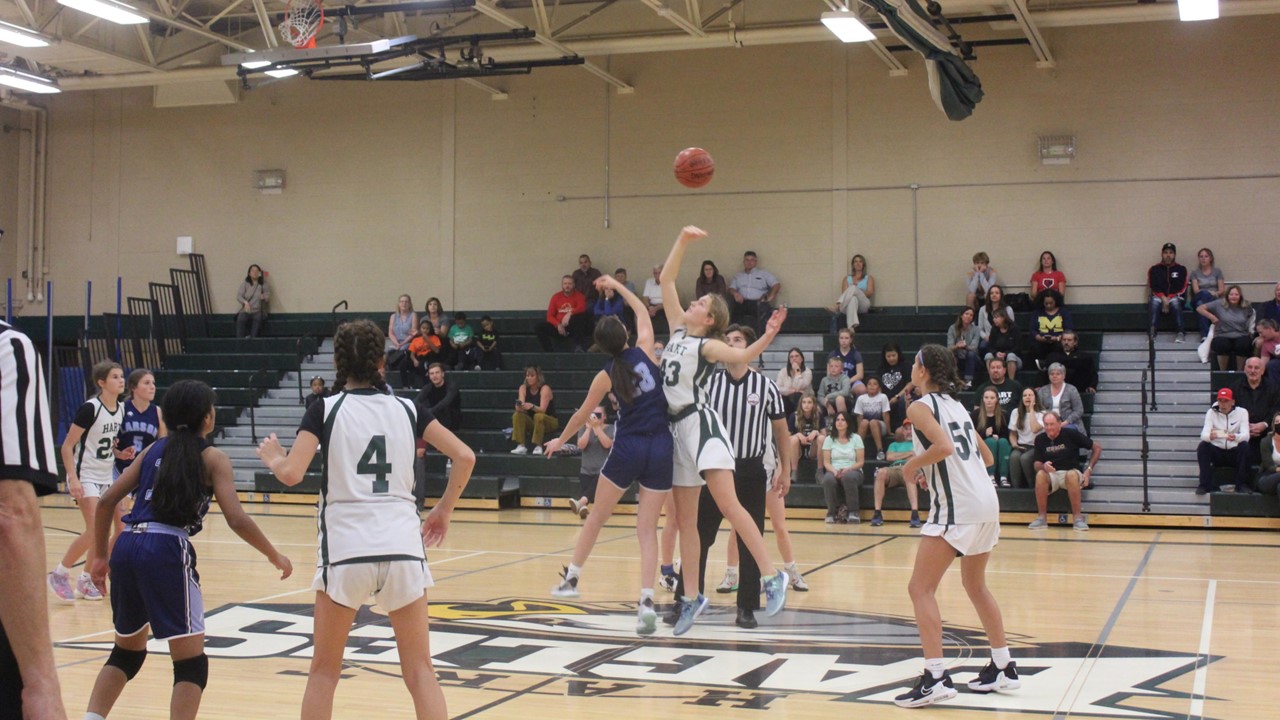 Maggie Putz Gets Things Going for the Eagles with Jump Ball!
RL: How many girls on the team?

Coach Book: There are 19 girls on the team. This is the biggest team I have ever had and I kept so many girls so that we could teach some novice girls about the joys of basketball in case once these girls get to the high school ranks their interests shift to other things.

RL: What do you attribute their success to?

Coach Book: Great student leadership, a tremendous amount of basketball experience outside of the school season, and a deep commitment to camaraderie/culture. Good basketball teams generally go as far as their guard play allows them to go and we have tremendous players at the guard position. The guards do a great job at making everyone else look good and are prepared offensively and defensively.

RL: Are the girls aware of the current winning streak? Do they feel extra pressure to maintain the streak?

Coach Book: It's all they've been thinking about since their 7th grade season ended. With the amount of talent that is on my roster some of the hardest battles are in practice when my girls are playing against each other. If they've felt the pressure in games it hasn't shown. They have started every game out red-hot and have never looked back.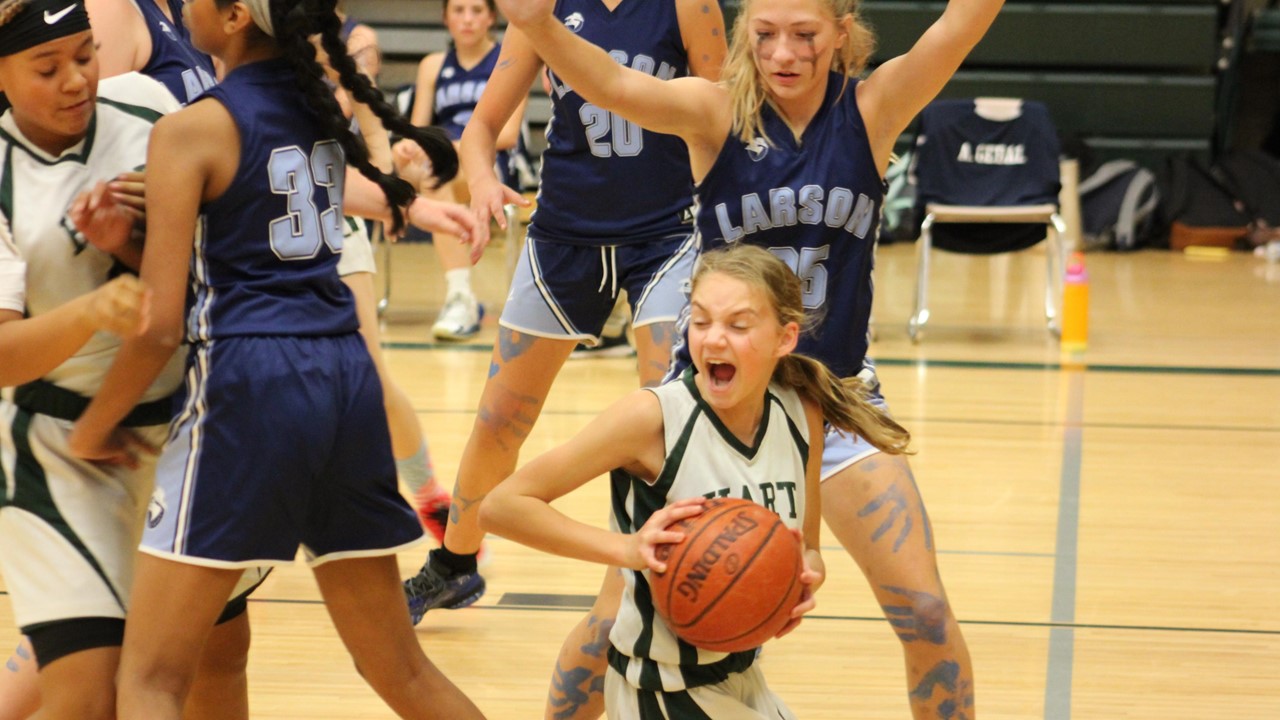 Sarah Kruczek Demonstrates the Tenacity the Whole Team Delivered this Year!
RL: Are there any games you would like to highlight…close games where you thought the steak would end? Come from behind wins? Dominate victories?

Coach Book: My girls averaged 40 points per game and they have held their opponents to an average of 9 points per game. They have not trailed in a game this year and have done a great job to control each game no matter what lineup I put out there. We have been fortunate enough to have every single player play in both halves of every single game. I've never been able to do that before during my coaching career.

RL: Are there any special routines or habits the team is faithful in doing to maintain the streak?

Coach Book: There are a few superstitions that my girls do individually, but as a team we have a couple of norms and rules. First of all, the "Undefeated Season" shirts that the girls got after the 7th grade season are banned from our practices this year. This is because so many of my current players were not a part of that team and this is a different collective group. Secondly, we begin each and every game with the exact same team chant. I yell "HEARTS ON FIRE" and they all scream "MINDS ON ICE". This is the mindset that you have to have to be successful in any competition, at any level. Be passionate, be fiery, but don't let the emotions of the game or of the day impede on your ability to think clearly and to trust your preparation.

RL: What is special about this team?

Coach Book: All 19 girls are kind, compassionate, funny, and enjoyable to be around.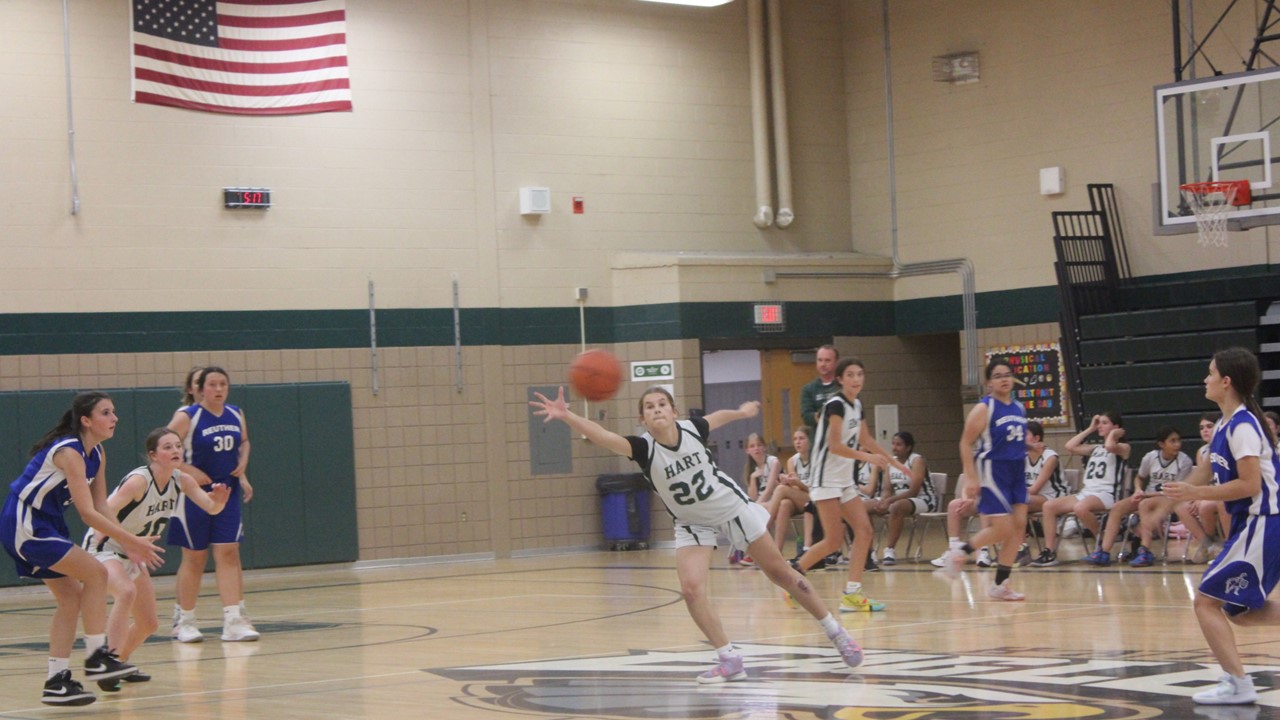 Example of Tough Eagle Defense: Allie Reaches with Full Extension!
RL: Are there any students you would like to highlight and why?

Coach Book: Allie Crighton, my starting Point Guard, is the first girl to score 100 points in a season during my coaching career. This is a feat that has happened once or twice by any boy or girl in the history of the Hart Middle School basketball program. Sam Fulkerson has scored over 50 points and is a total bulldog on the court. She does the little things, like guarding the best opponent, diving for all loose balls, and embracing the contact while going in for contested lay-ups.

RL: What else would you like the community to know about this Hart 8th Grade Girls Basketball team?

Coach Book: What these girls accomplished is nearly impossible to do. Everyone has bad days, bad practices, bad games, etc. What's so special about this group is that when someone had a bad day, there were 18 other girls to step-up and to fill that void.

RL: Who else would you like to highlight that contributed to this team?

Coach Book: Coach Chris DeVantier coached most of these girls to an undefeated record as their 7th grade coach.

Mike Dulmage is the Athletic Director for the Fall Sports Season at Hart Middle School and has been incredibly supportive.

The administrative team at Hart, led by Allison Roberts, Mike Bennion, and Herb Goliday, have been some of the biggest fans of this group of girls.

Dave Fulkerson has been by my side, keeping score for games that I have coached ever since his oldest daughter was in 8th grade. I owe him so much for his time and efforts!

Kelsey Knapp helped mentor me when I first started teaching and has helped run the clock for all of our home games this year.

And of course, the 19 girls that made up our 2022 Roster...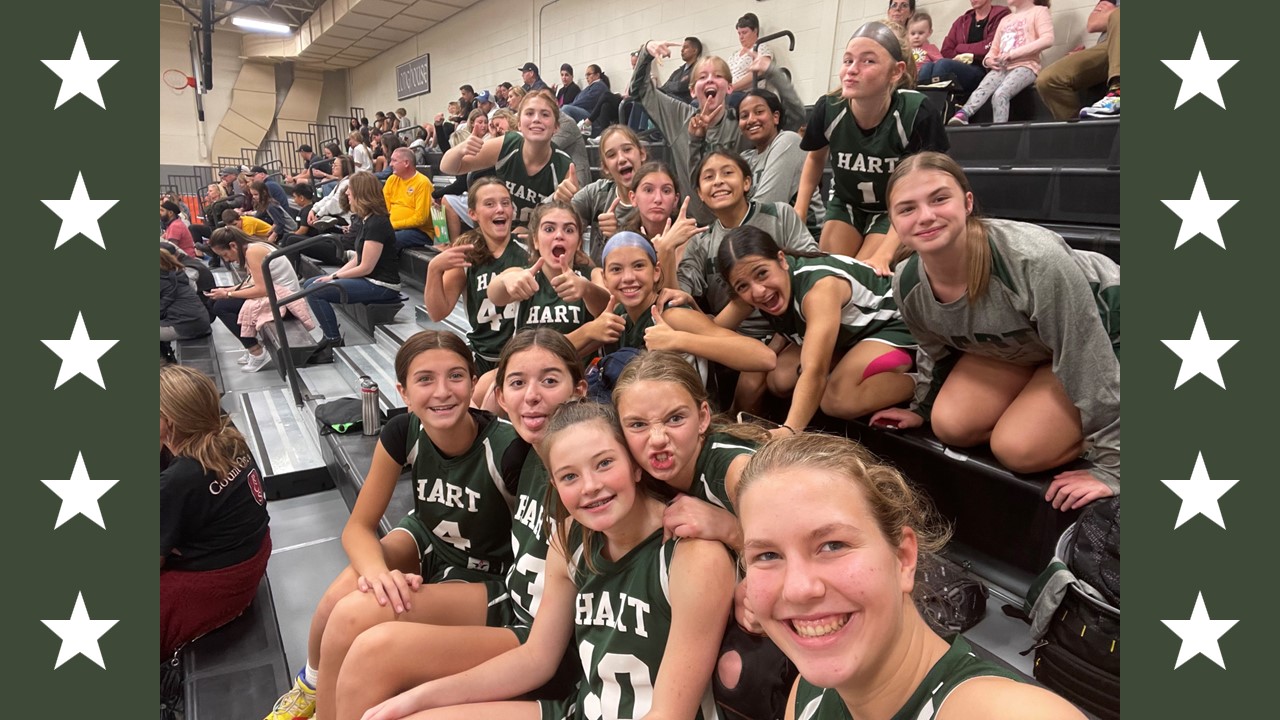 Hart Eagles 8th Grade Girl's Basketball Champions!
Allie Crighton

Sam Fulkerson

Kendall Collier

Sophia Stark

Calista Ivezaj

Emma Noreed

Allie Tackman

Amari' Lundsten

Brooklyn Rummler

Maggie Putz

Magaly Morales

Sarah Kruczek

Lila Wald

Julia Abraham

Adrianna LaPointe

Marissa Kachucha

Jayda Brown

Elise Lommen

Mila Petrovski




###
October 29, 2022, Rochester.Life