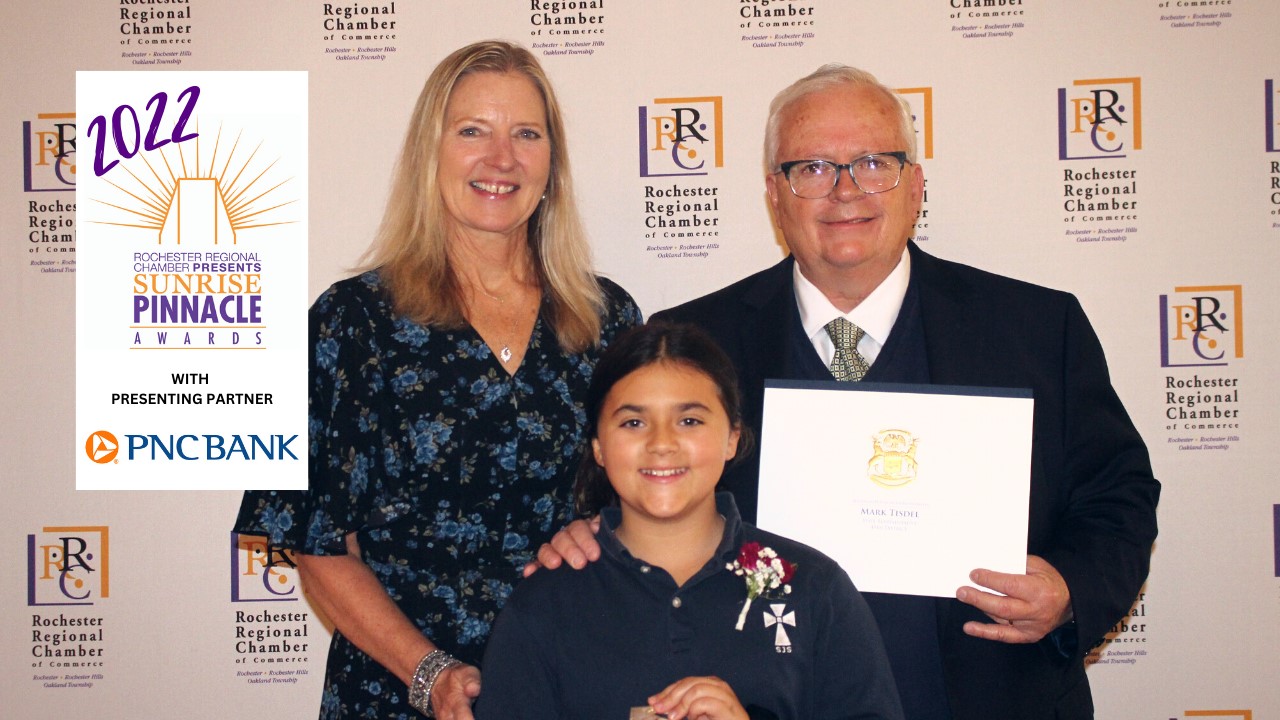 2022 Lifetime Achievement Winner John Modetz pictured with his granddaughter and Award Sponsor First State Bank (Kelly Walters)
2022 Sunrise Pinnacle Award Winners
Oct 7, 2022, Rochester, MI - The Rochester Regional Chamber of Commerce welcomed community members and local heroes to the 2022 Sunrise Pinnacle Awards, sponsored by PNC and hosted at the Royal Park Hotel on Friday, October 7. The annual awards ceremony gathered the communities to honor the contributions of our region's most visionary leaders, entrepreneurs, businesses, and passionate individuals.

Congratulations to the following winners:

BUSINESS AWARDS

Business of the Year:
sponsored by Moceri Companies, awarded to Molex

Businesswoman of the Year:
sponsored by PNC, awarded to Deb Silver of the Silver Shamrocks & Side Dish Rochester

Diversity Award:
sponsored by Flagstar Bank, awarded to Forum Health LLC

Entrepreneur of the Year:
sponsored by Mattina, Kent & Gibbons P.C., awarded to Mark J. Albrecht, MSSL owner of MJA HR Consulting

Technology Award:
sponsored by Beaumont Health, awarded to Rochester Hills TV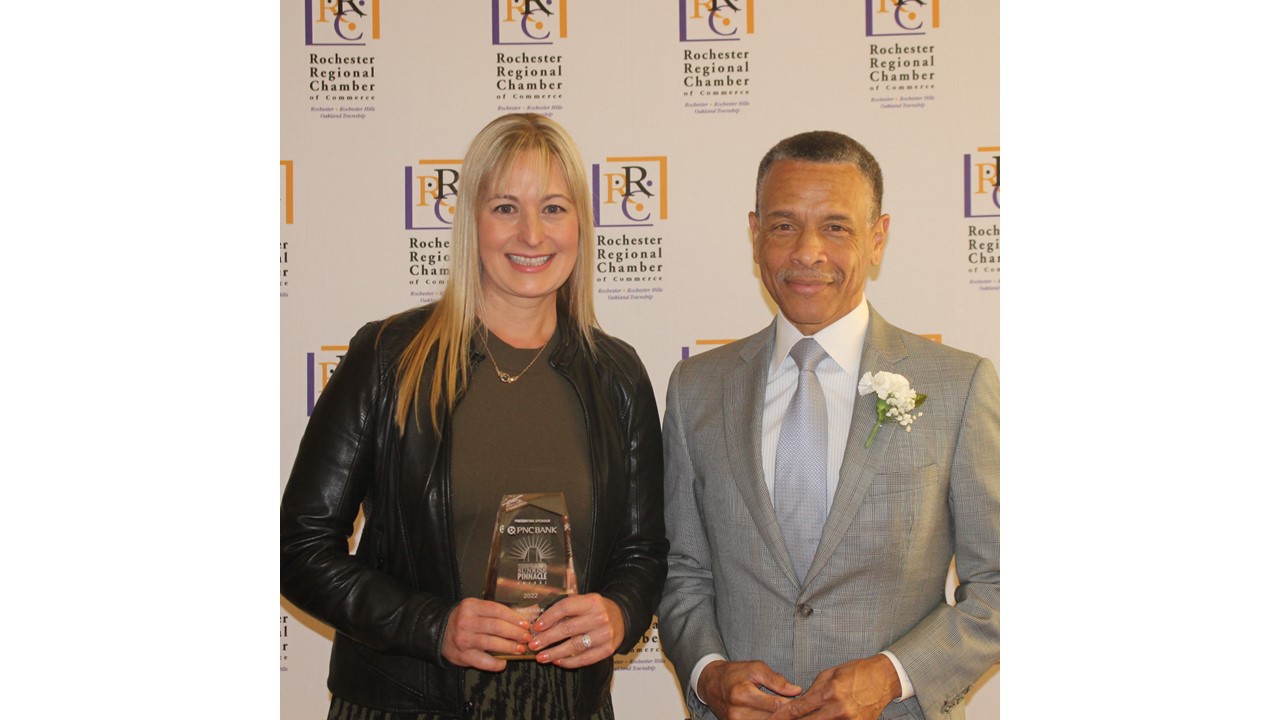 Deb Silver (left) of The Silver Shamrocks & Side Dish Rochester with Award Sponsor Michael Bickers (right), PNC Bank Executive Vice President in Detroit & Southeastern Michigan
CHAMBER AWARDS

Ambassador of the Year:
sponsored by Bellbrook, awarded to Lynn Marie Oates of Envoy Mortgage

Leadership Greater Rochester Graduate Award:
sponsored by PAR Pharmaceutical, awarded to Ken Elwert, CPRE of the City of Rochester Hills' Parks & Natural Resources Department

Young Professional of the Year:
sponsored by Chief Financial Credit Union, awarded to Kristen Pontz of The Rainbow Connection

Board Member of the Year:
sponsored by Pixley Funeral Home, awarded to Marilyn Trent, Principal of Trent Creative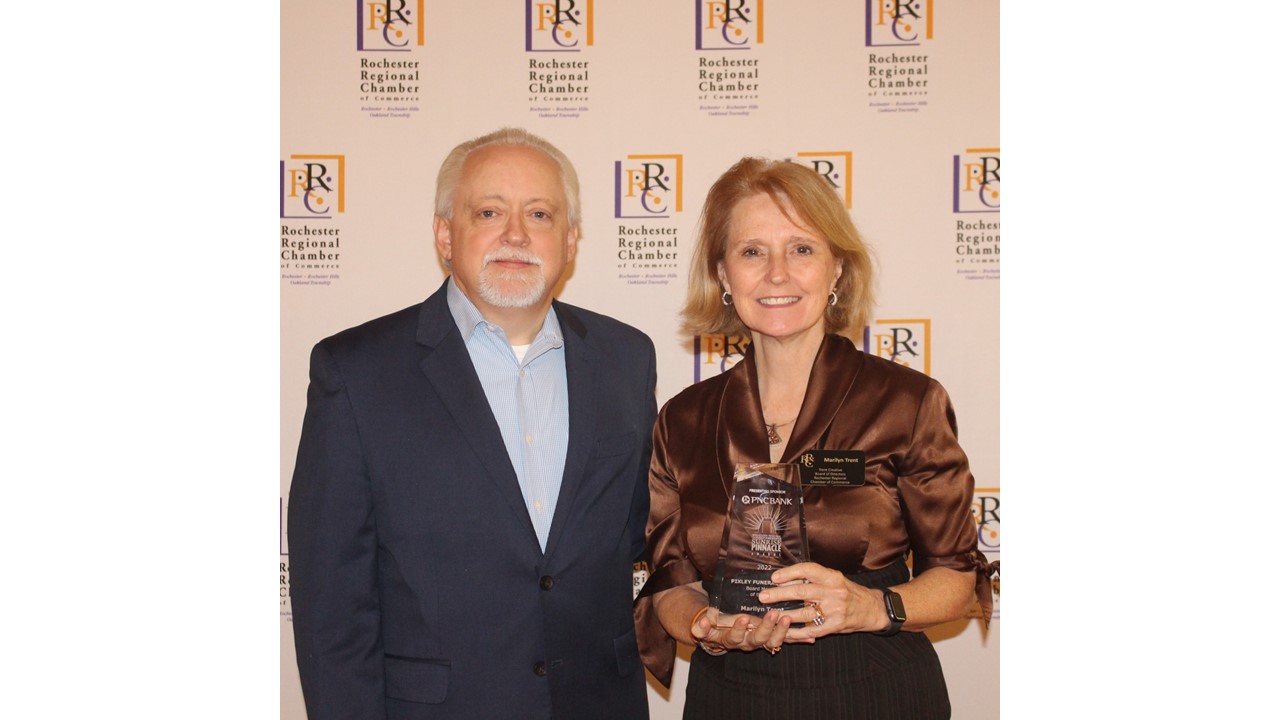 Marilyn Trent (right) of Trent Creative with Award Sponsor Timothy Summerford (left), General Manager of Pixley Funeral Home
COMMUNITY AWARDS

Community Hero:
sponsored by Oakland University, awarded to Nik Banda of the City of Rochester

Front-Line Leader Award:
sponsored by Ascension Crittenton Hospital (Providence Rochester Hospital), awarded to Par Pharmaceutical

First Responder of the Year:
sponsored by The Crawford Insurance Group Group, awarded to Chief Steve Schettenhelm of the City of Rochester Police Department

Volunteer of the Year:
sponsored by Genisys Credit Union, awarded to Julie Frakes Lobaza, V.P. Wealth Manager at Rochester Wealth Strategies

Lifetime Achievement Award:
sponsored by First State Bank - Michigan, awarded to John Modetz of Modetz Funeral Homes.

In 1970, John Modetz sought employment with the proprietor of the Fred Wood Funeral Home in Livonia, telling the man that he too wanted to be a funeral director. Sixteen years later, John along with his wife Mary, opened their first funeral home in1986 in Downtown Rochester. The success of their family-owned business has allowed the Modetz family to expand and grow into other communities. With locations in Waterford, Rochester, Orion Township, Macomb Township, and Armada, each facility is following in the fine tradition of the Modetz Family of Funeral Homes.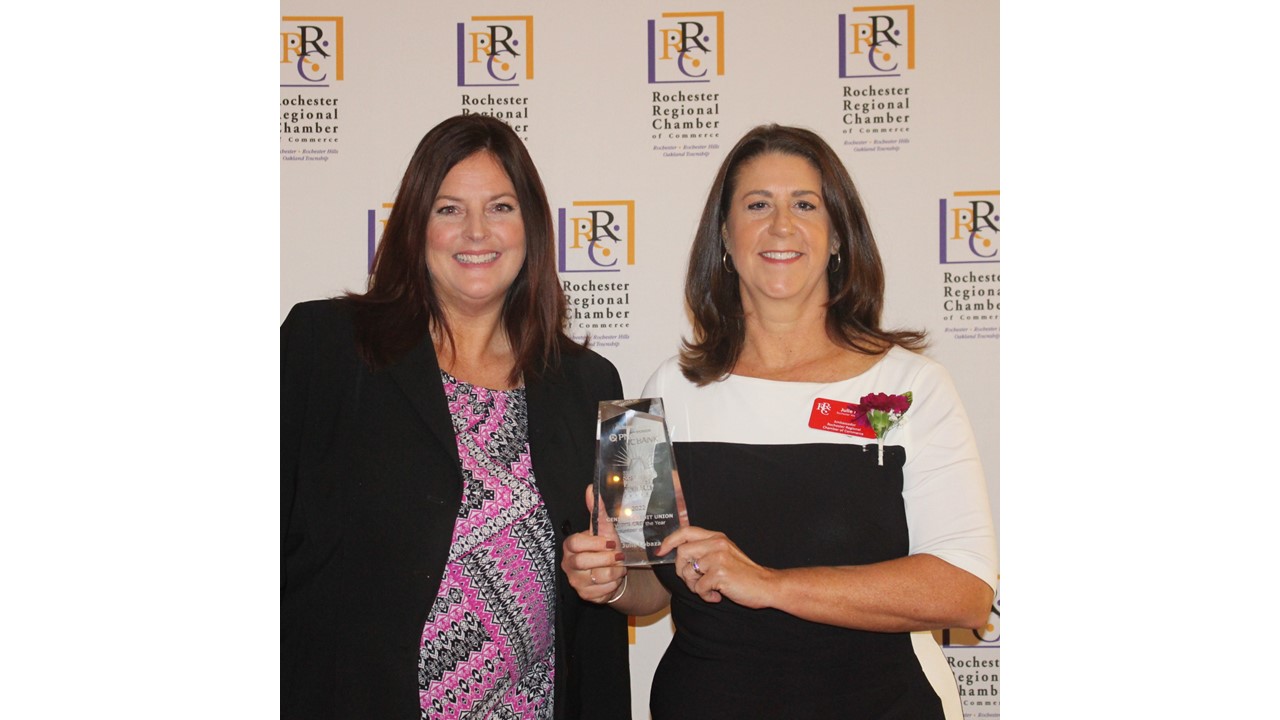 Julie Lobaza (right) of Rochester Wealth Strategies pictured with Award Sponsor Heather Pizzala, Genisys Credit Union Vice President of Marketing.
Congratulations to all 2022 Sunrise Pinnacle Award Winners for your efforts to enhance and better our community!



About the Rochester Regional Chamber of Commerce

The mission of the Rochester Regional Chamber of Commerce is to provide leadership and resources in order to advance business development in partnership with civic, cultural and educational interests for the benefit of its members and the community.

The Rochester Regional Chamber of Commerce is a 501(c)(6) non-profit organization, with a membership base of businesses ranging from sole proprietors to nationally recognized corporations. Founded in 1955, we are the principal voice of the greater Rochester region's business community. We focus on fostering a favorable climate for economic development, business growth and community prosperity.


###
October 7, 2022, Rochester Regional Chamber of Commerce and Rochester.Life