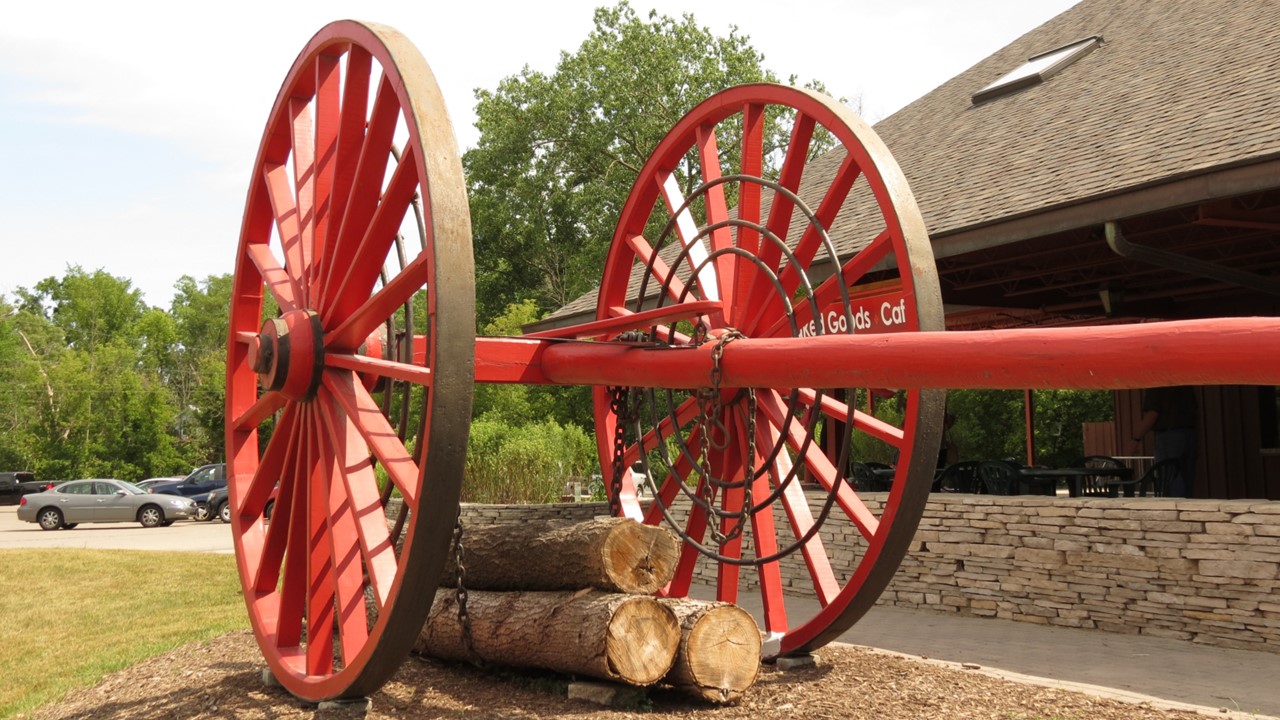 Oakland Township Seeks Request for Proposal (RFP) for Big Red Logging Wheels Restoration
Sep 8, 2022, Oakland Township, MI - The Oakland Township community, Historic District Commission (HDC), and Oakland Twp Historical Society (OTHS) are highly motivated to save the Big Red Logging Wheels from becoming lost forever.

This historic landmark is one of the few original logging wheel specimens in existence, and they do not want to lose a longtime Township landmark. Oakland Township Historic District Commission was presented a check for $10,045 from the Oakland Township Historical Society. OTHS successfully raised funds of $5,045 from the local community and provided a match of $5,000. The HDC would like to move forward with bidding out the logging wheels full restoration project as optimum timing would be a late fall delivery of the wheels and a summer 2023 return of the wheels to our community.

If there is an amazing woodworker, anyone who has experience restoring logging wheels, HDC will be selecting a contractor to recommend to the Oakland Township Board of Trustees. The deadline to submit a proposal is October 4, 2022.


PROJECT OVERVIEW

The Charter Township of Oakland Historic District Commission is requesting proposals for a full restoration of the 125+-year old Big Red Logging Wheels. The historic artifact is located at the Paint Creek Cider Mill in Goodison at 4480 Orion Rd. They would require transport, full restoration in White Oak, and return delivery.

Features of the wheel assembly include the axle, hub, pole, steel rings to protect the spokes, and nine felloes which support 18 spokes. Almost all of the wheel hubs, felloes and spokes have rotted. The axel (2021) and pole (2019) are newly replaced within the last couple years, yet the optimum wood material of White Oak was not used. We are requesting that all original metal be reused, if possible. The logging wheels will not be put back into logging use, however they will continue to sit out in the Michigan inclement weather. The wheel size is 10'.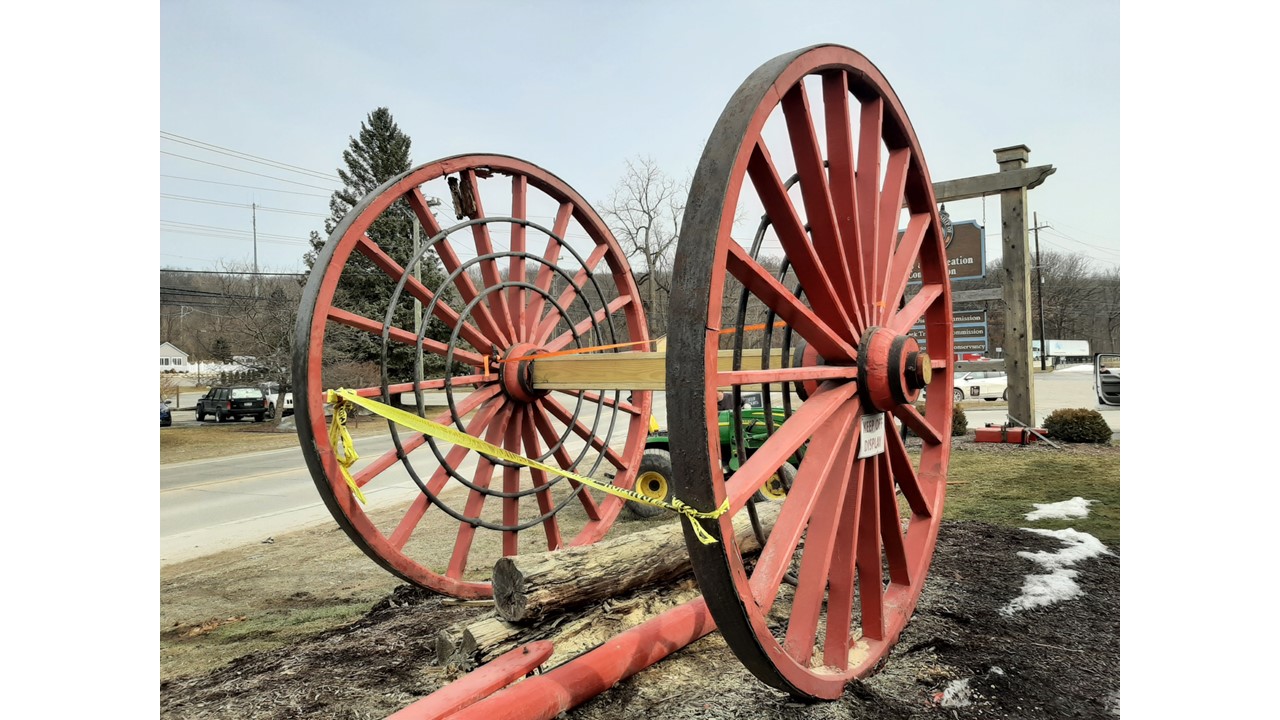 Big Red Wheel in Need of Repairs
HISTORY

In 1875 Silas C. Overpack, from Manistee, Michigan, invented the logging wheel per a local farmers request, to help transport timbers from the woods. Michigan was the nation's leading lumber producer. The wheel's structural integrity is highly dependent upon the inward force exerted by the tires.

AGENCY: Charter Township of Oakland, Oakland County, MI

Mail: Historic District Commission
4393 Collins Road (Project Location is 4480 Orion Rd, Oakland Twp. MI)
Rochester, MI 48306
Office#: 248-608-6807

Contact: Barbara Barber, Historic Preservation Planner

BID DEADLINE OCTOBER 4, 2022.

OPTIONAL SITE VISIT

On your own. Project location is at 4480 Orion Road, Oakland Twp, MI 48306.

DEADLINE

October 4, 2022 via mail (4393 Collins Rd. Rochester, MI 48306) or email Barbara Barber.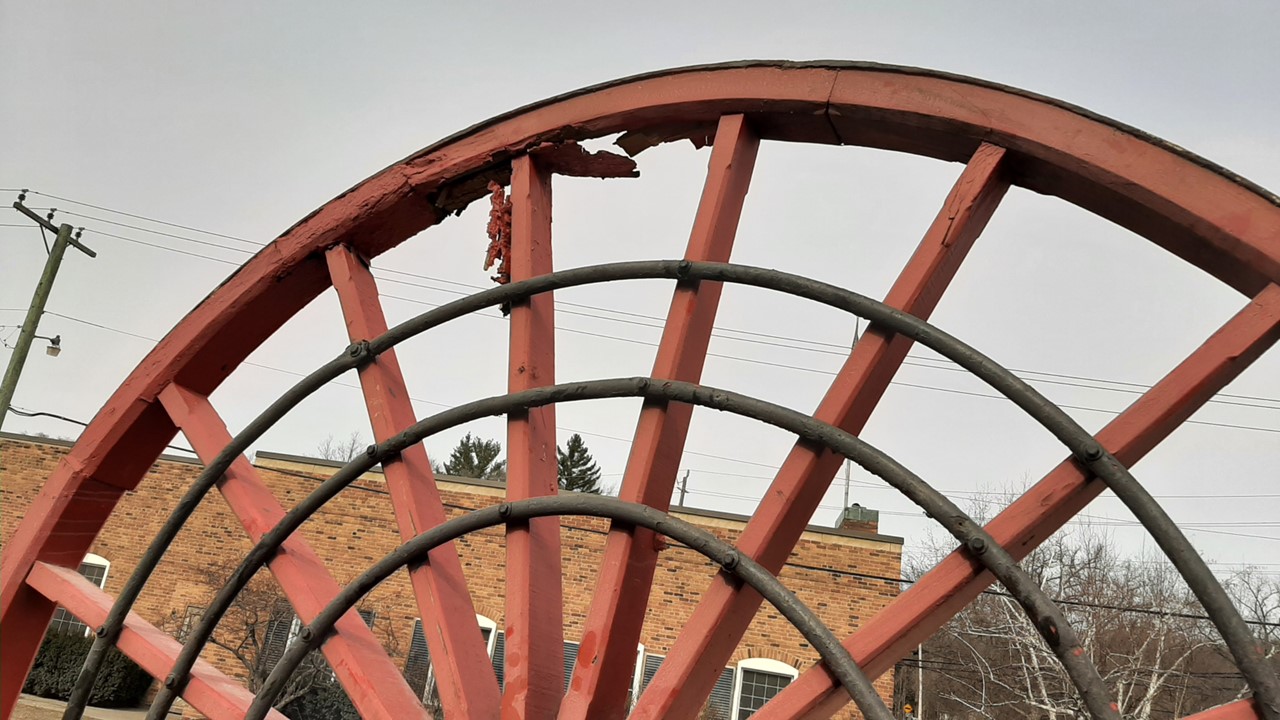 Restoration Needed for Big Red Wheel
THE PROJECT: RESTORATION OF LOGGING WHEELS HISTORIC ARTIFACT

• Restore 10' logging wheels using White Oak wood.

• Replace axle, and pole assembly using White Oak wood.

• Reuse the steel tires, hub bands, tubular wear irons on spokes, boxings in hubs.

• Replace felloes, hub, and spokes using White Oak wood.

• All Original Metal work shall be retained and if not able to use, returned.

• Finish the wheels with a high-quality sealer and red and black paint (include specifications for suggested paint).

• Logging Wheels may be moved to your location. Please separate out the cost to transport or if we should be transporting, state that in your bid proposal.


THE PROPOSAL SHALL INCLUDE:

1. Business name, address, phone number, and contact person

2. Description of work your firm will complete

3. Cost of the work involved with breakout cost of materials
-Include One Lump Sum for complete restoration
-Include Shipping or transport charge if extra
-Include an additional estimate of unforeseen metal replacement

4. Include the name of the sealer and paint you will be using in the restoration

5. Provide your guarantee of quality stock and warranty terms

6. Project timeline (Including expected start and completion dates)

7. Include one reference, example, and short description of your qualifications of a historic restoration project.

8. Submit by the DEADLINE of October 4th 2022.


GENERAL CONDITIONS:

All proposals received by due date and time will be evaluated. The Charter Township of Oakland Historic District Commission reserves the right to reject any and all proposals, to make an award based directly on the proposals, or to negotiate further with one or more firms. The firm selected for the award will be chosen on the basis of the apparent greatest benefit to the township. The firm selected should send copies of liability insurance coverage to Barb Barber.


QUESTIONS:

Contact Barb Barber, Historic Preservation Planner by email at Barb Barber or by phone 248-608-6807 (land line).


Oakland Township is an Equal Opportunity Employer and does not discriminate on the basis of race, color, sex, religion, national origin, age, or disability.


###
September 12, 2022, Charter Township of Oakland and Rochester.Life