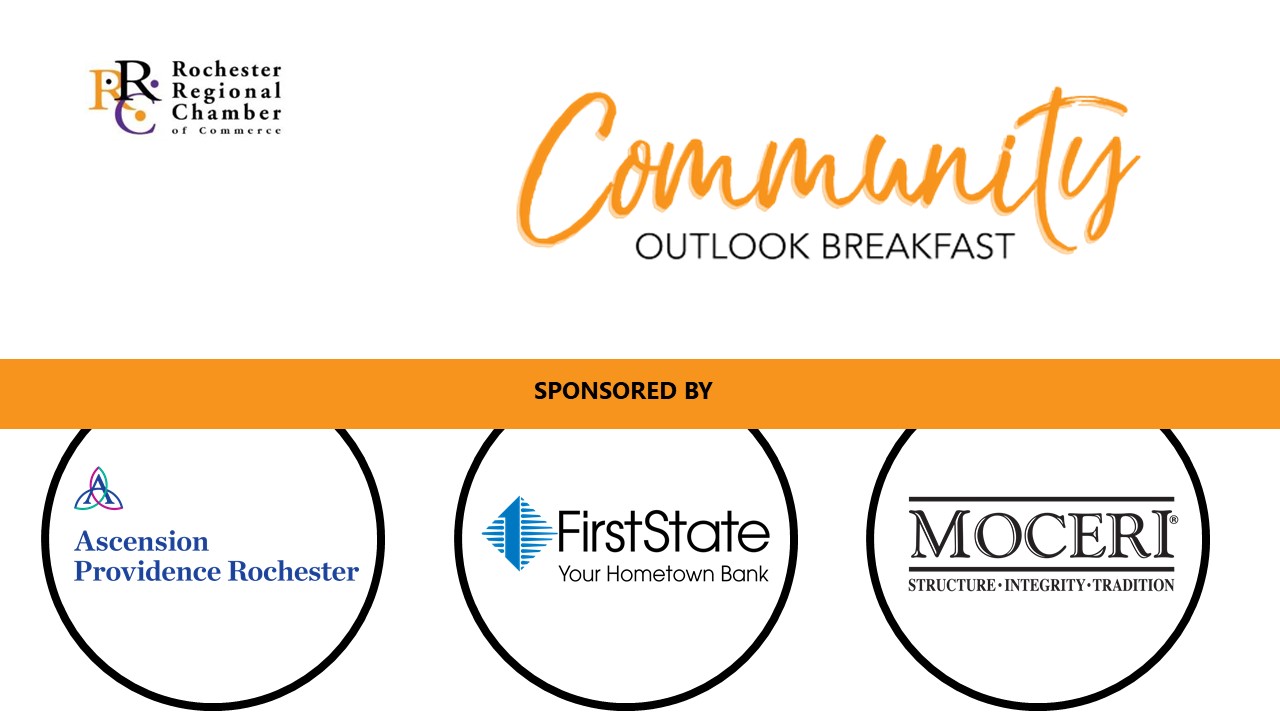 Rochester Regional Chamber of Commerce Hosts Sold Out Community Outlook Breakfast
Rochester Area Leaders Share Insights and Vision for Future
Mar 14, Rochester, MI - Rochester Regional Chamber of Commerce (RRC) Members and a host of community leaders descended upon the Oakland University Student Center for the Chambers' 2022 Community Outlook Breakfast.

In the largest Chamber gathering since the pandemic started two years ago, Maggie Bobitz, RRC President, and her staff were able to deliver a solid program featuring a press conference, networking session, breakfast, and a panel discussion



Though Maggie has been involved with the RRC since 2008, on January 1st of this year, she became President of the Chamber. With only three months in the role, Maggie and team gathered key leaders and delivered a highly informative event.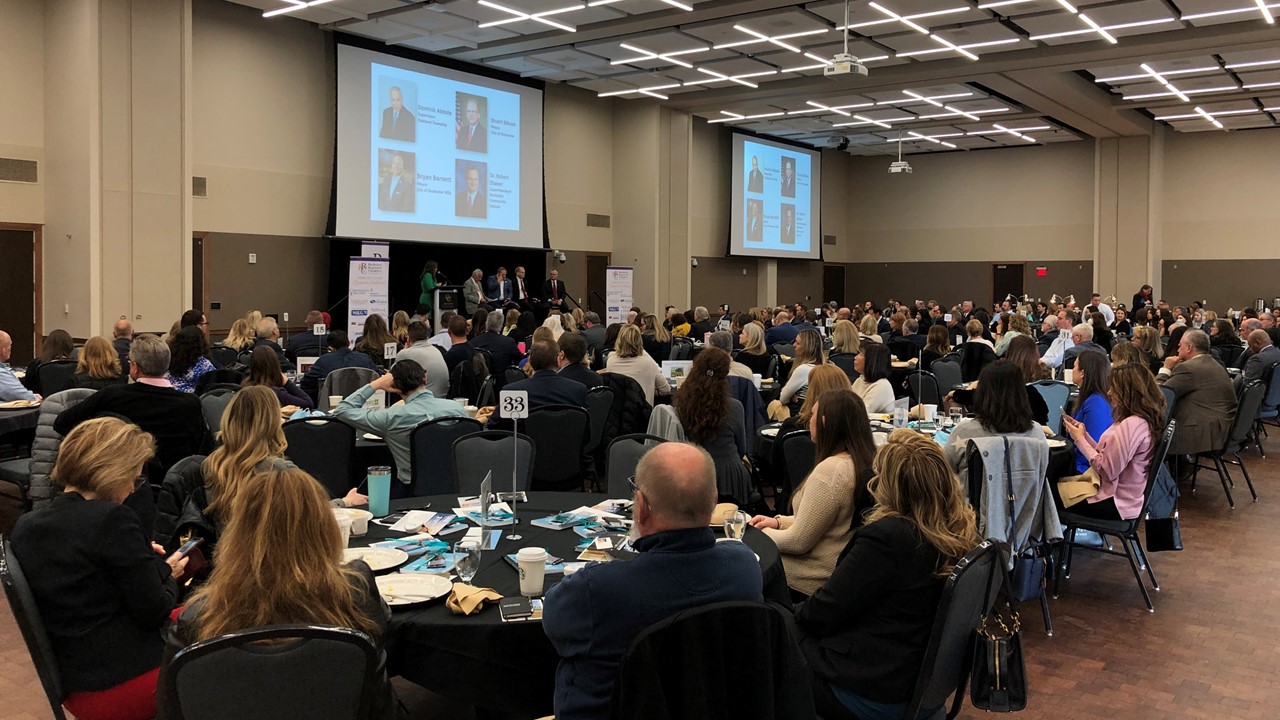 Sold Out Crowd Fills the Oakland Center for 2022 Community Outlook
SPEAKERS

Janet Seidell, Senior Manager of Physical & Medicine Rehabilition Services at Beaumont Health

Janet was the opening speaker at the morning's Press Conference. She is based at Beaumont's Troy facilities which serve the greater Rochester area. Janet provided information on the merger of Beaumont Health and Spectrum Health. They are joining together to create a new Michigan-based, not-for-profit integrated health system focused on making care and coverage more accessible, affordable, equitable and exceptional. The new system will be temporarily known as BHSH System. The new health system is using the tagline "For Michigan, By Michigan". More details can be found at the formichiganbymichigan.org

Dr. Darrin Hanna, Professor in OU's Department of Electrical and Computer Engineering

Dr. Hanna detailed a National Science Foundation (NSF) Grant of $3.2 million that will fund scholarships for those looking at cybersecurity careers. Oakland University undergraduate and graduate students who are interested in a career in cybersecurity working in the government are encouraged to apply for the National Science Foundation CyberCorps® Scholarship for Service (SFS).

"The CyberCorps program at OU will provide students a pathway to exciting, rewarding careers in cybersecurity," said Dr. Hanna, a co-principal investigator of the scholarship grant. "Students often don't know where to start to get government jobs in cybersecurity, earn high-level security clearances, and work on cyberdefense initiatives. We're really excited that now we have a program here at OU that provides fellowships and a pathway directly to these opportunities."

A $3.2 million NSF grant will provide full scholarships for two or three years for OU undergraduate and graduate students along with an annual stipend, starting in fall 2022. This program is designed to help students earn a degree and obtain a job in the government; recipients will be required to work after graduation for a period equal to the length of the scholarship, in a position related to cybersecurity within a federal, state, or local government agency.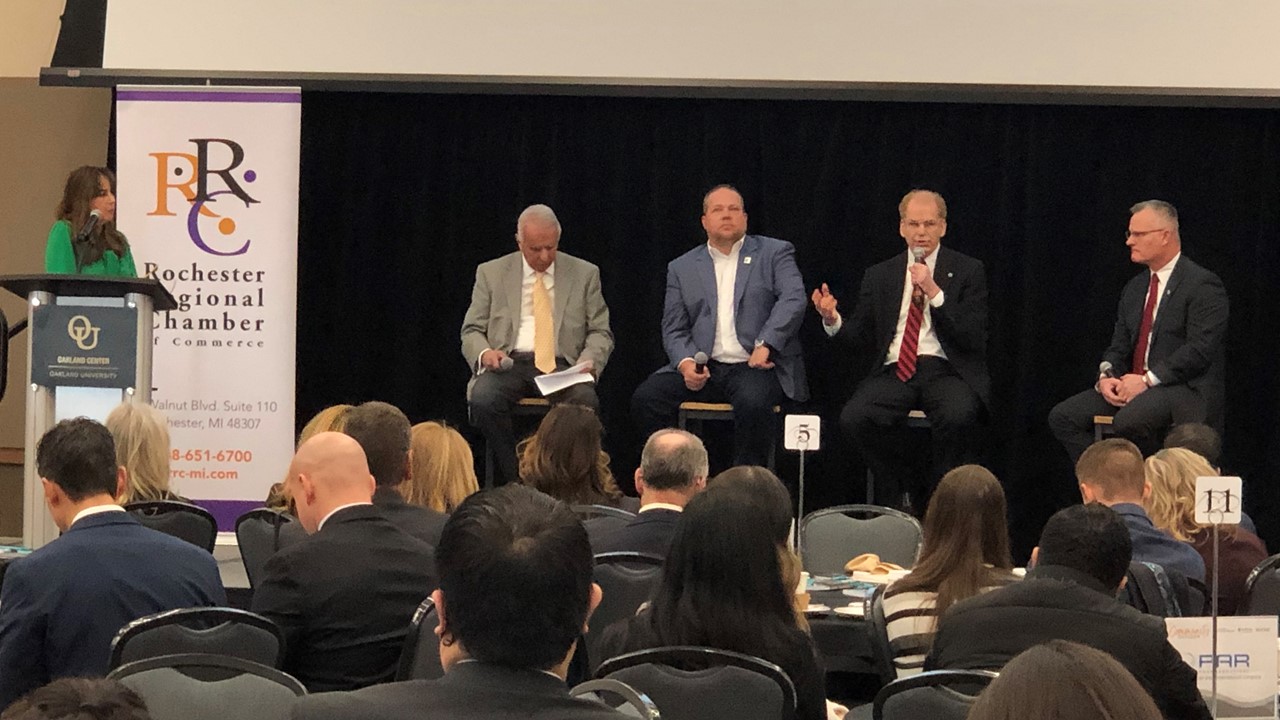 (l-r) Moderator Judge Julie Nicholson, Supervisor Dominic Abbate, Mayor Bryan Barnett, Mayor Stuart Bikson, Dr. Robert Shaner
Judge Julie Nicholson, 52-3 District Court

Judge Nicholson served as a guest moderator for the panel discussion.


Mayor Stuart Bikson, City of Rochester

Mayor Bikson discussed a variety of commercial and residential projects planned for the City of Rochester in 2022.

1) 134 University: Conversion of former office space into 26 new apartment units.

2) 1205 N. Main St: New ten-unit luxury condominiums.

3) 226 Walnut Street: Former church/office space transforming into a European-style cafe with outdoor dining.

4) Chief Financial Credit Union: Renovating and moving into the old US Scuba building on Rochester Road just south of downtown.

5) Riverfront Place Apartments: A 134-unit location at First and Walnut Street along the Clinton River Trail.

6) Par Pharmaceutical: The city's largest employer is building a nearly 100,000 square foot warehouse as they expand their current campus on Parkdale.

Mayor Bikson stressed the progressed being made in the City of Rochester while maintaining an outstanding AAA Bond Rating. A rating level difficult to obtain for smaller cities.


Mayor Bryan Barnett, City of Rochester Hills

Mayor Barnett enthusiastically touted the growth and strength of Rochester Hills as they navigated the pandemic. The business vacancy rate was reduced over the last two years from 5.5% to 4.4%, the unemployment rate has also dropped in the City.

With the pandemic limiting commute time and residents spending more and more time in their local communities, the City of Rochester Hills invested in two major projects to attract both current and prospective residents.

Innovation Hills, is a new and unique park offering unparalled accessibility and drawing attention from across the state.

The Auburn Road Corridor is a new stretch of road opened in Rochester Hills oldest neighborhood, the Brooklands. "It includes a safer experience for motorists and pedestrians, the City's first splash pad, public art, new commercial and residential development and the highest percentage increase in property value in Rochester Hills. To top it all off, the Michigan Municipal League recently named it the most transformative project in the State of Michigan for 2021.", shared Mayor Barnett. The Mayor also spoke of the, Saturday, March 19th, Grand Opening of the 122,000 square foot department store, Von Maur, at the Village of Rochester Hills.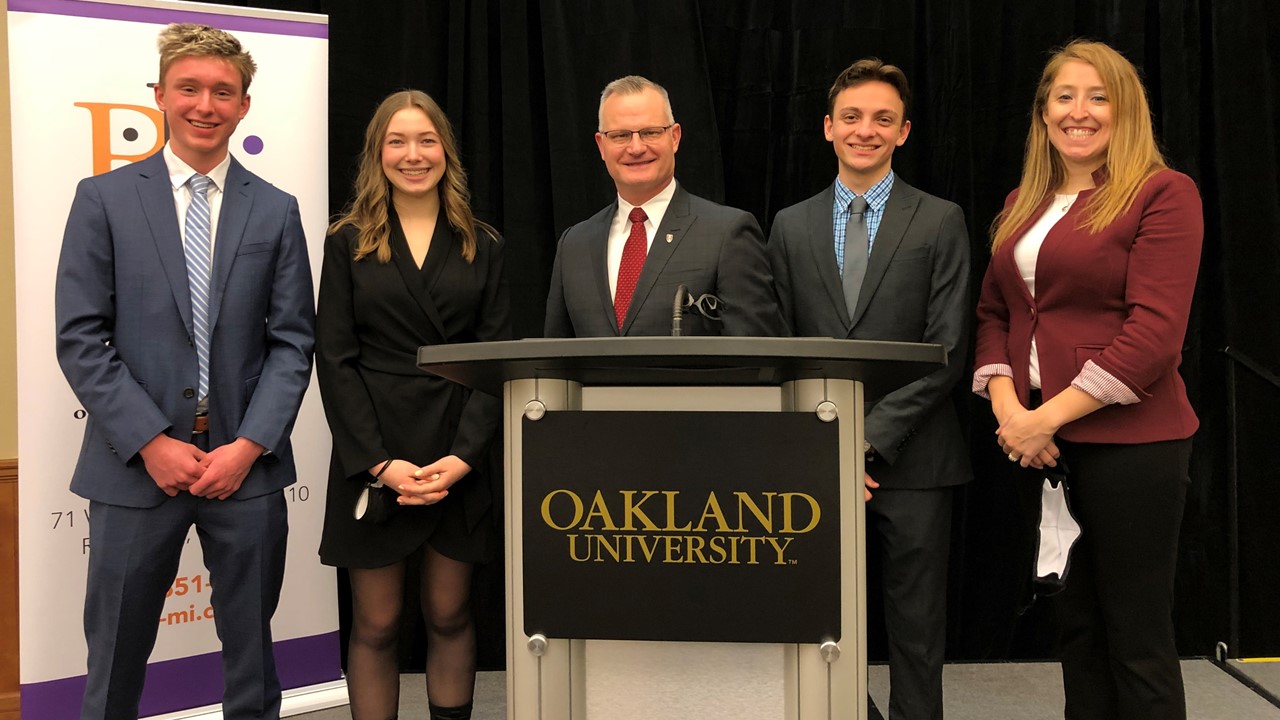 (l to r) Carson Collins, Eden McCullough, Dr. Robert Shaner, Dave Palazzolo, Kelly Cusmano
Dr. Robert Shaner - Superintendent Rochester Community Schools, Kelly Cusmano - Rochester High School student advisor, Carson Collins - Adams High School student council president, Eden McCullough - Rochestser High School student council president, Dave Palazzolo - Stoney Creek High School student council president

Dr. Shaner, along with Kelly Cusmano, and the three RCS high school student council presidents, announced plans for the 2022 Charity Week happening March 14-19.

This year's high-school charity week is dedicated to supporting the Yellow Ribbon Fund, a nonprofit veteran service organization that provides rehabilition and recovery efforts for wounded, ill, and injured servicemembers and their families.

The RCS community has established an annual tradition of donating generously through charity week fundraisers and friendly competitions that include classroom contests, raffles, spirit days, sports competitions, a tri-high dance, and a rubber duck race.

"Love and kindness tend to be contagious. It's amazing how our students can take this love and share it on an even greater level," said Superintendent Dr. Shaner. "As an educator, there's no greater joy than watching these children and young adults build upon their own capacity to make a difference in the world around them."


Supervisor Dominic Abbate, Oakland Township

Oakland Township occupies the six-by-six mile square directly above Rochester Hills. This 36 sq. mile community continues to maintain a country residential charm. Supervisor Abbate made it clear at the Community Outlook Breakfast, that Oakland Township will maintain that mission. The township is not seeking commercial growth, though controlled residential growth is welcome.

Some of that residential growth has led to a new traffic light being installed at the intersection of Stoney Creek Road and Rochester Road, making it the sixth traffic light in Oakland Township.


Linda Davis-Kirksey, Chair of the Rochester Regional Chamber Foundation

Chair Davis-Kirksey announced the 2022 "Rochester Area Memorial Day Parade of Heroes" on Monday, May 30.

The RRC Foundation will facilitate the parade on on behalf of our local municipalities including Rochester, Rochester Hills, Oakland Township, and with the vital support of the Veterans' Tribute of Oakland Township.

Approximately 20 parade entries including fire trucks, a marching band, and more will line up in the parking lot at Adams High School on Monday, May 30, 2022. At 11:30am, participants will then walk the parade route north on Adams Road, ending at the Veteran's Tribute of Oakland Township. Upon reaching the site, parade organizers and supporters will host an hour and a half long Memorial Day Program featuring: an invocation, song, speeches from community leaders and concluding with recognition of local veterans in attendance.


More About the Chamber

The Rochester Regional Chamber of Commerce is privileged to have fourteen community-minded businesses and organizations that are significant partners of the Chamber. Thank you: Ascension Providence Rochester Hospital, Oakland University, Chief Financial Credit Union, Bellbrook, Mattina, Kent & Gibbons P.C.; PAR Pharmaceutical, Shelton Buick GMC, Rochester University, Moceri Companies, First State Bank, Beaumont, Auger Klein Aller Architects, Trent Creative & Revenue Refinery. We appreciate your support.

The Mission of the Rochester Regional Chamber of Commerce is to provide leadership and resources to advance business development in partnership with civic, cultural, and educational interests for the benefit of its members and the community.


###


Mar 14, 2022, Rochester.Life Staff