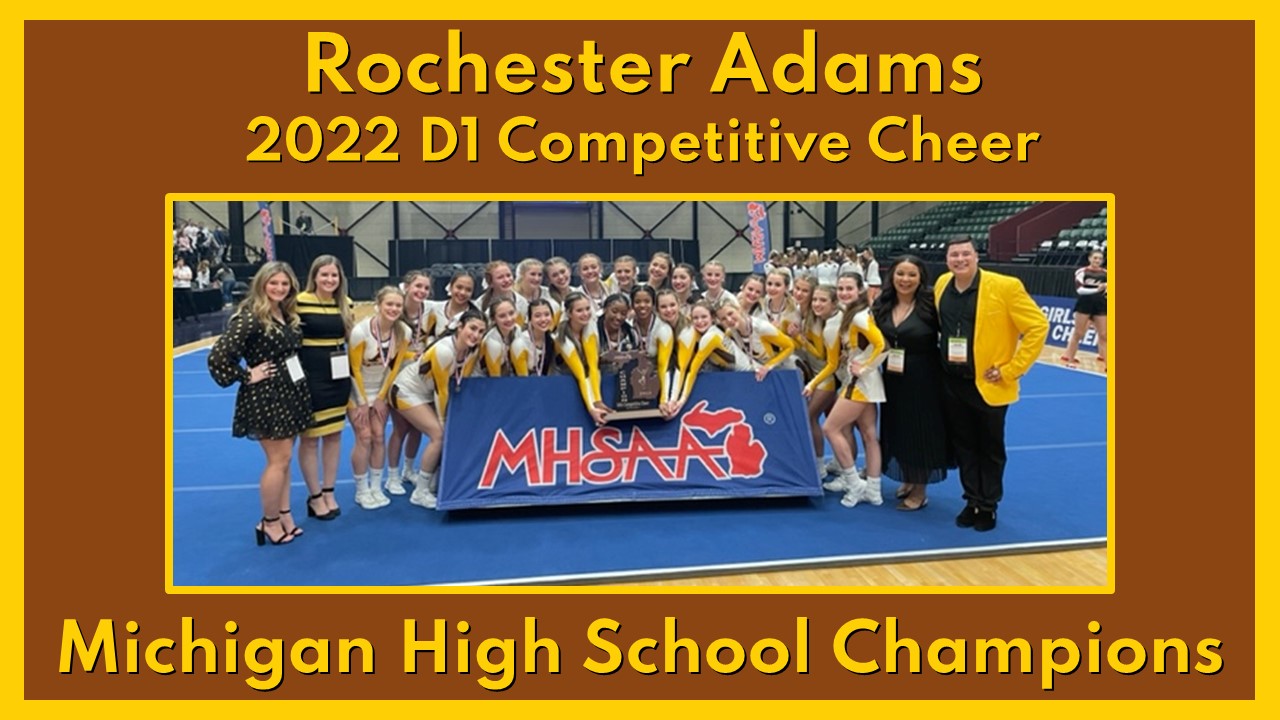 Rochester Adams Competitive Cheer Claims Michigan High School D1 State Championship for 3rd Consecutive Year!
Team Sets Records, Achieving Highest Score in MHSAA State Finals History!
Winning three consecutive Michigan High School State Championships does not happen by accident. You need all the right ingredients, mixed at the right time, to produce consistent championships.

Athletes, parents, community, and leadership must coalesce at precise moments to claim victory. One consistent ingredient over the past eight years at Adams' Competitive Cheer has been the leadership of Head Coach Brooke Miller.

Brooke has been ingrained in the Rochester Hills community since she moved here from Cleveland, Tennessee as a sixth-grader.

Rochester.Life asked Brooke a series of questions about this amazing 2022 Competitive Cheer D1 State Championship and her career in coaching.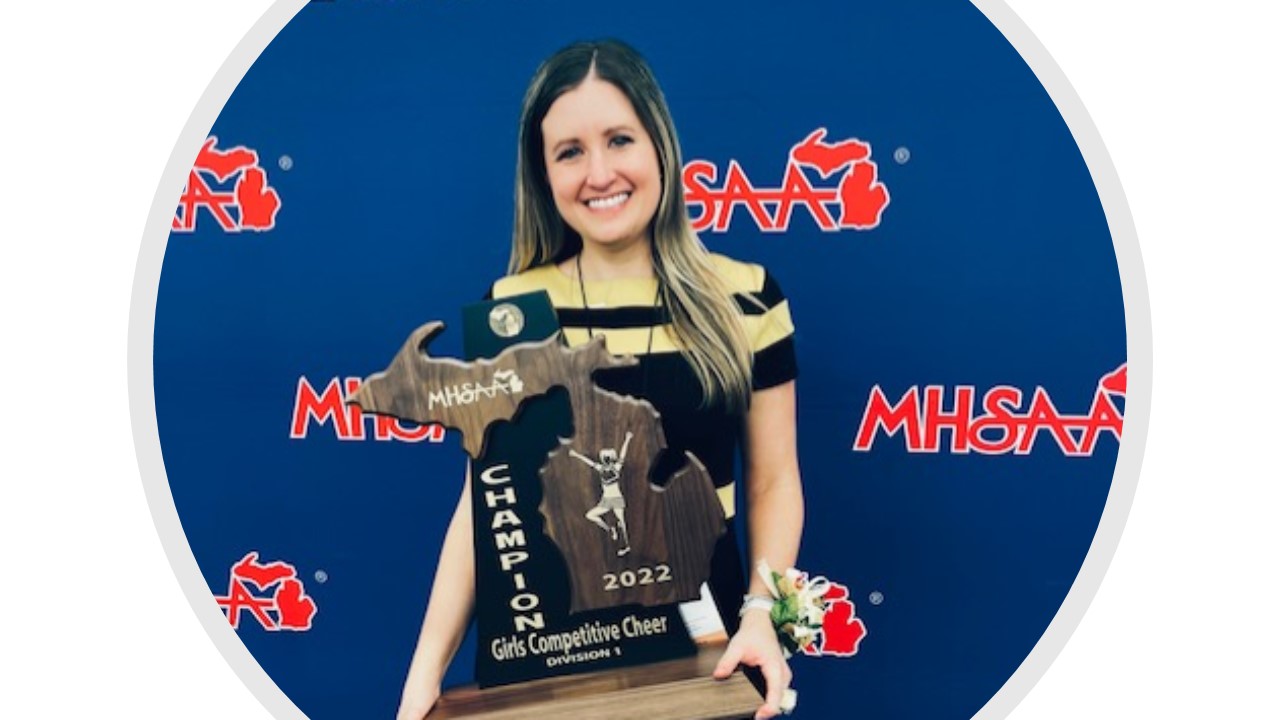 Competitive Cheer Head Coach Brooke Miller Holds Hard Earned 2022 D1 State Championship Trophy!
How did you first get involved with Cheer? What is your personal Competitive Cheer experience?

I first was exposed to cheer through my older sister that did cheer starting in elementary school. I first started doing cheer in 7th grade at Avondale Middle School. I then went on to cheer at Avondale High School (3 years on Varsity) and competed MCCA Cheer format (not MHSAA which is what we do now). We were OAA League Champs 2002-2004. I then cheered at Oakland University as well.

When did you first get involved with Cheer coaching? How long have you been coaching?

I first started helping my older sister who was coaching while I was in high school and helping with making up my own team's choreography. I found that I loved helping athletes be better and being creative with new choreo and wanted to continue once I graduated.

I started coaching at Avondale High School as the JV coach and then later on as the Varsity coach from 2005-2008 (3 years). I then went to Stoney Creek and coached JV from 2008-2013 (5 years). While I was coaching at Stoney Creek, I also coached and launched the Varsity Competitive Cheer team at Andover High School, Andover did not have a Competitve Cheer program. I coached there from 2011-2013 until they combined with Lahser.

I then decided to "retire" but after only a year I realized I missed coaching and decided to apply for Varsity positions for a new challenge. I applied for several jobs and ended up at Rochester Adams from 2014-current (8 years so far). In total, I have coached 16 years, 8 years at Adams, 5 at Stoney Creek (with 3 of those coaching at Andover as well), and 3 years at Avondale.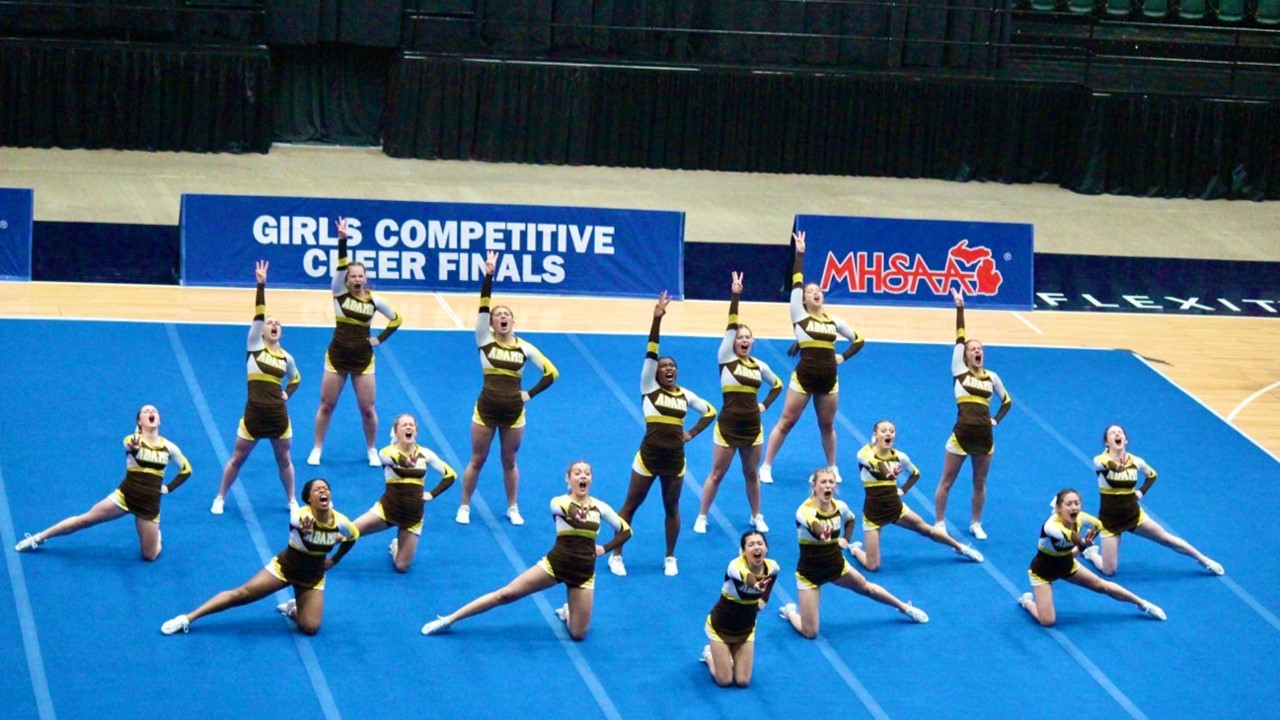 Look at the intensity and focus that delivered a State Championship to Adams' Competitive Cheer!
Do you have a basic Cheer philosophy or motto for your teams?

I try to instill values and life skills that they can take into their lives and be successful long after they retire from cheering - being kind no matter what, having good sportsmanship, focusing on your own success, being early is on time, to keep trying until it's your best, and many more are just some of the things that we continue to push the athletes to focus on. I also try to show the athlete that their potential is more than they can ever imagine and show them that the confidence that they can find in their cheer skills can be taken into everyday life.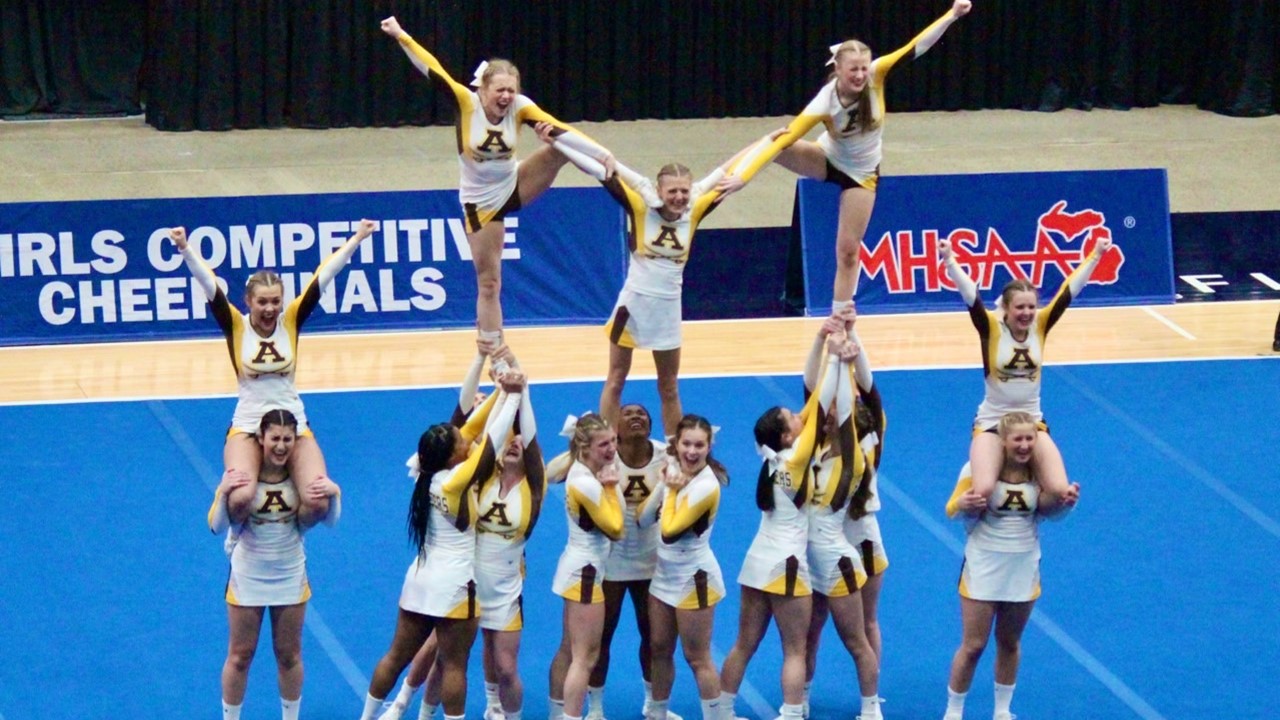 Confident Adams Competitive Cheer Reaches New Heights Setting State Scoring Records!
What do you attribute your consistent success with the Adams Competitive Cheer Program? From three Consecutive State Championships to coming off of two consecutive State Runner-Ups in 2018 and 2019?

I can say that I have an amazing group of athletes that work harder than anyone, but we also had many athletes that are sisters of alumni, so they have been pushing to be their best long before they made the cheer team at Adams. We also have an amazing support system. Our cheer families, school and community are phenomenal and make us feel so special and that drives us to continue to push for our best.

What were your thoughts coming into this Cheer season? Did you think you would win the State Title again?

Like any other season, you need to always think that you are starting in last place. Your previous successes don't get to roll into the next year so you must work just as hard, if not harder, than the previous year to be successful again. With that said, we knew that we had many returners and had a very strong team that could be amazing in all 3 rounds so we had high hopes that we would get this team to another title.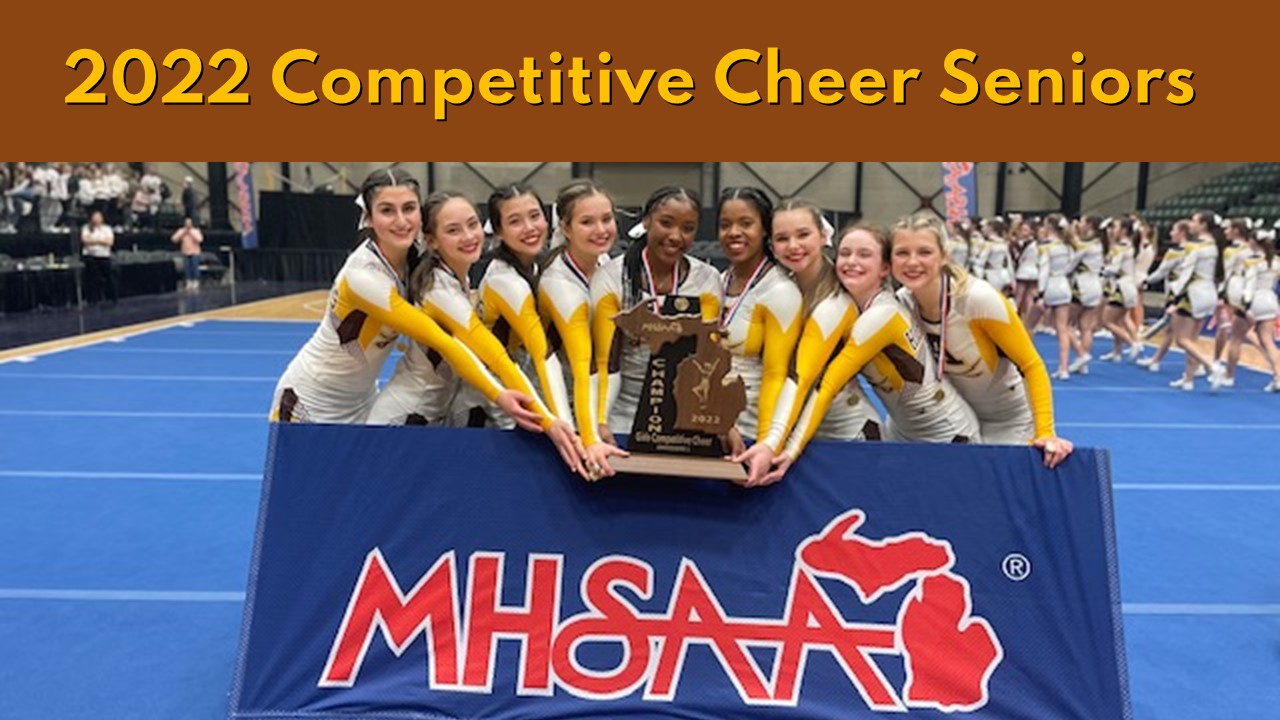 Adams' Seniors Proudly Display 2022 D1 Competitive Cheer State Championship Trophy
What surprised you this season?

I think a few things surprised me this year. First was our round 3 – this was a dream round 3 in my opinion and when you are first learning you are skeptical if you will be able to make the harder stunts clean enough to keep in the round but these athletes worked so hard and made the routine nearly flawless by the end of the season.

I think the other thing that surprised me was that we were able to set school and state records this season. Our scores for round one (239.2), round two (232.94) and total (793.74) were the highest in school history but also the highest in MHSAA state finals history for all divisions since the scoring change back in 2013.

What would you change about competitive Cheer if you could?

I love competitive cheer but do feel like in the current format, we have hit the ceiling at what's possible and would love to see new stunts become legal or a new scoring format that allows for more risk to be taken. We always try to push the limits in round three with our stunting, but you always have to make sure that it's clean enough to keep in and a lot of teams end up taking out stunts because you don't get rewarded for a lot of difficulty in the current format.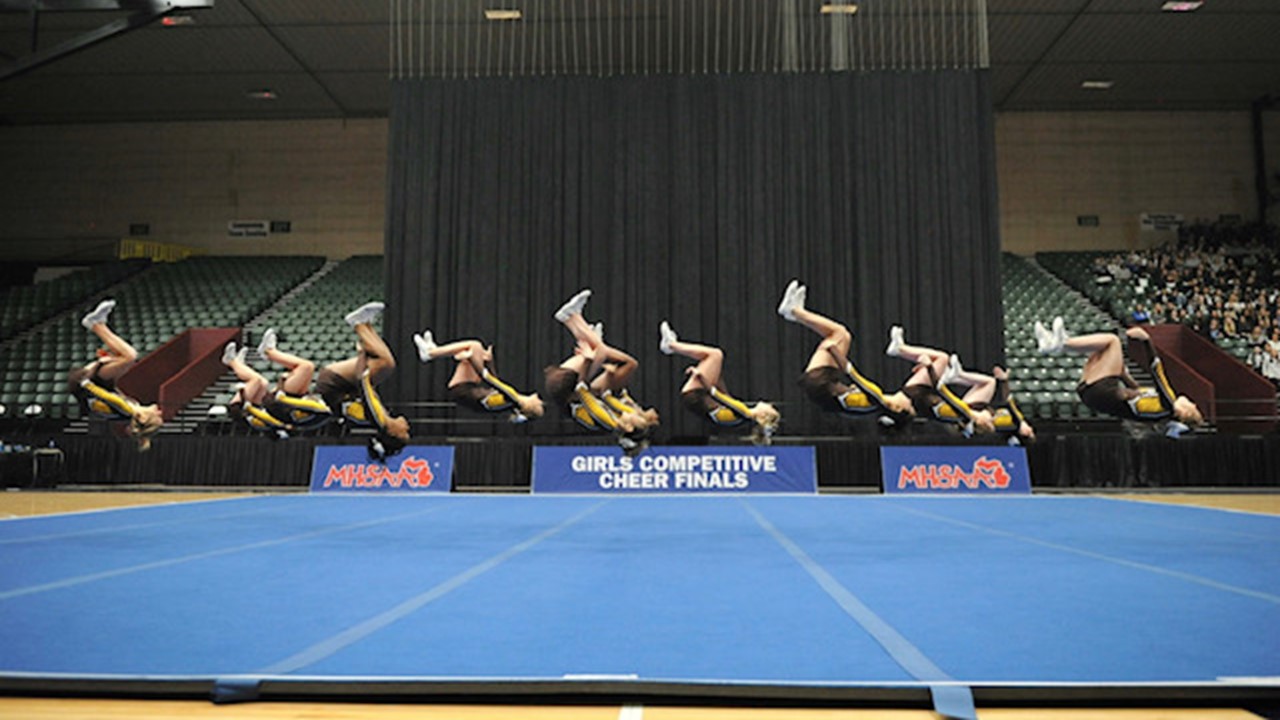 Adams' Flawlessly Executes Challenging Synchronized Stunts Scoring Highest in MHSAA State Finals History!
What makes the Rochester area such a successful statewide Competitive Cheer community?

I believe that Susan Wood (Rochester Head Coach) is a lot of the reason that this community has risen to be the standard of MHSAA Competitive Cheer. She has been coaching for 41 years in this community and because of that, there's a ton of cheer families, youth programs, gyms, etc. that support cheer at an early age and help to develop the love of the sport and skills early on so that these athletes have that edge that you tend to see in all 3 of the Rochester school teams. Tricia Williams (Stoney Creek Head Coach) has also been coaching for 20 years at Stoney Creek and has been influential in building the reputation of the Rochester cheer programs.

All three schools are also in the same league and compete against each other quite often and that helps us to push each other to keep getting stronger each week.

2022 Competitive Cheer D1 State Championship Results

1 Rochester Adams
2 Stoney Creek
3 Plymouth
4 Hartland
5 Rochester

What advice would you give future Cheer athletes interested in getting involved with Cheer?

Do it! Cheerleading is like no other sport with how closely you must work together to make a routine successful and through that, the bond you have with your team is indescribable. Competitive cheer also offers opportunities for athletes of various abilities since there are 3 rounds that feature different skills so everyone can cheer if they are willing to put in the work.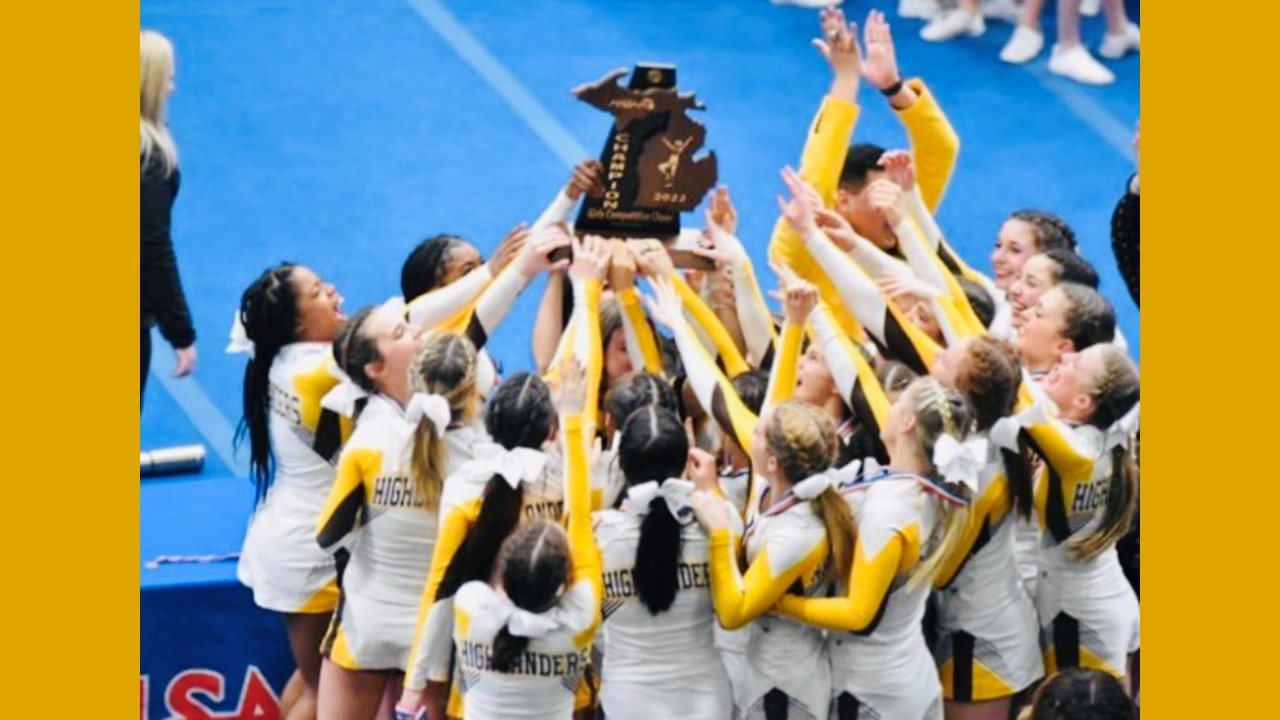 Exuberant Adams Team Reaches New Heights with 3rd Consecutive State Championship Trophy!
Rochester Adams 2022 Competitive Cheer Coaches, Athletes, Awards!
COACHES

Brooke Miller
Head Coach

Jocelyn Welsh
Varsity Assitant Coach

Quin Gonzalez
JV Head Coach

Alison Keaser
JV Assistant Coach


ATHLETES

12th GRADE

Celeste Barnard

Elizabeth Doran

Destini Dorkins

Carley Hedlund

Sabrina Lee

Skylar Menzies

Megan Robinson

Julia Schultz

Christina Truszkowski


11th GRADE

Ava Bolin

Sophia Bondra

Katie Burgin

Emilia Honingford

Laurel Kania

Ella Malinowski

Emma Maynard

Peyton Regalado

Alex Ris

Ashley Rosati


10th GRADE

Trisha Bartolome

Reese Falconer

Francesca Ford

Lily Hittle

Anna Kelly

Cece Shea


TEAM AWARDS

OAA Red League Champs (2021, 2022)

District Champs (2020, 2021, 2022)

Regional Champs (2020, 2021, 2022)

All-State Academic Honorable Mention (Team GPA 3.809)


INDIVIDUAL AWARDS

2022 1st Team All State

Julia Schultz (2x), Christina Truszkowski, Sabrina Lee, Destini Dorkins, Megan Robinson, Skylar Menzies

2022 2nd Team All State

Ashley Rosati, Alex Ris, Katie Burgin

2022 Honorable Mention All State

Emma Maynard, Peyton Regalado, Carley Hedlund


HIGH SCHOOL CAREER AWARDS

12th GRADE

Destini Dorkins (1st Team All-State 2022, 2nd Team All-State 2021, All League 2020)

Carley Hedlund (Honorable Mention All State 2022)

Sabrina Lee (1st Team All-State 2022, 2nd Team All-State 2021, Honorable Mention All State 2020, All League 2019)

Skylar Menzies (1st Team All-State 2022, All League 2021)

Megan Robinson (1st Team All-State 2022, 2nd Team All-State 2021, Honorable Mention All State 2020, All League 2019)

Julia Schultz (1st Team All-State 2022 2021, 2nd Team All-State 2020, Honorable Mention All State 2019)

Christina Truszkowski (1st Team All-State 2022, 2nd Team All-State 2021 2020, Honorable Mention All State 2019)


11th GRADE

Katie Burgin (2nd Team All-State 2022, All League 2021 2020)

Emma Maynard (Honorable Mention All State 2022 2021)

Peyton Regalado (Honorable Mention All State 2022, All League 2021)

Alex Ris (2nd Team All-State 2022, Honorable Mention All State 2021, All League 2020)

Ashley Rosati (2nd Team All-State 2022, Honorable Mention All State 2021, All League 2020)


Mar 10, 2022, Rochester.Life Staff